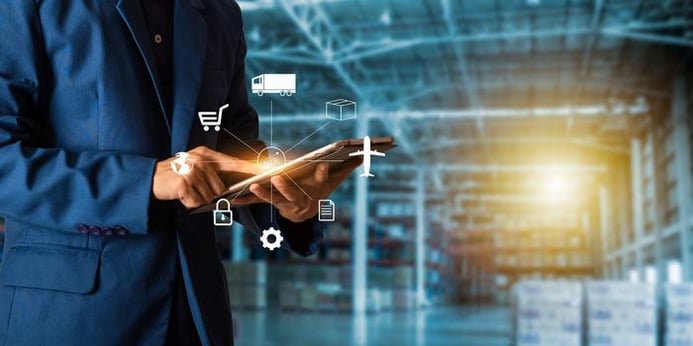 The right Warehouse Management System solution will allow you to scale and grow better.
What if there was a single fix for the three biggest issues for your warehouse? There is. The right Warehouse Management System (WMS) solution will save you time and money, increase accuracy, optimise your team's performance and enhance your business capacity.

Do more with less, with CartonCloud's WMS solution.


CartonCloud's WMS solution gives you access to real time data, mobile application for on the floor use, paperless picking and packing, and streamlined management between warehouse and dispatch. It's an end-to-end, and everything in-between solution for your biggest issues.


How will a WMS cloud solution solve your three biggest problems?
Designed specifically for SMEs, WMS technology solutions like CartonCloud's allow you to manage your inventory capacity and storage in house, and streamline communication of ingoing and outgoing stock between your warehouse, wholesalers and dispatch.
You can also set tiered storage pricing with ease to increase revenue, and increase efficiencies on the floor for smarter picking, packing and dispatch, giving you the ability to do more with what you have.
Let's take a look at three of the most common, and most frustrating issues faced in warehousing, and how you can solve this with a WMS cloud based solution.


1. Increase inventory accuracy.
With inventory levels, location and replenishing data in a constant state of flux, achieving efficient inventory accuracy on the go can begin to feel like a pipe dream. You can save time, money and rescue the likelihood of costly mistakes with a cloud based WMS solution working for you.
One of the most common issues faced in the warehouse industry is how to achieve clear and efficient inventory management. By the very nature of the industry, warehouses are designed to provide a solution that adapts to ever changing inventory levels of their clients.
Of course, each warehouse is different, with various clientele, schedules, services and personalisation. However, the mechanics of our day to day business is grounded in the same actions. Stock comes in, is stored for a price, moved within the warehouse to allow for more optimised storage, picked, packed and dispatched.
A cloud based WMS solution means you have access to real time data, including orders and inventory information as you go, increasing accuracy without requiring costly and time consuming manual stock take. The Carton Cloud WMS solution lets you update your database in real time, managing inventory levels, locations and ordering on the fly, through mobile applications that can be used directly from your smartphone to scan barcodes, lodge inventory movement, and track inventory levels. Save time on manual data entry, with your inventory levels updated in real time, as you go.
With a cloud based solution you're always working with the latest information. Not only for your team, you can also streamline feedback and data between wholesalers and distributors. With 24/7 access, your clients can log on to check stock levels, download invoices and measure restock requirements, with less hassle for you.


2. Manage warehouse space and changing storage requirements with ease.

Warehouses are places of constant change. A customer's single pallet at the start of the day might be reduced to half a pallet after several orders, or may increase to three pallets, depending on deliveries, orders and dispatch as the day goes on. You need to know the space you have, know what's coming and going and what can be moved at each moment, to make the most of your warehouse space and optimise your business potential.
How you manage your warehouse space, data communication with wholesalers, customers and dispatch can be the difference between taking on new business or turning it away unnecessarily.
Your cloud based WMS system allows you to track inventory across various locations throughout the day, giving you access to real time data and information as it happens. A lot can change in a day in the warehouse. Inventory is constantly coming and going, and clever storage management can increase your warehouse capacity to take on new stock, and new business.
Better still, with greater information on your storage capacity, clients and business, you can apply smarter, tiered pricing for your various storage options for easier invoicing and billing management. Just another way your WMS solution is solving your biggest problems.
3. Increase floor efficiency, reduce picking time and track stock movement from the warehouse floor.
Increase the capacity of your team, streamlining operations automated directly through your WMS solution, with the ability to allocate wave picking for orders, scan and print barcodes from the floor.


One thing we can't get more of is time. But a WMS technology solution can help you to use your time better.
Increase picking efficiency and save time with automated wave picking and order overviews through your WMS solution. CartonCloud's WMS solutions allows you to increase picking accuracy with a mobile barcode scanner that allows pickers to scan the item and ensure they have the correct order, while logging in the cloud based WSM solution that item has been picked and removed from storage for packing. Your cloud WMS solution can also identify where multiple orders include the same item, and can group these to be collected in one pick, and then sorted for packing.
Working smarter with a cloud based WMS means optimising your staff's daily tasks so you can do more with the time you have.


Easy and fast integration, and on-site training
What about the transition? How often does it feel like you don't have the time to stop and look at ways to improve. CartonCloud is designed to make your life easier, and your business run smarter, which is why their WMS solutions are easy to integrate into your current systems, and quick to embed in your BAU.


Ready to save time and money in your day?
Increase stock accuracy and client data communication, optimise your floor staff to make the most of their time, and seize opportunities for smarter use of space or tiered pricing, with a WMS solution. It will solve your biggest problems and also the problems you didn't know you had, letting you and your team do more, with less.
Contact the CartonCloud team for a free demo of their WMS solution, and see how you can increase accuracy, optimise operations and build opportunities for new business today.