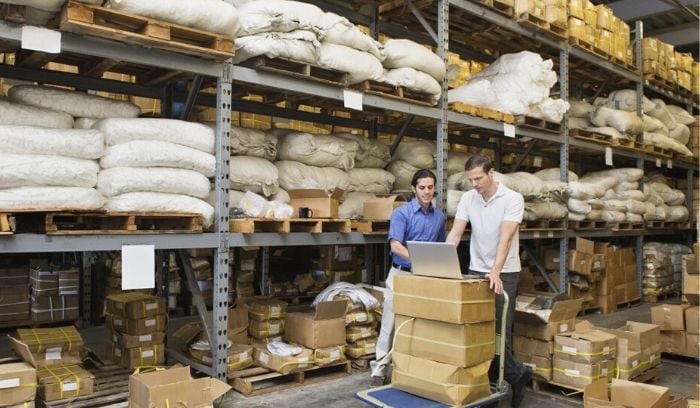 Logistics companies are fearing lower growth in the coming year.
Our most recent industry survey showed 62% of respondents believe their company is likely to grow in the coming 12 months — dropping from 88% believing high growth was likely last year. We explore how to implement a warehouse WMS for your 3PL.
Third-Party Logistics warehouses rely on automation and streamlined workflows to build efficiencies into daily operations — allowing them to offer more to their customers, while keeping overheads and operational expenses low.
What can logistics companies do to ensure they are set for success?
How can you recession-proof your logistics business?
Who can you scale your warehouse 3PL through economic changes?
Cloud-based WMS software like CartonCloud equips businesses to reduce admin overheads by 80% while increasing daily output.
Recent data from our global logistics industry survey found 97% of logistics operators still use paper-based processes in at least one of their daily operations. Paper processes are notoriously inefficient, time-consuming, and inaccurate.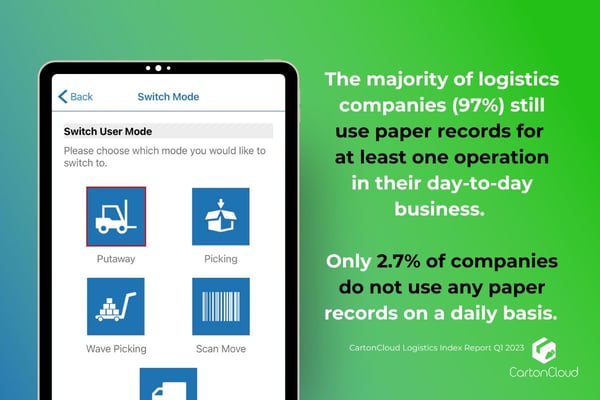 To optimize your 3PL warehouse for growth, you need to find ways to automate data and workflows, and digitize your operations.


What does this mean for small 3PL warehouses?
If you're not using a cloud-based system that allows you to scale your business, and integrate with other software, you'll likely fall behind industry benchmarks.
To stay ahead of the competition and to compete with larger players in the industry, you need the right tools for the job.
While logistics robotics, AI, and the industrial metaverse are in the sights of some companies, the majority of the logistics industry within North America and Australia is serviced by small-medium sized businesses.
For these businesses to survive and THRIVE in the market, they need intuitive and easy-to-use, cloud-based WMS and TMS software, built for purpose.
So why aren't all warehouses operating on cloud-based WMS systems already?
Some of the biggest hurdles preventing warehouse digitzation, or slowing 3PLs from switching to a better WMS can be; costs, onboarding time, lack of support provided.
This is why CartonCloud ensures;
Flexible pricing options that can scale with you as your business grows
Fast implementation and onboarding in days, not months
Exceptional customer service and support, by industry experts.
Want to know more?
Let's take a look at how to implement your perfect WMS system in three simple steps;
Setting attainable warehouse goals

Defining inventory identification needs

Finding a software partner with industry experience.
Setting attainable warehouse goals
You need to look at where you see your operation in the next 3 to 5 years, and what the market is doing. Recent years have shown how volatile the logistics industry can be, and the importance of being able to change and adapt quickly.
Why do 3PLs need warehouse software to adapt? One of the benefits of a cloud-based WMS like CartonCloud is the ability to move with the times, and take advantage of opportunities as they arise.
Our powerful warehouse management system's automated workflows are easy to use, making training your team simple, and our secure integrations allow you to link in with customer and partner software as needed, to ensure safe and accurate data flow across platforms.
Logistics Tip: Consider the features and functionality you will need for your ideal customers and start working toward building out your operations with this in mind. That way, you can market your business to attract your ideal customer, and provide great customer service from the moment they onboard.
Check out how Lexington Logistics 3PL provide exceptional customer service to their warehouse customers by ensuring e-commerce integrations are the first step in their customer onboarding.
Define your inventory identification needs
Will you be working in pallets, truckload, LTT, containers, or boxes?
Will you need the ability to scan individual SKUs or serial numbers?
Do you need to track batch numbers, expiry dates or any other item details?
Understanding your customer's inventory ID requirements is crucial in ensuring you can select the right WMS software for your 3PL.
Depending on the data you need to collect, track and provide for your customers, you may need a warehouse system with certain features and functionality. Be sure to ask this in a software demonstration before deciding on the right WMS for you.
Beyond that, you can also observe how your customers manage their operation. Some might already be on a warehousing management system, and you'll want to ensure that your system can integrate properly, allowing order and inventory data to be accurately tracked across both systems.
Find a logistics software company with experience
No matter how extensive your industry experience is; having a software partner who understands your business, your customers and the industry is a huge benefit.
They will be able to provide advice and support through plan selection and implementation, will ensure you and your team have access to exceptional training resources and troubleshooting, and will continue to update and roll out new features allowing you to stay ahead of the competition.
You should be working together with your software company for the long term. They shouldn't be in the business of 'set and forget', but instead routinely mesh with your organization for long term support and growth for your system.
CartonCloud's powerful WMS software is created by logistics people, for logistics people. Our features, software design, and powerful integrations are created with industry knowledge and expertise — to simplify complex logistics and allow our users to do more with less.
Want to see for yourself?
Get in touch
To see our powerful 3pl WMS software in action, and understand more about our WMS implementation process, get in touch with our friendly team for a FREE DEMO!
CartonCloud is proud to be the software of choice for over 450 logistics businesses across the globe. With thousands of users already on board, we would love the privilege of having a chat and showing you a free demo.
*Last Updated July 2023