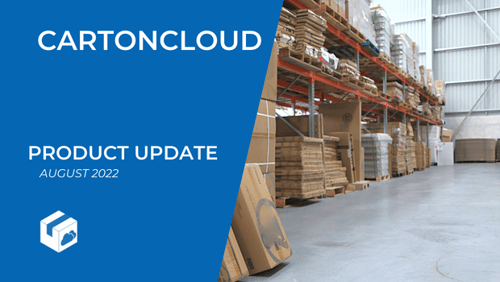 One of the benefits of CartonCloud is having a configurable setup that gives you the flexibility to record and capture the information you need — and display it to the people who need it.
With the custom fields feature, you can capture different information against a range of records, allowing you to include additional details and notes specific to a product or order.
You can add Custom Fields to a range of records in your account, including Shipment, Consignments, Vehicle, Customer, Driver, Sales Order, Purchase Order, or Transport Product.
With the latest update, you now also have the ability to create internal-only custom fields, which are only visible to your internal users. This might be to include charging information, internal details for delivery (such as a pin number for building entry), as well as other internal or sensitive information.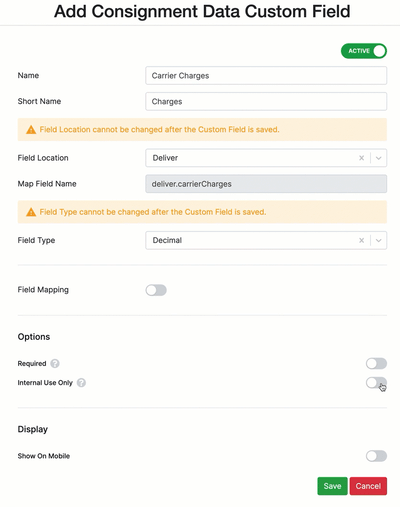 Where can I use Custom Fields?
Custom Fields are used to record additional information for product handling, order fulfillment, or delivery. For example, adding custom field information to a Purchase Order can help to track the order by recording additional information such as container number, or other information specific to that order's inbound status. Custom Fields can be displayed on various screens and documents in your CartonCloud account, including Packlists, Con Notes, Labels, Stock Reports, and Exports.
You can control the visibility of your Custom Fields to be internal-only on Consignment Data and Consignment Items, Transport Products, Addresses, and Sales Orders.
This means users outside of your organisation will not be able to see Custom Field information on a Consignment, Sales Order, Customer Report, or Invoice.
This is configured from the Custom Fields page and will be visible to internal staff when editing the record, displayed with a restricted visibility icon as shown below.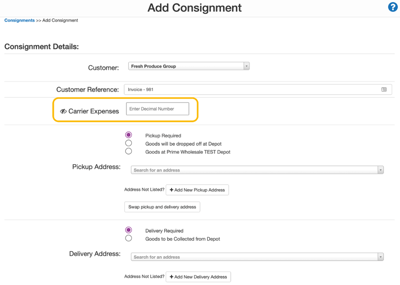 Simplifying data entry
To simplify data entry and ensure accuracy across your records when using Custom Fields, in CartonCloud you can use Custom Field linking, which allows you to pull information from a single point of truth in your account, and include this on multiple records.

For example, you can also add custom fields to a Consignment to include opening hours for delivery locations (this can be automatically pulled from your Address Custom Fields, created against the address record), or other special delivery instructions.
Viewing Custom Fields on Mobile Devices
These custom Fields can be made visible on the mobile app for pickers and drivers. Adding custom fields on mobile can be particularly useful as it exposes important information required for internal processes, for example, including a delivery site's opening and closing times, or the serial number of a line of product to be picked.
Find out more about Internal-only Custom Fields
To ensure the right people get the right information, you can now define when your Custom Fields information is visible to everyone, or to internal users only.

This update gives you greater flexibility to provide the information your team needs, allowing you to include important sensitive information on records, ensuring it is only visible to internal staff.
Learn more at our Knowledge Base Custom Fields article here, or contact the team today.