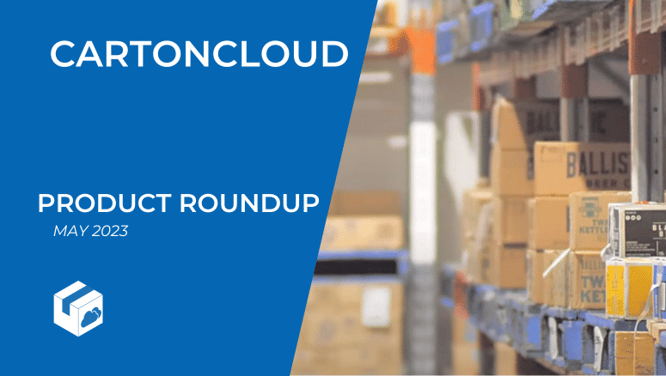 Welcome to the CartonCloud Product Roundup for May! This month we have enhanced the user experience when dealing with Sales Orders and Purchase Order status; with new functionality, greater control, and added transparency.
'Select All' Functionality added to the Sales Order page
The 'Select All' button now selects all orders displayed on the current page, giving users the option to extend the selection to all orders across multiple pages.

With this update, a message displaying the number of Sale Orders selected is now visible, providing better visibility and clarity during the bulk selection process.
If you have chosen to 'Select All' orders, you'll now be able to easily clear your selection with the new 'Clear Selection' option adjacent to the selection quantity indication text.
In addition, whether manually selecting orders or using the 'Select All' feature, you will now see the same action buttons. This includes the 'Reprocess' button and the 'Mark Packed' button, which can now be accessed without selecting any or all orders.
For more information, visit the Sales Order page on CartonCloud Help.

View Sale Order Quantity information at a glance
A new column for "Quantity" has been added to the Sale Order (SO) list screen, allowing users to view the total quantity of products in each Sale Order without opening the order individually.
The new quantity column makes it easier to gauge the size of the order, which can be helpful when allocating tasks to packers based on their picking abilities, workload, or capacity.
Use it your way! The new column, which follows the "SKUs" column, can be easily toggled on or off via the settings cog in the top right of the View Sales Order screen. For more information, visit our product release log here.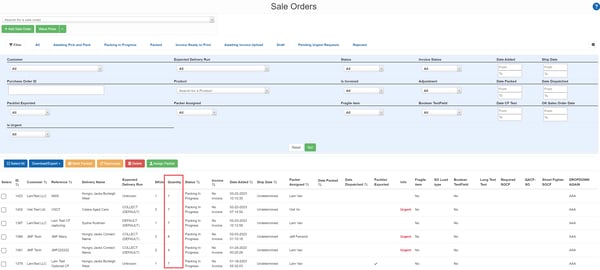 Option to generate a new SSCC Barcode when changing PO status
With this product update, you can generate a new SSCC when updating stock statuses, on both the "Change Status" and "Bulk Edit Purchase Order Products Statuses" screens, accessible from the Purchase Orders. This additional control is particularly useful for tracking stock changes, such as tracking damaged stock.

PO Allocation for Customer Email Trigger
This update enables tenants to configure "Purchase Order Allocated" email alerts per-customer, confirming when customer stock has been received and is ready for use. For more information, visit the CartonCloud Help article on customer email notification settings.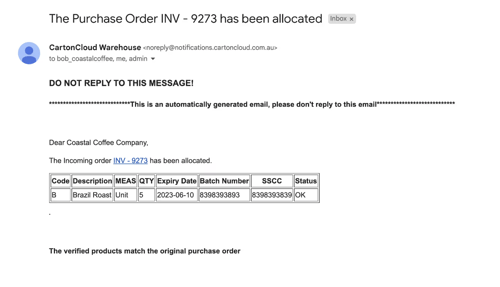 Want to know more?
Check out CartonCloud Help for more Knowledge Base articles, feature updates, how-to guides, and much more. You can also reach out to our service desk team for your own unique log-in to the CartonCloud Academy where you can upskill your team (or yourself) on our software workflows and features!