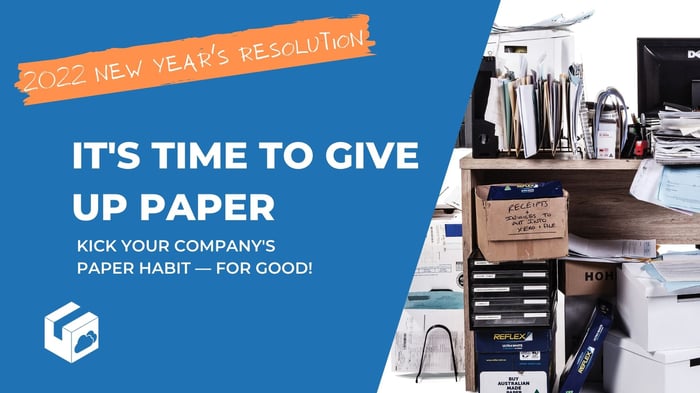 The new year brings possibilities, resolutions and plans.
This year, step away from the gym membership form, don't try to swear off pizza or chocolate, and make a resolution you'll want to keep. Resolve to accomplish more, with less. Less time, less resources, less stress!
This year's resolution means you'll leave work on time, have weekends and time for your friends and family — and still be able to grow your business.
Give up paper and stop working long hours into the night.
When you quit paper for your business, you can grow your business, empower your staff, keep your customers happy and save precious time that you can use elsewhere. That's time you can use to take weekends off, make time for a lunch break, or actually leave the office on time.
At CartonCloud, we've helped over 350 businesses to bin paper, optimise workflows and save time — to grow their businesses and have a life. Check out some of our customer stories here.
Saying goodbye to paper means streamlining your workflow so your business can accomplish more.
No more long hours spent allocating jobs, filing paperwork (or searching for lost paperwork).
No more customer calls chasing order statuses.
No more turning down new clients because you have no hours left in the day.
Why giving up paper will be the easiest resolution you've ever made.
Impress your customers (by doing nothing at all)
The best resolutions are the ones that are easy to stick to. With kicking paper to the curb, you can not only optimise your operation, but also empower your staff, reduce errors and lost PODs, and literally save yourself HOURS in admin time.
You can also share the benefits of a cloud-based WMS/TMS system with your customers, giving them access to real-time stock and delivery reports, instant invoices, and simple data integration to bring their sales orders into your system in seconds. The best part, it's automated.
Now you've given up paper, we can do the heavy lifting for you!
Take up a new hobby, with the time you save on invoicing
Invoice faster and get paid faster. When you say goodbye to paper, CartonCloud can automate complex rate card calculations to generate invoices, which are then pushed straight into Xero or MYOB and then emailed to your customer along with your invoice and an Excel sheet breaking down how charges were calculated. For 3PLs, you can even generate a single invoice for both WMS & TMS rates.
Be more accurate than ever before
With paper gone, you can automate data entry, removing the entire data-entry process! CartonCloud simply reads your existing data directly from email attachments, FTP, API and/or integrations with Shopify, Xero, SAP, MYOB (and other systems.)
Empower your staff with optimised picking and delivery routes, and simple barcode scanning.
Throw that paper sales order or consignment note in the bin. With our Android and iOS apps your staff can easily find warehouse locations, scan-pick products to ensure the correct stock is picked and packed, and even automate the most efficient process using wave picking, FIFO/ FEFO, and replenishment.
With CartonCloud, you can automatically allocate consignments to drivers (without handing them a stack of paper), update driver consignments on the go, optimise driver routes and even allow your drivers to send automated ETA text messages to your clients.
Say goodbye to lost Proof of Delivery slips!
No more paperwork means no more PODs to return, or lose. The CartonCloud Android and iOS apps let drivers view and reorder runs, easily navigate to the destination, group multiple jobs for a single POD signature capture, take photos to attach to their ePOD and much, much more. What's more, PODs can be emailed to clients in real-time, which means your paperwork is done and dusted in seconds.
New year, new logistics management system. 🎉
This year, make a resolution to kick paper. Join over 350 other companies we've helped say goodbye to paper.
Take your company to the next level and give yourself a break. Take up that new hobby, spend time with the family, your dog, cat or other loved ones. Stop working weekends, and say YES to new business.
Get your data sorted, keep your customers happy and say yes to new business.
Want to find out more? We're making it easy to kick the paper habit. The CartonCloud Knowledge Base is the CartonCloud Playbook for success, with set up and onboarding guides, troubleshooting tips, user insights and product updates.
You can also check out our CartonCloud YouTube playlist, with how to's, tips, product update guides and more — like this helpful replenishment how to tutorial.
Like talking to a human? So do we. This is why our support team is online, ready to take your call or answer your email.
You can also check out our CartonCloud YouTube playlist, with how to's, tips, product update guides and more.