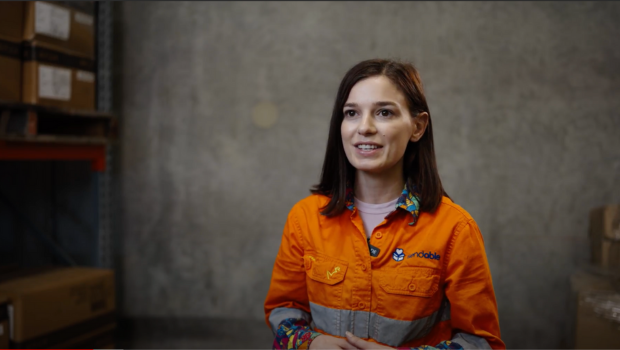 "You can actually use your supply chain to change someone's life."
Step inside Sendable's warehouse, Australia's first social enterprise 3PL facility, and see how this 3PL is putting their customers and their team first, to grow their business.
"Each item that our staff members pick and pack into their satchels, and send out — is done so with purpose, in the fact that it offers employment opportunities to people with a disability," Sendable Director Chloe Fischart explains.
Sendable was founded in 2019 as an opportunity to build employment opportunities for people with a disability, in logistics. Today, Sendable provides high-quality, trackable, and customized pick and pack solutions for e-commerce and bulk commodity clients from their 3PL warehouse in Brisbane, Australia.
They also provide unique training and employment opportunities to remove employment barriers for people with a disability — a cause very close to heart. For Chloe, the concept of Sendable came from her own experiences after her son was diagnosed with Autism and ADHD.
"Basically what we were finding was all his future career prospects and schooling was put into a negative light after his diagnosis," she said.

"As we dug into that further, we found there were employment barriers for people with a disability — and we said, ok, what can we do to create employment opportunities for people with a disability?"
Sendable is now the first social enterprise 3PL in Australia, and they not only provide employment opportunities and pathways for people with a disability— they also provide an avenue for other businesses to support social change by partnering with them for their 3PL needs.
Building employment opportunities in logistics
Since 2019, Sendable has provided numerous direct employment and training opportunities and created a pathway for customers to connect and influence social change through partnerships.
"You can actually use your supply chain to change someone's life," Ms Fischart said.

"Through our unique third-party logistics (3PL) model, we are focused on helping to take e-commerce businesses to the next level while providing a solution to labor force participation and skill development barriers that are currently faced by those with disability."
Achieving true customer-focused operations with 3PL warehouse management software
"Given the work we do at Sendable, having a WMS that is easy and simplistic for our staff members to operate was a key priority for us," Ms Fischart said.
For 3PLs working with e-commerce clients, the ability to provide accurate and up-to-date oversight of inventory levels and order traceability is paramount to ensuring customer satisfaction and facilitating growth.
For Sendable, they needed to ensure accurate data capture and order tracking at each step, ensuring incoming stock could be easily accounted for and allocated. They needed a workflow where orders could be easily picked directly from a mobile app, with barcode scanning for end-to-end accuracy and tracking. They found CartonCloud.
Since implementing CartonCloud's cloud-based WMS, the team at Sendable have streamlined their workflows with accuracy. With intuitive workflows and user interface design, they can provide accurate stock-level oversight and order tracking, and provide full transparency to customers.
"CartonCloud has made receiving stock quite easy for our team," Ms Fischart said.

"Being able to scan a barcode, allocate it to a location and have our team pick from it — and all within a 24hr period [for daily dispatch]."
Full inventory visibility and simple customer reporting
With barcode scanning for incoming inventory and stock put away, as well as order pick and pack, the team can automate data entry for greater accuracy, more efficient stock management, and transparent stock trackability.
The CartonCloud customer dashboard allows Sendable to provide their customers with real-time inventory level updates (by SKU).
Customers can generate their own up-to-date stock reports, available 24/7, which can be generated directly through the portal.
Automated online or manual ordering through WMS integrations
With seamless online integrations, Sendable offers auto-sync ordering from online stores and the ability for customers to enter manual, one-off orders.
WMS integrations with e-commerce sites provide faster and more efficient order processing.
Orders can even include custom packaging information and directions, to streamline custom services, allowing the team to offer even more to their clients.
Social change: a ripple effect
"For our customers, they really like promoting the social enterprise part of our 3PL business," Ms Fischart said.

"It's really around focusing on the employment opportunities that they are able to create directly through the sale of their products.

"We're able to change the lives of these individuals, and as we're doing it I always have my son in mind. We dont have to have these employment barriers in place, we can overcome them, we can create an inclusive environment where everyone can have opportunities to work."
Want to know more?
Learn more about how our easy-to-use WMS software can help you automate and streamline your operations. Get in touch with our friendly team to request a free guided tour of the software (book your free demo below), or explore our extensive WMS features and workflow automation on our site.
You can find out more about scalable warehouse systems from other industry members with WMS customer stories and testimonials.