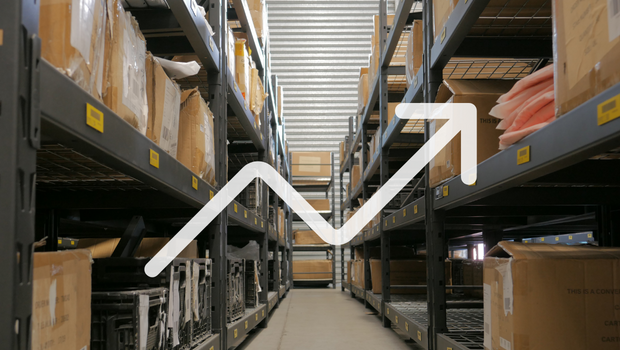 In today's logistics industry, the ability to fulfill orders quickly and efficiently is crucial for any growing business. Keeping up with demand can be hard, and without a scalable warehouse system in place, you can run into headaches.
The global increase in WMS software adoption across the logistics industry is driven for the need to have end-to-end supply chain tracking, optimization, and planning — to meet demand in providing more timely shipments.
What are the different types of Warehouse Management System (WMS)?
Industry giants have invested significantly in advanced warehouse management systems, alongside running pilot programs to trial emerging tech and robotics. Gartner forecasts indicate that 25% of supply chain technology applications will use intelligent algorithms or AI techniques in 2023.
Scalable warehouse systems allow growth by optimizing workflows to boost output while reducing overheads. CartonCloud's powerful WMS provides the flexibility, personalization, and power small businesses need to automate processes, streamline workflows, boost accuracy and efficiency — to deliver on customer expectations without the overheads and additional equipment or training required for a bulky, top-tier warehouse system.
This year, forecasts show businesses will be under more pressure to determine a way to offer consumers more; providing omnichannel ordering and delivery — all at the lowest possible cost. To achieve this growth, 3PL warehouses need built for purpose, scalable warehouse software systems.
Want a warehouse system that can scale and grow with your business?
Start by automating time-consuming tasks like data entry, ordering, and invoicing.

Next, streamline your workflows for more efficient use of resources.

Use mobile devices and barcode scanning to boost accuracy and efficiency.

And finally, deliver on customer expectations with software integrations that can seamlessly and securely link to customer online stores for hands-off online ordering.
Setting up your scalable warehouse system
Setting up a scalable warehouse management system is easy with CartonCloud. Our first step is to set up a call with our experienced team, to run through your company's services, your pain points, what you want to achieve and what your customers need — so our team can show you the features and workflows of our WMS software that will suit your specific organization.
Our team have experience in warehousing and transport, which means they understand your business and have the skills and experience to provide great advice and support when you need it.
The other great thing about having a scalable cloud-based WMS, is that you can pay for what you use, scaling up as you grow — which is a much more achievable model for growing businesses.
We asked our expert development team to share some details as to how we keep our software innovative and ahead of the curve, to ensure our customers continue to have the best software for their needs. From on-site visits to see the software in action, to keeping ahead of technological trends — this video takes a look at what makes CartonCloud Logistics Software scalable for any growing warehouse.
Scalable warehouse management system features
Your WMS should take the stress out of your warehouse operations. It should make your life easier. Streamlining order fulfilment, automating data entry, optimizing workflows and boosting accuracy — to simplify complex logistics operations.

Take barcode scanning for example. Implementing barcode scanning with your warehouse management system provides greater accuracy at each step. With CartonCloud's WMS, you can scan warehouse locations, batch or serial barcodes using your smartphone paired with a Bluetooth scanner for inventory selection, order fulfilment, put away, stock movement, cross-docking and more.

The scan-move function enables you to simply scna the item and allocate to a new location in one move — aligning the data in your warehouse system and the physical locations of your warehouse.
Scaling up with automated order entry, rate cards and invoicing
Scalable warehouse systems start with ease of use. Our intuitive desktop and mobile apps are designed to fit seamlessly into your operations, with features to simplify your workflow, increase accuracy, and save you time.

Automating scalable, flexible and individualized rate cards is essential in getting the most from your warehouse system software. Having flexibility with your rates means you can tailor rates for customers, by service or season, and to capture ad-hoc charges.

Using your WMS at each step of your operation means you can easily capture rates as your team works, which are automatically captured and calculated by your WMS, and the invoice can be automatically generated by a trigger you select.

CartonCloud gives you the ability to have either individual rate cards for each client, or you can group clients together and work from a single rate card, it's up to you!
"It saves on costs. It saves on having to employ more staff. Because if I didn't have this program, I would have to have probably two admin people with me because there's no way that I'd be able to do the volume of work that we do."

Emily Harris — Owner Motus Transport.
Scaling up with integrated warehouse and transport management systems
Many logistics providers handle warehouse storage, order picking, dispatch, and delivery — from their own fleet and team, or by partnering with couriers and other companies. With an integrated WMS/TMS you can streamline data flow from warehouse to transport operations, for a more efficient way to track and fulfill orders.

A cloud-based warehouse management system like CartonCloud also allows you to integrate with your legacy systems (like accounting software), and integrate directly with customer e-commerce stores for seamless order entry directly into your WMS.

CartonCloud integrates with over 20 popular business apps, and 1000s more via Zapier giving you more flexibility and control over how you use your warehouse management system. Connecting your e-commerce and accounting software to CartonCloud can reduce your admin time by over 50%.
What software do warehouses use to grow?
There are a range of providers offering scalable warehouse system software; each with unique user interfaces, features, implementation and support (see Inbound Logistics' WMS software guide).

We have a guide of Frequently Asked Questions for Warehouse Management Systems (WMS) here.
Want to know more?
You can find out more about scalable warehouse systems from other industry members with WMS customer stories and testimonials.
Want to know more about CartonCloud? To learn more about our software and how we can help you take your business to the next level, simply hit the link below to fill out a form to request a free demo call — and our friendly team will be in touch in no time.