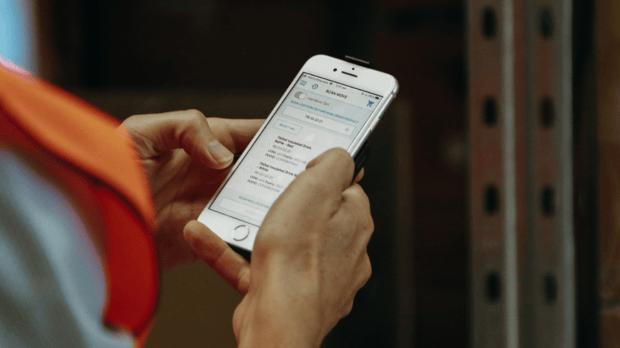 For many logistics businesses, it's now no longer a question of 'if you bring your logistics operations online', but of 'how' and 'when'. To help you decide on the best cloud WMS for your warehouse, we've pulled together a few of the top Frequently Asked Questions about cloud-based warehouse management software.
Logistics technology is evolving rapidly — requiring greater digitization and data tracking to streamline global supply chains. For smaller logistics businesses, selecting the right warehouse management system is the most important step in digitizing your operations.
What is a cloud-based WMS, and how does it differ from a traditional, on-premise WMS?
Let's start with the basics; what is a cloud-based WMS and how does it differ from traditional, on-premise (non-cloud) logistics software?

A cloud-based WMS is subscription software, or software as a service (SaaS), that allows you to simply log in to your account online, without requiring in-house servers or setup. CartonCloud's cloud-based WMS and TMS software include a tablet and desktop web application and mobile app, which means you can access your account from your existing devices.
What are the benefits of using a cloud-based warehouse management system?
There are many benefits of using cloud-based WMS software, the main being the flexibility of the system and the ability to use your own devices.

With a cloud-based warehouse management system you can simply log onto your account from the device of your choice; a desktop computer, tablet device (for management on the move), and smartphone.

This is a huge benefit in two ways;
First, it makes it easier to implement your new system. You don't have to purchase specific equipment to run the software, and you don't need the time and expertise to implement the system across workflows, or to train your team.

Secondly, it means that you can use the system across multiple steps of your operation. The desktop application, warehouse staff app and driver app are all connected to your account, which means data is captured and tracked in real-time as your team work — updating your records instantly and calculating rates for automated invoicing.
How can a cloud-based warehouse system help my business?
Implementing cloud-based warehouse management software will help your business to streamline operations, with automated workflows that eliminate manual data entry and increase accuracy, simplifying complex tasks, and capturing data in real time.

For a growing 3PL this means scalability, accuracy, more efficient workflows, and the opportunity to bring on new customers (with new requirements). See Lexington Logistics' story below, showing how they implemented their cloud-based WMS as one of the first steps in launching their 3PL, in order to ensure they had the right systems in place to grow.


What features should I look for to find the best cloud-based WMS?
The best cloud-based warehouse management system software for small logistics companies needs to be built specifically for businesses of their size and operations.

That means looking at the software's features, the interface (usability), and the implementation process. Easy implementation means faster results.
Usability means less time required to train their staff, and more enjoyable use of the system. The right features should help you to simplify and optimize your processes, with solutions that work for the services you provide.

There's no use using a racing car off-road, or a monster truck to navigate an underground car park. Each warehouse management system will have different features and capabilities which makes it better suited for various operations and businesses. The first step is to research and reach out for a free demonstration of the software or a call with the sales team, to go through their own onboarding processes and the features o the software.
Are there cloud-based WMS software systems for small businesses?
Of course! There are a range of different cloud-based warehouse management systems, each with a range of different features, user interfaces, personalization, and price points.

For smaller logistics businesses, it's important to find a warehouse management system that solves the main pain points of your operations; boosting accuracy, automating manual data entry and invoicing, and simplifying workflows for more efficient operations.

You should look for features that boost accuracy, save you and your team time, and automate manual data entry.

The best cloud-based warehouse management system for a small business will have;
Affordable and scalable pricing plans that allow you to pay for what you need and increase use as you grow,
An easy-to-use, intuitive user interface for quick and easy training,
A mobile application with specific workflows (order pick, stock put away, scan move)
Automated data entry, rate card calculations, and invoicing,
Ability to scan barcodes and use barcode scanning for order picking, stock movement and stock putaway, dispatch, and more,
Seamless software integrations allowing you to connect with your customer's online stores, your accounting software, partner software, etc.


Importantly, the best warehouse management software for smaller businesses will also have a great team behind the product, who are able to provide expert advice ensuring you get the most from your system.
How does pricing work for cloud-based warehouse management software?
Most cloud-based warehouse management systems will be SaaS models; software as a service, which provides software subscriptions billed at a weekly, fortnightly or monthly basis.

The benefit of a SaaS model is that many offer no lock-in contracts, and allow you to scale up your subscription as needed. This means you can grow with your system, adding on additional services or scaling up as you need.

SaaS WMS software also means your software is constantly being updated and enhanced, with new features and updates being rolled out by the company. For WMS software, this means you can avoid your software becoming outdated or needing to be replaced completely.
Can cloud-based warehouse software integrate with transport management software?
Yes, your cloud warehouse management software can integrate with transport management software — and for many growing 3PLs, having an integrated WMS/TMS is a huge advantage!

An integrated WMS/TMS software solution like CartonCloud provides greater accuracy and oversight between warehouse and transport/ delivery operations. This simplifies order tracking, invoicing, rate card calculation, inventory records, reporting and much more — and gives you the opportunity to offer more to your customers.


How does training and support work for a cloud-based WMS, and what resources are available to help me get started?
At CartonCloud, we are driven by our customer's success. Our cloud-based warehouse management system WMS software is supported by in-depth documentation, troubleshooting, tips, videos, and how-to guides to ensure you always have access to the answers you need.

This month (March 2023) we will be launching our new CartonCloud Help portal, a site housing knowledge base articles, feature information, how-to guides, troubleshooting, step-by-step video tutorials, and much more.


Want to know more?
Check out some of the real-world benefits that small logistics companies have experienced by using CartonCloud's powerful cloud-based warehouse management system in our case study library here.
Want to know more about CartonCloud? To learn more about our software and how we can help you take your business to the next level, simply hit the link below to fill out a form to request a free demo call.