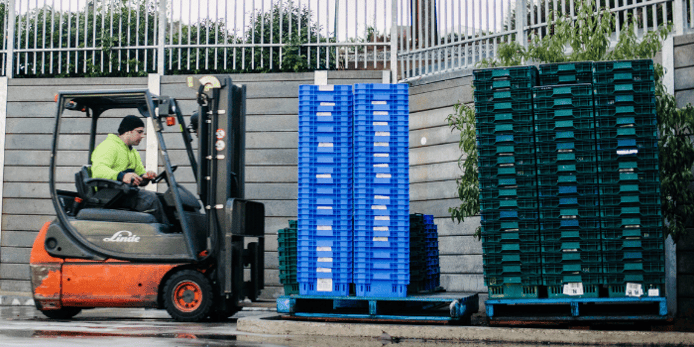 Are you wondering what size business needs warehouse and transport management software? Any business can enhance its operations with a WMS or TMS, you just need to find the right fit!
Small-medium-sized businesses (SMBs) make up over 90% of the logistics industry in North America. In Australia, that number is even higher, with small businesses contributing to 98% of the total businesses in the Australian logistics scene.
Despite this, many SMBs and larger companies still utilize paper processes for all or some of their operations — opening them up to mistakes, missed orders or invoices, and tedious, time-consuming tasks that inhibit growth.
CartonCloud's cloud-based, integrated WMS and TMS software is trusted by over 480 SMBs worldwide, with customers from Mexico to Las Vegas, British Columbia to Perth, New Zealand, Australia, and beyond. Our mission is to create the best experience for our clients, by creating our powerful WMS and TMS software specifically for small businesses.
We've combined power and feature-rich workflows, with automation, integrations, and an easy-to-use interface to give you the tools you need to grow your logistics business, without the headache.
Don't take our word for it — hear what our customers have to say!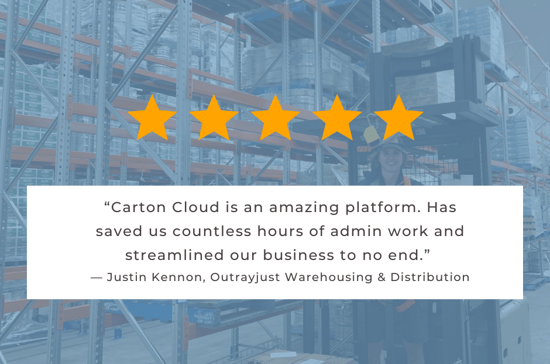 What is the best Software for SMB logistic companies?
The best software for small-medium logistics companies will vary depending on the services you provide. The most important thing is to ensure that the software system you choose has the fight features for the services you offer, and for your customer's needs. It also needs to be easy to use.
You want to be able to implement the system, onboard your customers, and train your team easily, so you can start seeing ROI. At CartonCloud, we work closely with our customers and industry partners to ensure we continue to develop features, functions, and workflows that give SMB companies the ability to do more — to take on new business, get the most from their resources.
Our cloud-based software means smaller businesses can access and benefit from automation tools and functionality, enabling them to compete with larger players in the industry.
In a recent study, we found some of the most common barriers preventing SMB providers from investing in technology to support their business growth were;
overcoming entry costs,
and knowing the right option for their business.
Choosing the right WMS/TMS for your business
It's important to find a solution with a no-lock-in pricing plan that can grow with your business. This way, you can cover the upfront costs easily, and get a faster ROI — but you can also scale up to a higher plan as your business grows. It's about ensuring it's the right fit for you!
Ask for a free demo or guided tour of the software!
Getting on a call with the team gives you the opportunity to go through the software features, ask questions, and discover what it can do. The benefit of a tour over a demo you can download instantly is, there may be things the software can do that you've never thought of!
With a tour, you can see the software's potential and how your business can benefit. You can request a free, guided tour of CartonCloud below.
Book a free demo and see for yourself!
What to consider when looking for logistics software
1. Start with a growth mindset
You should clearly know where you want to take your company, and the services you want to offer. This will help you to form a clear idea of the features and functions you need from your software.
Do you have the ambition to grow your operation over the next five years or so? Are you a small logistics business that wants to become a medium-sized business? Will you branch out to become a multi-site warehouse operation or are you expanding your fleet? Do you need to have both WMS and TMS functionality?
These are all important questions to know the answer to before you start looking — and are also great discussion starters for your demo call, so you can make sure the software provides everything you need.
2. Know your limits
It's important to know your budget and technical operation limits ahead of time. Many logistics systems can have a steep learning curve in order to use them, or may require extensive training for you and your team to onboard. For SMB logistics companies, this can be a lengthy process where you're waiting for your ROI.

CartonCloud is built for SMBs, with an easy-to-use interface and pay-for-what-you-need, scalable pricing plans designed to let you grow with your system. Our powerful, feature-rich application can be used on your smartphone, iPad, and laptop so there are lower costs to initial set-up, and our onboarding and training take days, rather than weeks.
3. Embrace cloud-based software
Gone are the days of requiring extensive IT infrastructure like servers and chords to operate your software. If you are paying for expensive new equipment every 2-3 years for your old system, then it is time to think again. And no longer do you need your own dedicated IT staff to set it up and maintain the system.
Our powerful 3PL software is cloud-based, which means digital data is stored, managed, and processed on a network of remote servers hosted on the internet, rather than on local servers or personal computers at your business. This means you can run an incredibly fast management system at a valuable cost without investing in monolithic IT infrastructure, almost to the point where it is self-funding!
Want to know how we keep our warehouse and transport software innovation ahead of the curve? Check out this short video with our in-house technical experts as they explain why CartonCloud's warehouse and transport software is the leading system for small logistics businesses.
4. Make sure you have room to grow
Capacity is the maximum output level a company can sustain to provide its products or services. The last thing you want to do is turn down work from your customers because you can't handle an increase in your workload.
A transport or warehouse management system can grow your business capacity by driving efficiencies. You don't have to increase your warehouse space or fleet size to boost capacity – you can leverage software to increase capacity and run your operation more efficiently.
For example, a paperless transport management system removes manual data entry, gives you ePODs, automates invoicing and can provide your clients with improved customer service.
A paperless warehouse management system gives you more room to use software integrations to automate order input directly from your customer's online stores, track inventory and keep records up to date, and to automate complex rate cards nd invoicing so you never miss another charge.
You can get more done in less time, with reduced errors, because transport management systems create automation, flow, and productivity.
CartonCloud is an integrated WMS/TMS system, allowing you to optimize and enhance your operations from end-to-end, in one place, giving more to your customers and giving you more room to grow.
Want to know more?
We started CartonCloud while we were running our own small business. We couldn't find delivery software that fitted our needs, so we created it ourselves.
Today we have hundreds of small businesses trusting our product. We get that logistics is complex and CartonCloud might not suit all logistics operations, so we'll contact you for a quick chat to understand your company and gauge if CartonCloud will suit you.
There are no lock-in contracts because we're a WMS/TMS software-as-a-service company. We're dedicated to helping more small businesses make the transition to the cloud through more affordable, easy-to-use, and automated software.
Get in touch today to see what we can do to help your logistics business do more with less.
Page updated April 2023