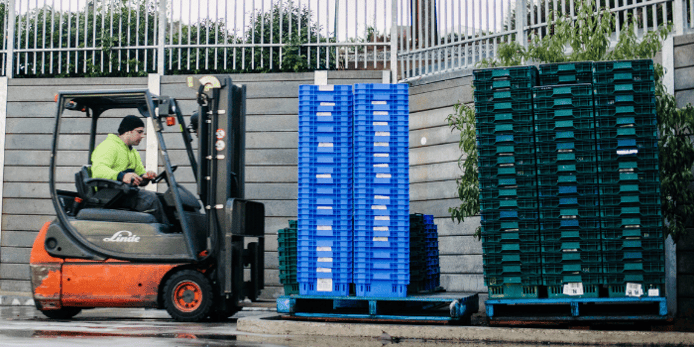 Australia is a nation of small businesses and they are the engine room of our economy.
The transport and logistics sector in Australia has an annual revenue of around $100 billion and is made up of businesses of all shapes and sizes with their own unique needs, vision and product offering. Within the transport and logistics sectors, small businesses make up over 98% of the total businesses in Australia.
Many large logistics operators now leverage warehouse and transport management systems and other modern technology to drive optimisation and efficiency.
But there are many warehouses and logistics businesses in Australia still clinging to paper-based old systems when they should be innovating and modernising.
The evolution of cloud-based software means smaller businesses can leverage the latest and greatest applications, levelling the playing field with the big guys.
Providers of cloud-based warehouse and transport management systems usually operate in a software-as-a-service model. This means you get access to powerful TMS or WMS systems at reduced rates because you only pay for what you use.
The barrier of high set up and operating costs have been removed, which empowers small businesses to optimise their operations and deliver savings to their bottom lines.
So let's look at why a warehouse or transport management system could be right for your logistics business, regardless of how big or small the operation.
Start with a growth mindset
Do you have the ambition to grow your operation over the next five years or so? Are you a small logistics business that wants to become a medium-sized business? Will you branch out to become a multi-site warehouse operation or are you expanding your fleet?
An entrepreneurial spirit is one of the most common qualities of small business owners. If a system can let you win more business than it will cost you, you're winning.
Warehouse and transport management systems can take into account your current needs but empowers you with tools to grow over time and reach your potential. It's software designed to make you agile and able to scale up operations without scaling up the headaches and administrative overhead as you grow.
Embrace cloud-based technology and data
Gone are the days of requiring extensive IT infrastructure like servers and chords to operate your software. If you are paying for expensive new equipment every 2-3 years for your old system, then it is time to think again. And no longer do you need your own dedicated IT staff to set it up and maintain the system.
Many 3PL software providers today are cloud-based, which means digital data is stored, managed, and processed on a network of remote servers hosted on the internet, rather than on local servers or personal computers at your business. This means you can run an incredibly fast management system at a valuable cost without investing in monolithic IT infrastructure, almost to the point where it is self-funding.
Unlocking Reliable Capacity
Capacity is the maximum output level a company can sustain to provide its products or services. The last thing you want to do is turn down work from your customers because you can't handle an increase in your workload.
A transport or warehouse management system has the potential to grow your business capacity by driving efficiencies. You don't have to increase your warehouse space or fleet size to boost capacity – you can leverage software to increase capacity and run your operation more efficiently.
For example, a paperless transport management system removes manual data entry, gives you ePODs, automates invoicing and has the ability to provide your clients with improved customer service. Essentially you can get more done in less time, with reduced errors because transport management systems create automation, flow and productivity.
A transport management system can also make it easier to allocate your consignments. You can set up delivery runs and allocate postcodes so when consignments get created, the software can automatically build your delivery runs.
The CartonClould Story
We started CartonCloud while we were running our own small business. We couldn't find delivery software that fitted our needs, so we created it ourselves.
Today we have hundreds of small businesses trusting our product. We get that logistics is complex and CartonCloud might not suit all logistics operations, so we'll contact you for a quick chat to understand your company and gauge if CartonCloud will suit you.
There are no lock-in contracts because we're a software as a service company. We're dedicated to helping more small businesses make the transition to the cloud through more affordable, easy-to-use and automated software.
Get in touch today to see what we can do to help your logistics business do more with less.