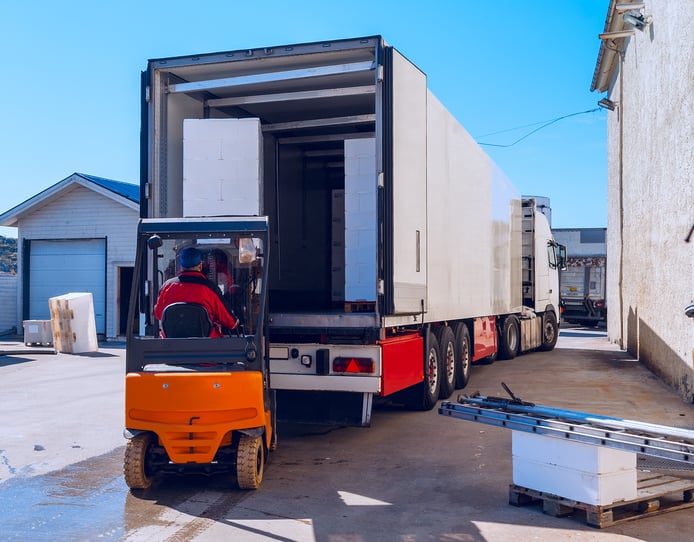 Make your life easier and turn your business into a streamlined profit-making powerhouse —sounds too good to be true, but with the right software for the job, you can.
If you're still using a paper-based system, here's why now is the time to take your company digital. Take a look at how WMS and TMS software can overcome some of the biggest daily challenges in the industry.
Different logistics businesses have different demands. And every delivery run or order received can be different from the last. The industry demands transport and warehouse operators to be able to handle and ship goods in non-standard packaging with alternative sizes and weights and to locations here, there and everywhere. Modern-day logistics companies need fast, accurate and optimized operations in order to compete with major players in the industry.
The first step is identifying where you're losing time and accuracy in the first place. Many companies continue to run on paper-based systems because it's the way they have always run. However, the logistics industry is changing, with increasing digital adoption and increasing customer expectations for easy reporting access, tracking information, and simplified online order lodgement.
One of the main benefits is saving time. In logistics, time is money, and any opportunity to streamline workflows, optimize tasks, or remove time-consuming activities is sure to be a game-changer for your business.
If you're wondering how much difference a WMS/TMS can make to your business, check out the three top ways trucking and warehouse software can overcome huge daily challenges and make your life easier.
1 . Automatically capture and calculate costs to save admin time and increase accuracy
Challenge: Manually calculating costs and inventory carrying costs can be time-consuming, and the time needed for this manual data entry can actually reduce a business' bottom line. Not only does it tie up your time, but manual data entry and rate calculations can be inaccurate, with missed charges or missed paperwork costing you money.
Solution: Automatically capture and calculate costs. Warehouse and trucking software like CartonCloud empowers businesses to automate consignments and sales orders coming in and automatically allocate the consignments to a driver, or sales order to a warehouse picker. This can reduce admin overheads by as much as 60% and provides a primary record with all of the history about everything that happened to a consignment throughout its life cycle.
CartonCloud also saves your admin team significant time by automating rate calculations and invoicing. Not only is your invoicing completed faster and with more accuracy, with accounting software integrations, you can also simplify your books overall, with invoices pushed directly from CartonCloud to MYOB, Quickbooks, Xero, or other accounting software.
2. Accurate stock selection — every time
Challenge: Whether you're confirming incoming stock, ensuring the right stock selection, or checking off freight for dispatch, accuracy is key. Accurate data is essential in ensuring correct tracking and reporting of inventory, ensuring the right stock selection and packing (avoiding costly returns or lost inventory), and in ensuring fast and efficient invoicing so you can get paid faster.
Solution: With the CartonCloud App, you can simply pair your mobile device to a bluetooth scanner to start using Mobile Barcode Scan instantly. With mobile barcode scanning and manual stock confirmation from the mobile app, your WMS/TMS will increase the visibility of inventory, support management of stock, and reduce inventory carrying costs.
Transport and Warehouse Management Systems can often scale to the requirements of a particular operation and there are many features that help businesses achieve their unique goals, and capture the data you need. The ability to construct custom fields against virtually every different type of item is a feature businesses should look for when choosing a management system. This allows you to customize what information is relevant and recorded, whether it's the Container Number on a Purchase Order or a Carrier Consignment Note number on a Sale Order.
3. Effortlessly boost your customer service
Challenge: Now more than ever, customers are demanding faster delivery and turnaround times. This is putting pressure on logistics businesses to review how they operate and what can be done more efficiently to meet demands. Every customer also has different requirements and logistics providers must be able to adapt and provide accurate, up to date reporting on demand.
Solution: With the right software you can customize your document templates to your customer's specifications and requirements. This helps to optimize operational requirements and workflows, and also deliver branded invoices or labels to enhance customer experience.
Management systems can also provide secure user groups for your customers to login and view their own records. Customers can see orders, stock reports, and track transport jobs that are related to their particular business without seeing anything from any of your other clients. This helps build relationships with customers through transparency and visibility.
CartonCloud Makes Life Easier
CartonCloud is an easy-to-use 3PL transport management system and warehouse management system. It combines everything good about cloud technology and logistics automation to let your business do more.
It's a feature rich WMS/TMS solution that will streamline your operations in ways you might not have expected and help you provide a superior customer experience.
Key features such as easy-to-use rate cards, customer online access, automated consignment allocations and automated invoicing, will help fine-tune your transport operations.
If you're wondering what the best management system is for your transport warehouse operation, get in touch with the CartonCloud team today for a free demo.