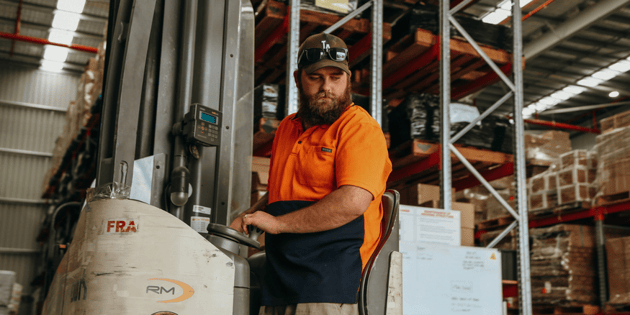 You asked for it, here it is! We asked our team of experts to share their predictions for the 5 top trends that will shape how 3PLs operate in 2023 — from revenue boosters and better customer service, to the top time savers and tech favorites.
Bringing insights from industry leaders, from our conversations with customers and industry partners, and drawing on the innovations in technology — we've identified the top 5 trends that will be the focus of growing 3PLs in the year to come.
1. Diversified revenue streams
3PLs aren't playing by the book this year. 2023 will see logistics providers looking to introduce new revenue streams and services to customers, providing a single touch point to outsource their logistics needs, made possible with integrated logistics systems and software.
In 2022 we saw 3PLs building new revenue streams, and thinking of new ways outside of the box to offer new services to win new business and provide more to their existing customers. Transport operators were offering limited freight handling or complete pick and pack for orders, warehouses were maximizing the use of their space with cross-docking services for fast-moving freight, and many operators were providing additional data and reporting based on the data they were already collecting.
"We're seeing a shift in the services 3PLs are offering, as more and more businesses look to outsource logistics altogether. 3PLs are acting more like 4PLs, providing storage, freight and handling services as well as reporting and advice, and even acting as a single point of contact for customers, as they manage a range of logistics providers on the customer's behalf.

"Our software is an integrated WMS/TMS, which means our customers can play it smart, listen to what their customers need and find new and innovative ways to provide that, under one umbrella,"

CartonCloud COO Shaun Hagen.
2. Direct Software Integrations
Connection is key. In 2023, the ability to connect systems and securely share data seamlessly as part of day-to-day operations will be a key focus for 3PLs looking to optimize operations and expand.
Allowing seamless data transfer between systems for accuracy and simplified communication across workflows, between warehouse and transport operations, and with partners and customer software will provide 3PLs with a new level of operational accuracy and customer service.
"In 2022, we built over 1,000 integrations for CartonCloud customers, allowing them to streamline data flow between systems . Raning from linking to their customer's online stores like Shopify and WooCommerce, to direct connections with specialty ERP systems like Crafted ERP, accounting platforms like Xero and Quickbooks, or DIY integrations through our public Zapier or self service API,"

CartonCloud founder and CEO Vincent Fletcher.
3. Hands-off reporting
The new year will see 3PLs focus on more than just efficient operations. 3PLs will be looking at how they can save time on all areas of their business, especially through automating manual tasks like rate calculations, invoicing, and ordering— giving them more time to fulfill more orders, or focus on other areas of their business.
Automating orders, reports, and invoicing will save 3PLs hours of admin hours, freeing them up to focus on more areas of their business. From sign on glass at warehouse dispatch, to barcode scanning for cross-docking — data capture in 2023 will be important, thorough, and simplified. With a cloud-based software system like CartonCloud, this data can be automated across their system, simplifying order processing, reporting, and invoicing.
"Back in the paper days, reporting would take hours or days — trawling through spreadsheets or trying to find paper PODs and receipts, and then answering the phone to every customer seeking an update on their inventory or shipment.

"Not anymore, 3PLs can't afford to lose so many hours on manual data entry and they can't afford to have data that isn't accurate. Automated reporting and customer access to reporting portals needs to be a priority for 3PLs who are serious about customer service, and growing their business,"

CartonCloud Implementation Manager Shaun Johnson.
4. Track-ability
As order tracking with food and home deliveries increases, expectations for tracking across all levels of the supply chain will grow. Whether it's the ability to see a shipment in transit, view stock levels in the warehouse, stock movement reports, or receive an electronic POD (ePOD) at the point of delivery, track-ability provides important usable data to all members of the supply chain.
The expectation to see where an order or shipment is at any point in the supply chain will drive more and more 3PLs to implement track-ability, along with the ability to share this with partners and customers for their own planning and reporting needs through (you guessed it), direct software integrations.
"The ability to pull up any consignment and instantly see who it has been allocated to, if it's in transit, and exactly when it is delivered is paramount to having a scalable transport operation.

Likewise, being able to easily capture inventory data as your warehouse personnel work directly through the mobile app is a game changer. It keeps reports up to date and allows you to show order dispatch date and time across multiple platforms through integrations,"

CartonCloud Customer Operations Manager Scott Murray.
5. Deep understanding of tech features
In years past, digitization could be simply implementing a system and then continuing to operate in the same way as before. However, as digitization continues to permeate more areas of the logistics and supply chain industry, our team predicts 2023 will see 3PL providers looking to understand the capabilities of their technology in more depth.
They want their WMS/TMS software provider to take care of multiple areas of their operation, streamline and simplify data and reporting, and make their lives easier. They want to do more for their customers, and they want to know all the ways their software can help them save time and money, and increase their output.
They will learn the system, ask questions, and take advantage of all the features available to get the most from their system. These logistics companies will use multiple areas and features of their systems to boost productivity, accuracy, and output — and to free up more of their own time from manual tasks.
"Our cloud-based WMS and TMS is so intuitive and easy to use, that 3PL businesses can complete their setup and start using features in no time. We used to see warehouses and transport companies have to bring in project managers and, tech experts or have an entire team dedicated to switching their software system or bringing on a new system, but the way CartonCloud is designed makes it so easy-to-use, that the team they have on hand can simply pick it up and start using it.

They can digitize operations in days, bringing in new tech and new automation for data entry, without any headaches — and this will see 3PLs expanding their use of software, ensuring they get the most from their systems that they possibly can,"

CartonCloud Implementation Consultant Mitch Whitnack.
The world of logistics continues to evolve, creating a new business environment for 3PLs offering warehousing and transport services, and technology adaptation is providing new ways for these businesses to optimize and expand.
Want to know more?
Explore our library of customer case studies to see how CartonCloud has helped shape and enhance over 400 companies from all over the world. Or see our powerful software in action by contacting our friendly team for a free demo of our software.