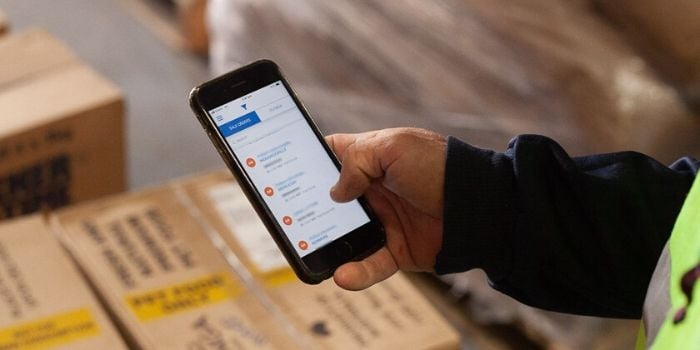 Warehouse barcode scanning can increase your team's pick accuracy, increase order fulfillment tracking, simplify warehouse location navigation for all of your staff, plus much more. If you're looking to implement barcode scanning your warehouse, there are a few things to consider first.
Why use barcode scanning in your warehouse? The key benefit of scanning barcodes in a warehouse is 100% confirmation that you have the right product from the right location. This may be to scan incoming freight into your system, record freight movement within your warehouse, or when picking items for orders. At each step, with barcode scanning, you have complete accuracy.
A common issue in paper-based warehousing is making a picking mistake when you have two different products that look very similar — and may even be named very similarly. Without barcode scanning to ensure you have the correct pick location and item, mistakes are often made.
Before you choose a warehouse scanning system to use, make sure you consider these 5 questions, to ensure the system will suit your warehouse's operations.
1. Is It Cloud-Based?
A few years ago, many warehouse scanning systems were expensive to roll out, requiring a lot of technical infrastructure and training. These days the bulk of processes can be done in the cloud — and for small and medium-sized warehouses, this has more benefits than simple implementation. Cloud-based WMS software allows you to remove paper-based processes, increase accuracy, streamline data capture and automate timely tasks like rate card calculations, invoicing, and stock reporting.
With a cloud-based WMS and barcode scanning, you can ensure accuracy, while seamlessly capturing, tracking and recording all of your inventory data in one place, available to your customers at the click of a button.
2. Is it designed for warehousing?
You should consider the functionality you will be using barcode scanning form and ensure the system you choose supports this.
For example, barcode scanning incoming and outgoing freight for cross-docking, recording stock movement within your warehouse with scan-move, assigning inventory to a warehouse location by scanning the warehouse location barcode, providing return to sender functions, or allocating inventory to pick bins for faster pick and pack — all require barcode scanning to capture and manage inventory movement, storage and charges.
This is a very important consideration since many software systems aren't run by those who have worked in the warehousing industry before. CartonCloud's WMS is built for the logistics industry, by logistics people, making it easy-to-use, and fit for purpose.
3. Can your WMS talk to your TMS?
If you're covering warehouse and transportation, or if you have a 3PL warehouse offering freight forwarding/ courier management for dispatch, you will need to ensure your Warehouse Management System can talk to your Transport Management System.
This integration allows seamless data flow between the two systems in real-time; giving you oversight of incoming and outgoing stock, and order tracking. It also simplifies invoicing, allowing you to capture and automatically calculate chargeable rates across warehouses and transport. By implementing barcode scanning within an integrated WMS/TMS, you can ensure seamless accuracy across both systems,
CartonCloud is a fully integrated WMS/TMS, providing easy-to-manage, seamless data flow across both aspects of your business.
4. Pairing with bluetooth barcode scanners or mobile computers
The purchase of RF scanners adds additional outlay that you'll need to weigh up, however, you might not need a RF scanner to achieve the functions you want. Going back to point 1, if you select a cloud-based system, you may be able to pair your device with a Bluetooth scanner to start barcode scanning instantly. CartonCloud's mobile application can be downloaded and run on Android or iPhone operating systems, simply paired to a bluetooth scanner (which can be purchased for around $100), to begin scanning immediately.
The savings in inventory accuracy, and data management will cover the initial Bluetooth scanner costs, and have you increasing profits in no time.
5. Is implementation supported and affordable?
The final consideration to ensure you select the right system for your operation; is to have simplified onboarding, great customer support, and an affordable payment plan.
At CartonCloud, we take onboarding seriously. We know that the right set-up and initial understanding of the software is essential to ensuring you get the most from your account. This is why our onboarding team are industry experts, with years of experience in logistics operations. We know the industry, and can help you tailor your set-up to suit your exact business needs. Our local support teams are based in Australia and North America, ensuring you have someone who is just a phonecall away when needed. Our payment plans are also flexible, designed to only pay for what you need. Grow your plan as your business grows, and as you bring on new customers requiring new features.
Ask our team about implementing barcode scanning in your warehouse, or what considerations you need to consider before you can start warehouse barcode scanning.
Find out how TNS Logistics implemented CartonCloud to build their small warehouse project into a thriving 3PL.
Find out more
If you'd like to discuss the individual characteristics of your warehouse such as its size, growth prospects, and type of SKUs, our experienced team at CartonCloud can help you find the right system and barcode scanning implementation for your operations. Reach out to us today for a free demo, to see our software in action, and look at features specific to your operations.