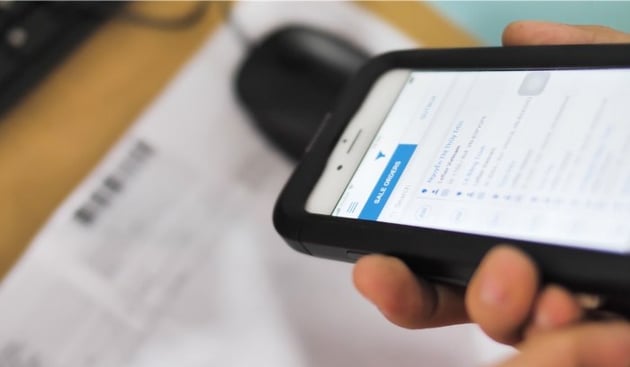 Did you know that you can keep things low-cost by using an iOS barcode scanning app in your warehouse, simply using a smartphone? Automating tasks, reducing paperwork and mis-picks, and keeping track of your operations has never been easier.
CartonCloud is logistics software, designed for logistics people, by logistics people. It is designed to work with minimal effort, be intuitive and easy to operate, and ultimately to make your life easier.
Both WMS and TMS systems can be used on both iOS and Android devices, eliminating for most operations the expensive outlay of PDA devices — and allowing you to streamline operations across all touchpoints.
In this guide, we'll show you how warehouse putaway teams and pick/packers can use the WMS mobile app to maximize efficiency.
Step 1: Pair your devices with bluetooth scanners
First step is choosing the right app. If you're pairing with your smartphone (rather than a mobile computer), you want to make sure you have speed, accuracy and seamless Bluetooth pairing.
There are many barcode-scanning apps on the market, and not all are created equally. Whilst there are iOS scanning apps that use the iPhone camera, it's not always ideal for warehousing environments. Low light, especially in lower racks, is a cause for delayed scanning times. Even the 3 to 4 seconds it takes to scan a barcode, when added up over an entire day of picking or putaway, can really add up.
The CartonCloud mobile app is designed to work in a range of settings, giving you flexibility to choose the right tech for your team. You can purchase a wireless bluetooth scanner for under $100 that can be stuck on the rear of an iPhone with a 3M velcro strip, which is a great way to implement barcode scanning for a low up front costs. This also means the bluetooth scanner can be charged separately from the phone.
Once you've chosen your scanning hardware, simply connect and go!
Step 2: Streamlining inventory
There are multiple ways you can set up barcodes for use in your warehouse. You may need to scan inventory by batch number for expiry dates etc, warehouse racking for bulk storage, pick bins, staging areas, incoming orders, outgoing packaged orders, and more.
For this, you'll want your racking to be properly labeled. Find out all you need to know about barcode labeling here.
When setting up your data in CartonCloud, you can assign important attributes such as:
BIN location(s) for the units
EAN and UPC codes if applicable
The most common name of the product
Number of inventory in stock at this location
CartonCloud goes beyond showcasing just the basic information; including putaway time and date, number of units on order, and even expiry dates.
Step 3: Optimization beyond just the warehouse
The benefits of barcodes doesn't stop at the warehouse door. Many 3PL and transport companies are embracing barcode scanning technology for their drivers, and industry leaders are also ensuring their warehousing software integrates with transport solutions for seamless data flow.
In the case of CartonCloud, drivers can get digital delivery docks signed in field. Not only that, but you can track your entire fleet location, better allocate your drivers and reduce expenses and waiting time….all from an iOS scanning app!
Getting started
You can check out our mobile ap in Demo mode for free today — available for download in Apple or Android operating systems.
We'd love to help you get started with a robust and reliable solution that can be run right off a common smart phone. Get in touch with us here at CartonCloud today, as with thousands of users, we're leading the way with both our warehousing and logistics solution.