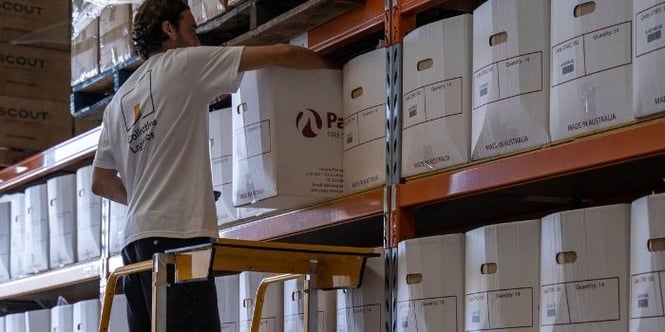 With goods coming and going on high rotation, it is easy to lose track of what is where in your warehouse.
Doing a regular stocktake is one of the best ways to keep track of everything and when it is done quickly and reliably it can save you and your clients' thousands of dollars in expired or lost goods.
To mark the launch of CartonCloud's new Stocktake module we have come up with some tips to ensure a successful stocktake.
6 Tips For A Successful Warehouse Stocktake
1. Collect lots of data
An efficient stocktake will provide you with a range of information about the goods in your warehouse so you can undertake any necessary movements, or account for variations to ensure accuracy.
To do this you need to be performing stock reconciliation across a range of data points for each customer. These data points could include production date, batch number or expiry date. This provides users with more control over how they wish to count their stock during a stocktake and more information at the end of the process.
2.
Go digital

Traditional manual stocktakes are time-consuming and prone to error. Taking the whole process into a digital environment and entering stock counts and details directly into a web app is the most efficient and accurate way to complete a stocktake.

By putting all the information into a digital format, you will find it much easier to organise and manipulate the data.
3.
Make sure you charge

Regular stocktakes will provide your clients with valuable information about their goods that will allow them to do their own planning and better manage their supplies. It is an important process and you should be charging for it. Make sure you add stock-taking to your standard list of fees and charges.

If you wish to charge for stocktake then this can be achieved by simply adding a manual charge to the customer's invoice in CartonCloud.
4.
Pause stock movements

Before commencing stocktake it is important that all warehouse staff are aware not to action open sales orders or purchase orders, as this will cause issues with counting quantities and lead to incorrect results.

By taking the process digital you can easily alert all warehouse staff that they are not to move stock in or out for a certain period of time.
5.
Split up the work

Stocktake can be a big undertaking and you want to get back to normal operations as quickly as possible. To get through the job quickly you can split the counting process to multiple staff electronically by assigning each staff member a section of the warehouse to count. This ensures there is no overlap that could lead to double counting.
6. Use the data
Our final, and most critical tip, is to use the data to make improvements to your systems and processes.
Using a platform that is specifically designed to give users a range of insights once you have completed the stocktake can help improve the efficiency of your warehouse.
Why choose CartonCloud?
CartonCloud, Australia's best warehouse management & transport management software, logistics software made by logistics people. With the development of CartonCloud, the aim was to build a warehouse management system with a transport management system integrated, whilst focusing on automating administration processes, accounting tasks to speed up cash-flow and create total transparency for customers while making it really easy-to-use.
To learn more about our new Stocktake Module using CartonCloud visit our Knowledge Base Article here.