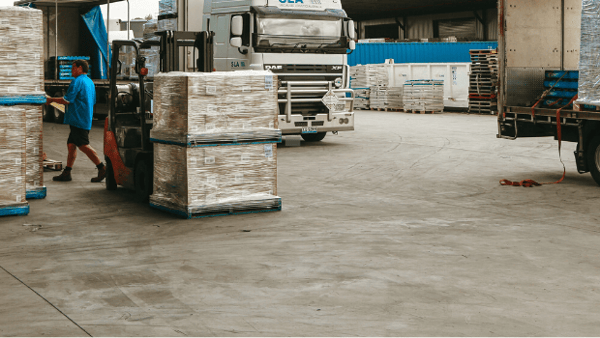 In a world where expectations for fast delivery are on the rise, offering cross-dock operations allows logistics operators to provide timely stock turnaround for inventory, benefiting from optimized delivery route options and minimal to no storage time.
The ability to quickly process and turn around stock from the landing dock provides a huge competitive edge, reducing storage overheads and ensuring faster delivery.
The cross-docking model allows freight operators to accept incoming stock into a temporary holding area, where it is sorted and dispatched within a short timeframe, going out on various trucks with other inventory destined for a similar delivery location.
It means a faster factory-to-shelf lifecycle time, giving you a competitive edge to offer faster last-mile solutions for your customers. Done right, cross-docking effectively cuts out the need for inventory put away, storage or picking services, allowing you to offer faster and more efficient freight turnaround that your customers will love!
Keep products moving with built for purpose cross-docking management software
With built-for-purpose cross-docking management software, you can manage incoming freight with ease, scan freight into loading areas for greater inventory accuracy, and easily allocate freight to consignments for faster and more efficient cross-docking.
Cloud-based management software for transloading, or cross-docking, gives you the flexibility to process and sort incoming freight for dispatch with accuracy and ease — giving you a competitive edge. You can also reduce inventory management overheads and free up warehouse resources by removing unnecessary freight handling.
So, how does cloud-based cross-docking software work? First, let's break it down to basics.
What is cross-docking?
Cross-docking, or transloading, is where incoming freight is matched to outgoing orders, to be unloaded, sorted and loaded to a new truck from the dock staging area, with minimal handling or storage time.
With the right cross-docking software, you can even match incoming freight to consignments and delivery run sheets before the freight has even hit the loading dock — streamlining incoming freight to be processed and dispatched, or temporarily held in a short-term staging zone for easy access.

For 3PLs, offering cross docking provides a highly efficient warehouse service for inventory being dispatched through multiple transport providers or orders with a high priority dispatch for last-mile.

What are the benefits of cross-docking?
Cross-docking requires less space and less handling than typical warehouse storage, as the freight is processed and moved on quickly — which is good for your bottom line.
Warehouse storage and handling are reduced, meaning your inventory has less idle time on the shelf, increasing product safety and integrity.
Reduced handling means simplified management and inventory tracking.
You can maximize the inventory in each truckload for the highest efficiency in terms of delivery miles and stops.
How to cross-dock with accuracy and ease
Effective cross-docking requires clear coordination between 3PL carriers and partners, and powerful, purpose-built cross-dock management software to manage inbound and outbound flows.
You will be managing incoming freight deliveries, and matching these with outgoing orders on the fly, managing various vehicles, partners, orders and more. This is where your software comes into play.
To effectively and accurately implement cross-docking operations, you need to be sure your transport management system has the capability to handle freight sorting and allocation, record temporary storage, consignment grouping, and to automate run sheet allocations.
CartonCloud is an integrated warehouse and transport management system originally created specifically to handle cross-docking operations.
The comprehensive WMS/TMS system pulls customer orders through EDI or software integrations, providing faster order input and more accurate data management. The powerful integrated WMS/TMS system then links incoming inventory with transport run sheet planning, based on delivery addresses and timing, for the most efficient freight cross-docking.
The key to cross-docking is having effective data management
With complete transparency of incoming freight consignments, you have the ability to allocate stock directly to orders, and build a delivery run before the stock has even arrived.
This means a faster turnaround once the stock has arrived, less warehouse storage space occupied, and less freight handling required by the warehouse team. When the stock arrives, it's as simple as checking off inventory on the delivery run manifest you created, directing stock to a holding zone or straight onto the next truck, and away it goes.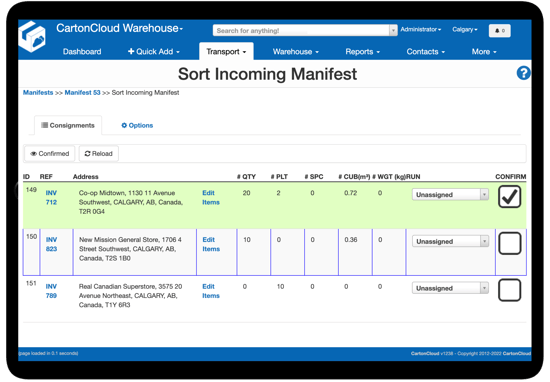 Reduced warehouse handling
For 3PL customers, integrating cross-docking solutions into their public warehousing operations means optimizing their warehouse space and resources, while offering faster processing of in and out inventory. Optimizing your warehouse cross-docking like this allows you to reduce unnecessary labor time and overheads, and reduce unnecessary use of long-term storage space. For inventory that will be processed quickly from incoming freight to outgoing shipments, the stock can be matched directly to orders, for immediate dispatch before it ever sees the warehouse racking.
With careful management, you can accept and process freight without providing long-term warehouse storage— ultimately processing higher quantities of freight in a day, week or fortnight.
Faster last-mile delivery
Reducing shipping times is a key goal for many logistics operators, especially as customer expectations continue to drive shorter and shorter delivery timeframes. The ability to match incoming freight with orders for immediate dispatch greatly benefits those seeking to provide speedy last-mile delivery services. This allows you to coordinate the most effective resource and route for each delivery, by grouping consignments going to similar locations.
To do so, you need to ensure your warehouse and transport management system has the capability to handle incoming orders and consignments, and match these with the correct fleet resources. With CartonCloud, this process is automated for faster and more accurate management.
Fuller Transport Loads
From your iPad or mobile app, you can view incoming freight orders and group consignments for localized delivery, you can have greater oversight of driver manifests, to build run sheets with fuller loads.
Whether you're operating long-haul across regions; ie Toronto cross-docking with delivery routes across the border to Chicago, or cross-docking locally; ie cross-docking in Ottawa for more efficient local distribution legs — having the ability to streamline your operations, reduce manual data management, and increase accuracy at every step is essential in optimizing your truckloads and transport routes.
CartonCloud's easy-to-use, accurate and powerful WMS/TMS software is designed to let you cross-dock with ease and accuracy.
Want to know more?
To find out more about how to optimize your operations with CartonCloud, contact the team for a FREE DEMO and see how CartonCloud can help you grow your business.