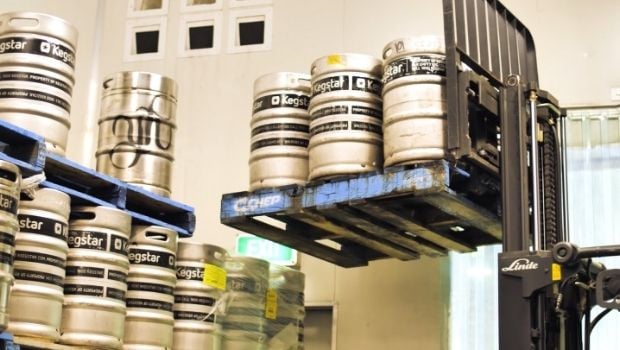 As a third-party logistics company, you're the glue that allows your customer's orders to become on-time deliveries. More than that, you're providing storage and inventory reports and insights, providing order updates and dispatch tracking, often with cross-docking, on-forwarding and more.
Which is why it's important you know your 3PL logistics management system can keep things running smoothly.
"We're saving between 40 and 60 hours a week on admin, but we're doing 30 to 50% more work."

—Ryan Thompson, Operations Manager Liquex Logistics
Automate data input, make picking more efficient, optimise driver routes and more with an integrated WMS/TMS 3PL logistics management system.
From automated customer sales data input that takes no time at all, to more efficient and accurate ops, to providing up to date customer inventory reports at a moment's notice.
At every turn, your 3PL warehouse and transport system should be streamlining, building efficiency and allowing you to simplify operations.
Here's how.
1. Remove the hassle from invoicing
With CartonCloud you can invoice faster and get paid sooner.
Your customer's sales orders are automated to enter data from your customer's sales system of choice (eg Shopify), accounts software (MYOB) or email attachments, directly into your 3PL WMS. With automated rates across both WMS & TMS, you can link sales orders and consignments to generate a single invoice, which is then automatically entered into Xero or MYOB and emailed to your customer.
For cross-docking, rather than printing invoices and shuffling them across pallets and freight on the dock, you can have your customers email the invoices directly and CartonCloud can read the invoice and match it against the consignment in the system. This means you can allocate digitally and then print (and, as we're in the business of making your life easier— the invoices will print in drop-order as default.)
2. Flexible workflows to suit your business
Do it your way. Optimise your warehouse operations with flexible workflows that allow you and your staff to pick and pack in the most efficient way, for the orders you have.
You can choose from 3 different wave picking workflow's; picking for orders, for customer, or product —allowing you to maximise the output of picking staff, using time and resources more wisely.
You can optimise your stock selection to determine picking based on inventory specifications, for example; First In First Out (FIFO) or First Expired First Out (FEFO), enabling you to plan ahead for warehouse storage and location, based on incoming orders and inventory requirements.
3. Optimise transport for the most efficient delivery
With CartonCloud's TMS features and Mobile app, you can take transport and dispatch to a new level. Configure rules to automate job sorting, and optimise delivery routes to maximise driver efficiency on the road.
Ensure all paperwork and delivery data is captured with electronic Proof of Delivery (ePODs), and even allow drivers to add comments of photos to their ePOD if required.
Streamline deliveries with driver ETA text messages, allowing drivers to alert customers of their incoming delivery ahead of time, so they can prepare.
Hear from Ryan Thompson at Liquex Logistics and hear how they revolutionised their operations with CartonCloud.
4. Seamlessly linking WMS and TMS operations
Get all of the benefits of a specialised TMS and WMS system, with a single login.
We mentioned linking sales orders from warehouse to transport, with automated rate calculations so you can provide a single invoice per customer — but the benefits of a linked WMS/TMS don't stop there!
Streamlining your data between WMS and TMS also means you can save time on customer data input/ updates — simply enter your customer details into the system once and it will apply to both! Intelligent Unit of Measure mapping from warehouse to transport means you only have to input products once, and you can ensure correct rates are automated between each system. Needless to mention, all your data and information is accessible from one single login, that links you across both systems.
5. Provide better customer service, by doing nothing at all
Finally, your 3PL warehouse/ transport management system needs to be there for you to provide great customer service. The best bit is, with CartonCloud, you can up your customer service, providing instant inventory reports, stock movement, detailed invoicing, ePODs and more… and you don't have to do a thing.
Your customers can log into CartonCloud through their own CartonCloud client dashboard, view their inventory data, see order fulfilment status and more, at any time. The benefit of a cloud-based system is your data is up to date all the time.
Imagine, your customers can assess and view their up to date information at any time of the day or night, without you lifting a finger.
Want to know more?
Get in touch with our friendly team to book a free demo and see our software in action!
Get in touch with our friendly team to arrange your Free Demo today, and start growing your business now.