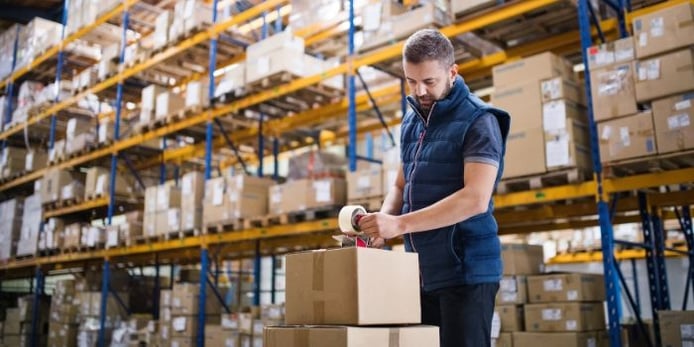 Keeping your customers happy doesn't mean making your own life harder. With streamlined workflows and optimized data management, you can simplify your operations, increase your daily output, and keep customers happy.
The pandemic triggered a rapid acceleration in digital retail, creating a growing pressure for logistics businesses to go above and beyond to improve their customer experience. Since then, businesses have been looking internally to identify how they can not only offer improved services but also how they can maximize efficiency, in order to grow.
Faster delivery and turnaround times are now expected. Many providers have accelerated this trend by offering same-day or next-day delivery, forcing the wider industry to look at ways that they can speed up their logistic efforts within the resources they have.
Now, more than ever, it has become crucial for businesses to fulfill this need, in order to retain existing customers and attract new ones. Whether it's providing last mile delivery to the end customer, warehouse and order fulfilment, or distribution and sorting between logistics legs, every part of the supply chain has pressure from their own customers to provide faster turnaround and delivery once orders are placed.
Logistics businesses need to innovate to meet these new expectations. This might be through investing in automated transport management system (TMS) and warehouse management system (WMS) software, expanding their workforce and resources or building industry contracts to outsource certain logistics legs.
At CartonCloud, we provide intuitive, easy-to-use logistics management software that allows businesses to optimize their own operations, connect seamlessly with partners and customers, and provide exceptional customer service.
We take a look at how TMS and WMS software can improve customer experience!
Enhancing Supply Chain Visibility
Despite the potential for delays and flow on impacts of our global supply chain models, receivers have come to expect that they will have the ability to receive goods almost instantaneously, and senders expect up-to-the-minute information on their inventory throughout the distribution process.
This is why supply chain visibility is crucial. One of the greatest advantages provided by logistics software is end-to-end visibility for customers. WMS and TMS software provide customers with complete visibility on stock availability, order statuses and deliveries, achieving a completely online and transparent end-to-end process. What's more, with an integrated WMS/TMS like CartonCloud, you can seamlessly transfer data from one system to another, to track orders, calculate rates for one invoice, and provide up-to-date records for customers.
CartonCloud's software integrations also provide seamless information flow between other software systems, like online ordering and stores, accounting software, ERP systems, other service provider software, and more — so you can have accurate data, without timely manual data entry, ensuring you can maintain your visibility of the supply chain.
Stock Tracking Boosts Customer Experience
Every business is operating in a digital space one way or another. Even so, many logistic businesses still use paper spreadsheets and orders for fulfillment, dispatch planning, and deliveries.
Manual data entry can be timely, and entering updated reports at the end of the day can be painstaking, which means many logistics providers still do not offer 24/7 stock visibility to their customers. This is detrimental to the customer experience, as this gap in transparency means customers are left uninformed and fail to make accurate stock management decisions, or will constantly be asking you and your staff for information.
With TMS and WMS solutions, customers can place orders online, view the status of stocked items and run reports to analyze stock levels from their own customer login, at any time that suits them. When the correct software is implemented, it gives customers and their logistic partners the upper hand, making them feel in control of what's going on. It also allows you to offer important business data in a timely fashion to your customers, without having to manually crunch the numbers each time they call.
See how transport company Specialised Logistics Australia used CartonCloud to streamline and manage data flow across multiple transport companies and customers to ensure they continue to deliver the highest quality service for all partners and customers.
ETA Keeps Your Clients and Customers Updated
Keeping customers informed on the status of their delivery through clear communication of the ETA (estimated time of arrival) is crucial to maintaining a strong relationship with your customers. It helps them plan ahead, gives clarity and confirmation of incoming orders, and allows them to prepare the space for a smooth delivery (which is faster for your drivers too!)
By utilizing the right TMS software to keep your customers up to date, you stay a step ahead and avoid your customers contacting you for when their goods will arrive. This means your customers aren't waiting around wondering where their goods are and are able to plan according to the ETA.
With electronic Proof of Delivery notes (ePODs), your drivers can capture delivery confirmation digitally, with sign-on glass and image attachments, to instantly record the delivery, with the ePOD automatically sent to your TMS to be invoiced. Your driver and customer get a smoother delivery, and you have an instant digital record of each delivery — and faster payment.
CartonCloud's solution
At CartonCloud, we put our customer success at the heart of everything we do — and we understand our customers also want to put their customers first. That's why we've created software that empowers businesses to embrace technology and be agile and resilient.
Our built-in features provide customers with clear visibility of the supply chain and stock.
It's an easy-to-use logistics TMS and WMS software that enables logistics companies to do more with less and drive improvements in customer experience.
Want to know more?
Get in touch with our friendly team today to book a FREE Demo at a time that suits you. See our software in action, talk to our experienced team about your operations and services, and find out how CartonCloud can help you revolutionize your operations with ease.