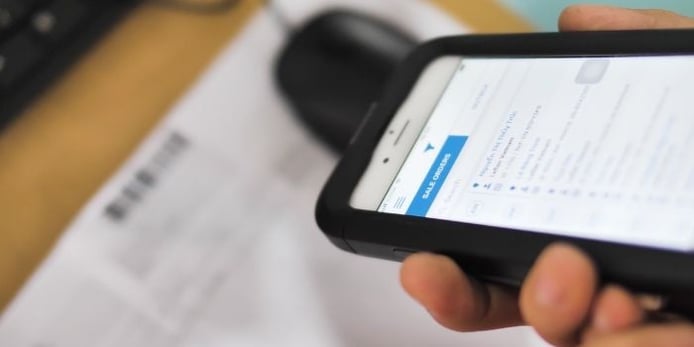 Holding on to inefficient, paper-based processes that are prone to loss and error is a common mistake made by many warehouse operators. Paper-based warehouse and order fulfillment processes are not only less accurate than automated data entry, but they take large amounts of time, and limit the growth potential of your business.
A paperless warehouse management system improves efficiency in your warehouse in many ways, not least by streamlining invoice management, improving customer service, and helping to improve your bottom line.
Benefits of a Paperless Warehouse Management System (WMS)
There are two ways you can remove paper processes in the warehouse; by using an in-house system requiring specific hardware and lengthy implementation, or with a cloud-based warehouse management system like CartonCloud.
Streamlining your workflow is one of the main benefits of a paperless warehouse management system. Replacing manual paper-based systems with CartonCloud's paperless document management is a key step in achieving best practice in modern warehouse management.
With a cloud-based WMS, you can access automated end-to-end workflows for your operations, without the need for a pen and paper. This means easier access to your data, simplified reporting, accurate and timely invoicing, and easy-to-use workflows for your entire team.
We often use this image of a desk from a paper-based logistics business, and one using a cloud-based system like CartonCloud.
Why? This desk is no joke. To many warehouse and transport operators, this desk is a common sight, filled with incoming order print-offs, delivery notes and paperwork, invoicing ledgers, customer details, and outgoing order planning for the week. For many logistics operators, especially in small-medium sized logistics businesses and family-run companies, this desk view is a daily struggle, and one that will often keep them at work late into the night, as they struggle through mounds of paper orders and invoicing.
The other side of the desk is what it looks like to use a cloud-based system, with automated invoicing, secure and easy-to-use software integrations, automated invoicing, and workflows accessible via a mobile app.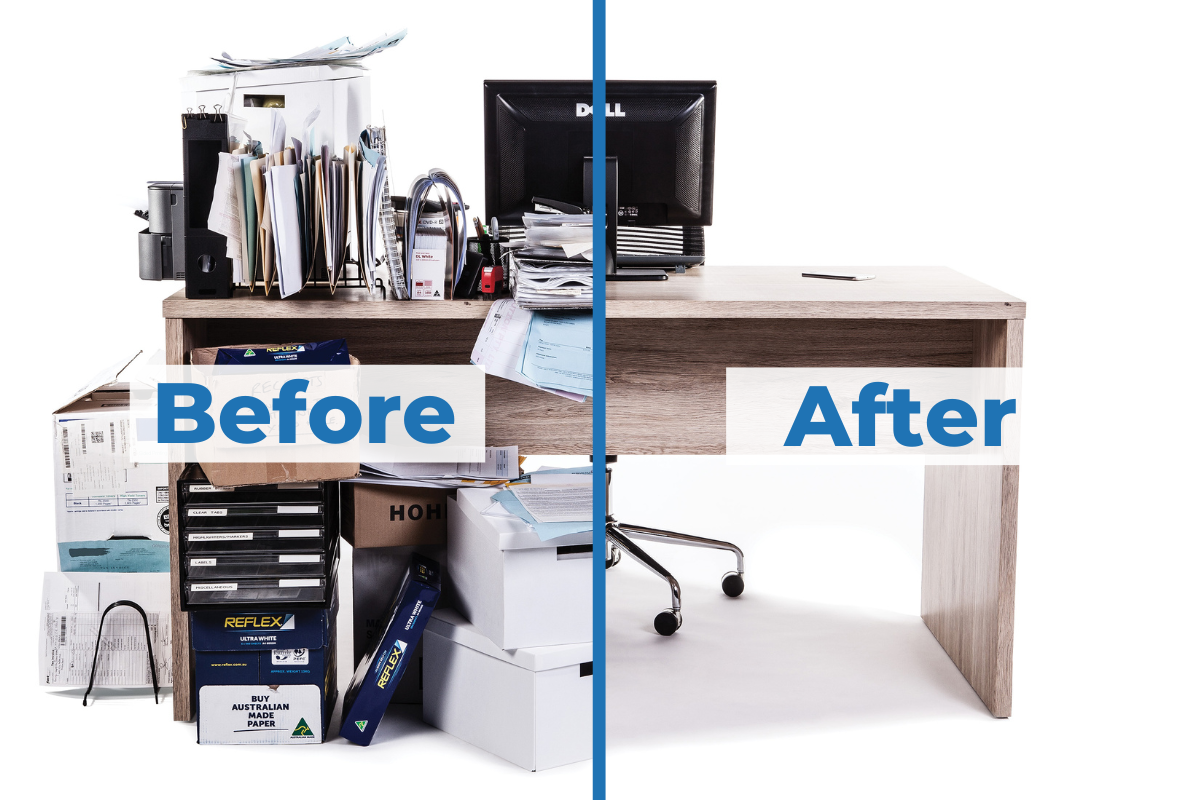 Why are paper-based warehouse systems so bad for business?
Paper-based warehouse systems are time-consuming and often inaccurate. This frequently leads to order confusion, mistakes being made, and often results in costly returns or lost revenue.
Paper-based warehouse systems also limit the scalability of your business, reducing the opportunity for growth.
Finally, paper-based systems limit your business by reducing your ability to integrate with your customer or industry partner software for ordering, invoicing, or order tracking. This can often be a dealbreaker for customers seeking a warehouse or 3PL provider and make industry partnerships difficult.
The best way to future-proof your business is to implement a cloud-based WMS. Manual records can be easily lost or destroyed and the manual entry of data is one of the biggest sources of errors. With cloud-based WMS software, you can automate processes to avoid these issues, and also benefit from range of other features as well!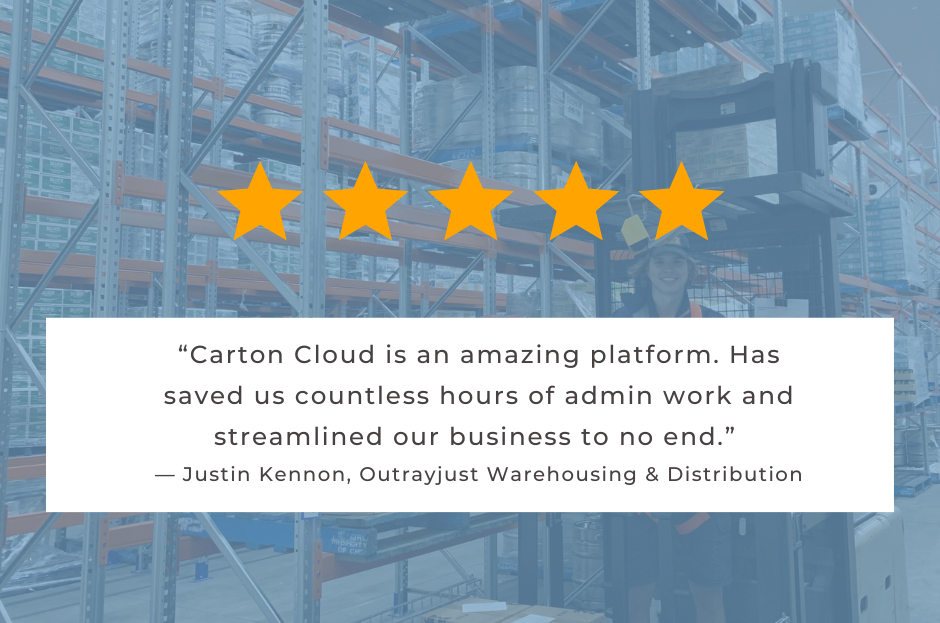 Here are some of the top benefits of a paperless WMS for your growing warehouse
You can automate data entry to save time and boost accuracy.
With a cloud-based system, you can get started using your own computer and smartphone, with no other specialized hardware needed!
Secure software integrations allow you to automate orders from your customer's emails or their online storefronts.
With an end-to-end system like CartonCloud, you can capture data and updates on the go, for the most accurate reporting 24/7.
You can automate complex rate cards to generate invoices automatically — for faster, more accurate book keeping.
Automated rate cards and warehouse invoicing
With CartonCloud you can automatically link PDF documents to their relevant sales order/consignments, without lifting a finger. The system simply matches the invoice number on the document to the customer reference within CartonCloud (ie: INV-5435) to input the data for you. This means clients no longer need to provide paper copies of their invoices with their orders, and you don't need to manually sort paperwork!
With automated rate cards, you can set complex, seasonal, and ad hoc rate card charges for specific customers, services, or other ad hoc actions and these will be automatically captured and calculated in the system as you go. With CartonCloud's WMS, you can easily calculate all storage and handling charges based on orders and workflows, which means you can ensure all charges are captured and invoiced, without any headaches.
Accuracy at every step with WMS mobile app
Want your data to enter and update itself? With CartonCloud, it feels like this is the case! Using the mobile app for warehouse and delivery workflows (like item put away, item scan move, cross-docking, wave picking or order fulfillment), your team are automatically updating the system data as they complete each workflow.
If you want even more accuracy, you can start using barcode scanning through the mobile app by connecting a BlueTooth scanner or using the mobile app on a mobile computer.
See how this thriving 3PL business are using their cloud-based WMS as the first point of contact for each new client, to boost customer success, and to scale up their warehouse business.
Want to take your warehouse and transport operations paperless? You can!
Linking your WMS and TMS for paperless offer fulfillment
CartonCloud is a fully integrated WMS/TMS software system, allowing you to run all of your end-to-end warehouse and transport operations from one platform — with accuracy and ease.
This allows you to accept incoming orders with accuracy, directly into your system, and map inventory items from orders through the warehouse and transport system. For warehouses using courier delivery, who manage their own warehouse storage, pick, handling and transport, or those who provide cross-docking — having a combined WMS and TMS software system is essential in scaling up your business.
Why Choose CartonCloud?
CartonCloud, Australia's best warehouse management software, it's logistics software made by logistics people. With the development of CartonCloud, the aim was to build a warehouse management system with a transport management system integrated, whilst focusing on automating administration processes, accounting tasks to speed up cash-flow and create total transparency for customers while making it really easy-to-use.