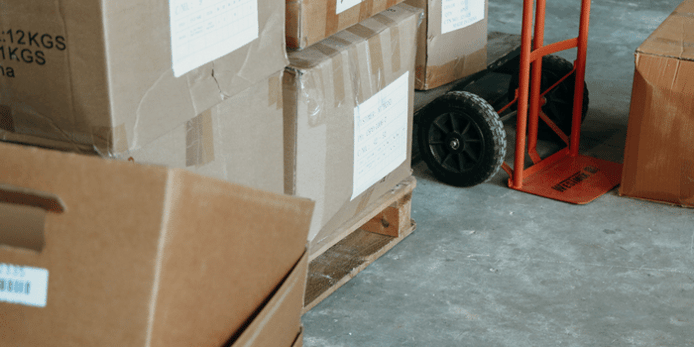 The post-COVID rise in e-commerce and last-mile delivery expectations have caused a major shift in demand in the industry, creating opportunities for new small businesses to enter and capitalize on the growing market. However, it's not as simple as that.
Logistics is a complex industry, and recent consumer shifts in expectations are driving faster delivery fulfillment and multi-channel ordering/ delivery options as the new norm.
These changes are also driving increased value for 3PL providers (third-party logistics), companies that provide professional warehousing, freight handling, and transport services to companies looking to outsource logistics. This may be a niche service, like specific e-commerce goods, craft beer or cold storage/transport — or general products and freight handling.
A few things to consider in planning your small warehouse business include:
Your starting budget and cash flow
The location of your small warehouse
Size and orientation of the operation
Resources on hand to serve customers
Staffing (consider staff expertise and license requirements as well as hiring attraction and retention)
What else do you need to consider?
Inventory management
Upon deciding upon the type of small warehouse business that you want to start, it's time to consider the type of inventory. This will be based on size of the warehouse and the capital you have set aside for equipment such as forklifts, pallet racking, ventilation and security, as well as the demand for services in your area.
An important consideration is that some goods cannot be stored together. This is certainly the case with dangerous goods and chemicals. There also might be restrictions on the type of trucks which can access your area.
With a cloud-based warehouse management system like CartonCloud, you can set storage rules for warehouse locations and specific inventory, which will help you ensure correct storage during put away and stock movement. When selecting customers, you will also want to know what type of inventory your prospective customer typically needs stored and dispatched, plus the pain-points with their current warehouse.
Setting up your warehouse
Here's where it becomes real!
There will be a lot of coordination tasks in these early stages. You'll be taking out a lease, purchasing equipment, and hiring staff. Have a balance of patience and persistence in these early stages to ensure you make a solid lift-off with your new operation.
The next step is getting your set up right, and one big decision is selecting a comprehensive software system that is right for your business operations, size, and setup. It's important to know what services you want to offer and what services your customers are looking for when selecting your logistics software.
Selecting the right software
Software integrations
Setting up your tech stack should be one of your first actions. You'll need to consider the software platforms your customers are using (are they selling on e-commerce sites like Shopify, using specialized management software like beverage ERPs, online accounting systems, route optimization software, shipping aggregators, or other systems you will want to link in with? Having the ability to access or create seamless software integrations means you can easily transfer data between yourself and your customers, reducing admin and increasing your accuracy and transparency.
Barcode Scan and Print
Barcode label scan and print is a game changer (check out all you need to know about barcode labels here). Barcode labeling will help you establish your warehouse locations and identify product storage, select stock with accuracy, track stock movement within your warehouse, assign to sales orders or consignments, and record incoming freight.
WMS/TMS integrations
If you're looking to provide cross docking services for customers, you'll need a system that can manage this operation. Cross docking, or transloading, is where you accept incoming stock for short-term storage, and then sort and allocate freight to new distribution legs from the dock for faster, optimized delivery with minimal handling. CartonCloud's integrated WMS/TMS software provides accurate and simple functionality for cross docking, allowing you to view incoming freight and allocate to the preferred outgoing consignment with ease.
Do away with paper from the start
Paper-based processes can be time-consuming and inaccurate. Opting for a cloud-based software solution can literally mean cutting your admin overheads by 80%. With automated data entry, you can optimize workflows, automate rate card calculations and invoicing, and streamline your sales orders or incoming electronic Proof of Delivery notices for faster processing.
Increase accuracy, save time, and get paid faster.
Bring on new business with scalability
Just about every business owner seeks to expand their operation in the warehousing industry. One key aspect is through automation. Automation doesn't mean having a warehouse full of pick robots or driverless vehicles. On the contrary, automation allows your team to work smarter, by optimizing manual workflows to reduce back and forth, and streamline operations.
For example, features like wave picking allow your warehouse staff to pick a bulk selection of one item that appears on multiple orders at once, saving them from walking back and forth to that location for each order.
Learn from the Industry
Lastly, there's a wealth of experience out there, in your future partners and colleagues. Our industry is changing rapidly, and the success of global supply chains is built on the effective communication and partnership of a number of businesses, sole traders, and companies — like yours. Make contacts, learn, and offer support where you can.
You can find a range of stories from our customers on the CartonCloud YouTube playlist here, sharing their experiences and expertise.
Want to know more? CartonCloud has thousands of users now using our streamlined solution for those in the warehousing or logistics industry, and we've helped over 380 companies to optimize their operations worldwide.
No matter how large or small, or even if you're in the early stages of starting up, we can assist in reducing the challenges that traditional warehouses still face. Give us a call today to see if we can be of assistance in this new journey.
Get your FREE demo below, and see our powerful software in action.