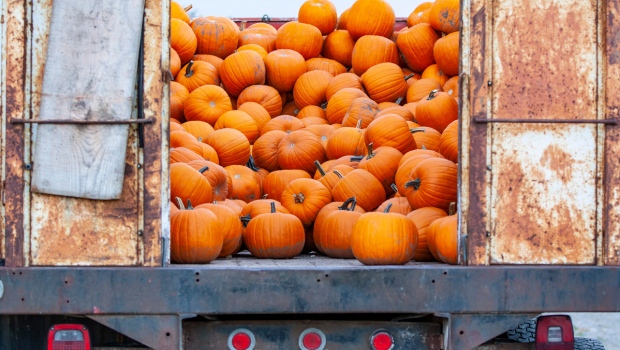 Fall has arrived in the northern hemisphere, and with it the return of seasonal fall flavors, none more prominent than the infamous Pumpkin Spice, which turns 20 this year!
To keep up with growing demand and earlier launches, there is a supply chain in full swing, keeping lattes spiced and everything nice. Let's take a look behind the scenes at the logistics of pumpkin spice season!
This year, pumpkin spice turns 20 this year, marking two decades of growing logistics actions to bring the seasonal drink to communities. Since Starbucks launched the flavor in 2013, pumpkin spice has become as synonymous with the changing of the seasons as the colors of the leaves, which means greater demand and seasonal logistics planning.

We look inside the pumpkin spice supply chain and how operators can scale up operations for seasonal demand.
To meet peak season demand, food network supply chains must have the ability to navigate early seasonal demand each year as the pumpkin spice season inches earlier and earlier. Providers can capitalize on growing seasonal demand increases each year.
In 2019, Starbucks said it sold 424 million pumpkin spice lattes in the United States.
In 2020, more than 2 billion pounds of pumpkins were produced, according to the USDA National Agricultural Statistics Service.
The highest sales for the seasonal drink are in California, Oregon, Washington, and Utah.
Managing logistics supply and demand in the coming months 🎃
Suppliers need to plan for distribution across the continent, with varying dates and demands, requiring early planning and preparation.
In addition, pumpkin spice season hits North America's logistics network at the same time as peak season, from August to October, before the holiday season. For supply chain planning, meaning goods must be available online, in storage, and on the shelves.
😰 Logistic's Peak Busy Season
The logistics peak demand season over the end of the year combines converging sales and holidays, spiking demand for individuals and businesses alike. Starting after the summer break, back-to-school shopping leads into Black Friday and Cyber Monday sales (with stock required for both in-store and online shoppers), with holiday season food and beverage like the Pumpkin Spice Everything Season — as well as holiday gift giving.

Related: 2023 Are you ready for peak season demand? Get tips to boost your daily output today.
🚀 Scaling up for high demand
There are a few ways to manage and plan for demand in logistics peak season.
First, you need to know your customer's needs, their seasonality, and expected sales/ demand over the peak season. For this, you need data, and systems to allow you to scale up operations and daily output with ease.
To ensure your warehouse and transport operations are scalable, you need to have automated systems. Cloud-based WMS and TMS software is the backbone of logistics operations, providing critical workflows, integrations, and features to let you do more, with less effort.
🕑 Real-time data and reporting
Cloud-based WMS/TMS software like CartonCloud gives you everything you need to run and scale your operations, in the palm of your hand.

Automate online ordering with e-commerce integrations, easily access and assign orders for picking, streamline large orders and high demand with wave picking, track order status, and seamlessly send data from WMS to TMS, to ensure real-time data updates at every stage of your operation.
👍 Partnerships/ Outsourcing overflow
With real-time data capture and tracking as you go, you can easily link in with other providers to outsource overflow, or provide greater services to your customers. CartonCloud's 3PL software has thousands of avaoibale integrations for secure and seamless data flow.
🤓 Boost accuracy & speed with paperless WMS processes
There are many benefits of using a paperless WMS. With a cloud-based WMS, you can access automated end-to-end workflows for your operations, without the need for a pen and paper. This means more accessible data, simplified reporting, accurate and timely invoicing, and easy-to-use workflows for your entire team.
Paperles order pick and pack provides higher accuracy and control over workflows, gives you the flexibility to action priority orders first, and let's you automate admin jobs like rate card calculations and invoicing.
📲 Automate rates and invoicing
Say goodbye to revenue leakage with automated rate card calculations including varied storage rates, handling fees, and complex transport rates, letting your system complete your invoicing while you sleep.
Taking your logistics business into the digital realm has never been easier. The CartonCloud team will be with you from your first demo call, through implementation and providing ongoing support, to ensure your system is seamless, and your business can grow.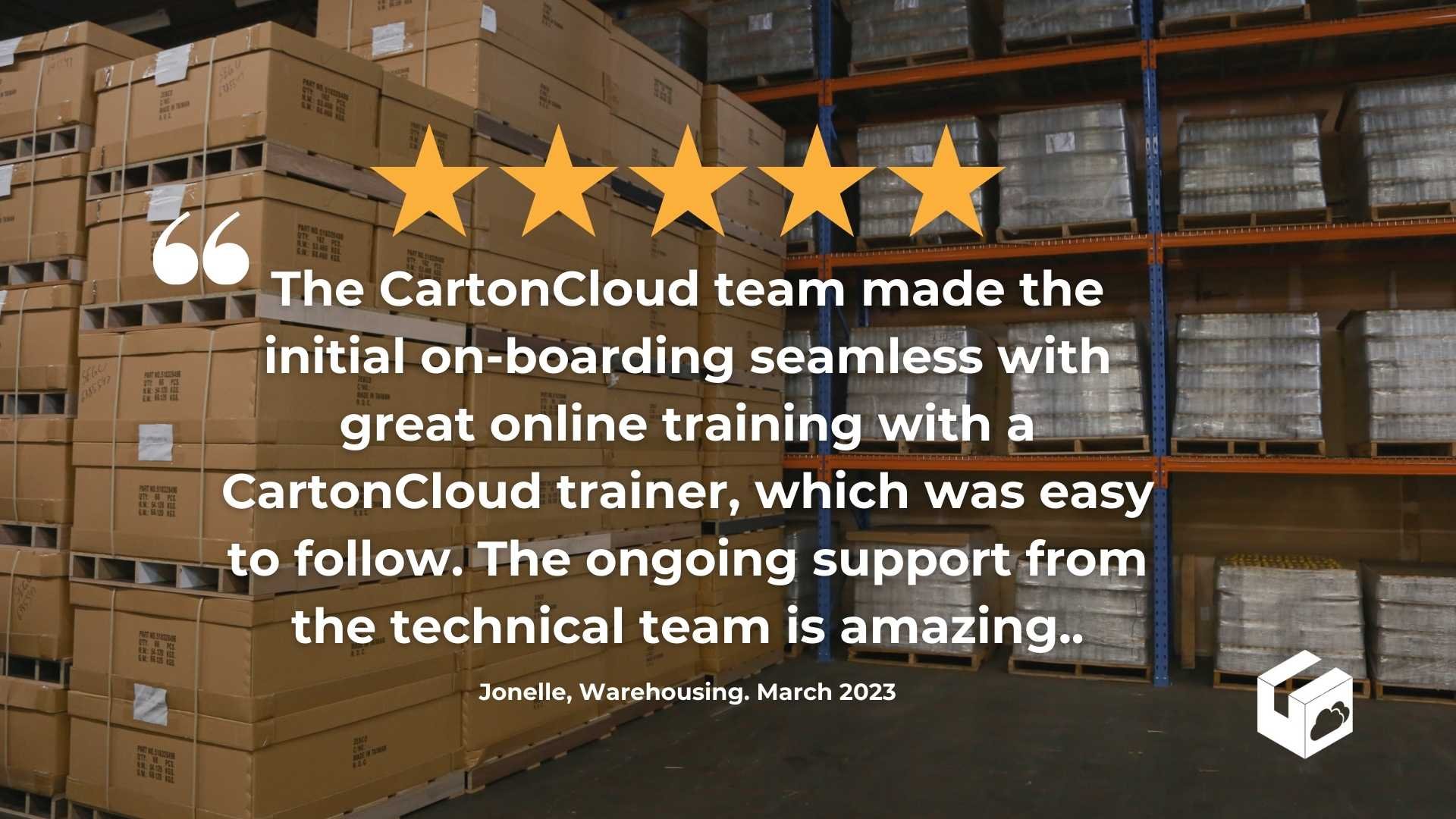 💙 Get expert WMS Software with industry expertise
With CartonCloud's easy-to-use— yet powerful — WMS and TMS you can leave the technical side to us. With a cloud-based warehouse and transport management system, you can also enjoy the benefits of (SaaS) software as a service. This means access to our friendly support team and knowledge base to answer any questions you have, or log any issues.

Software updates and improvements are taken care of by our expert team of developers, which means the software will continue to improve over time, and will continue to stay up to date with best practices and new technologies.

Check out CartonCloud Help, our online learning and knowledge hub. Here you can find details on product releases, how-to guides, setup and troubleshooting, helpful videos, tips, and much more.
Want to know more? Book your free WMS software tour today!
We want to help you find the best WMS and TMS software for your business. Contact the CartonCloud team today to book a FREE DEMO and see our software in action. Our team of industry experts have years of experience, which means they understand your business and what you and your customers need to succeed.
You can also download the CartonCloud mobile app in demo mode to view a handful of features for FREE. Download from the Apple store or Play store to see for yourself!
We're logistics people too, so our team can understand your business needs and ensure your setup is correct to streamline your operations, and scale up your business. Get in touch today and see how CartonCloud can revolutionize your logistics business.