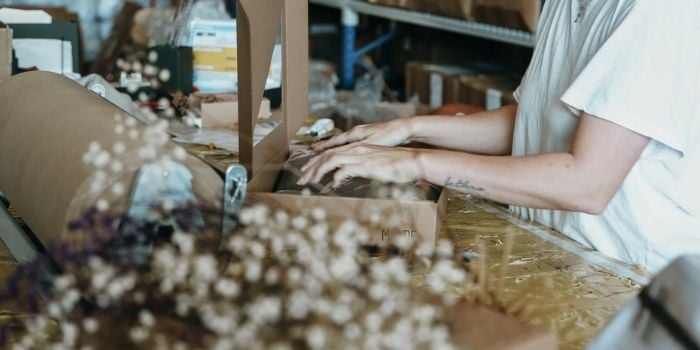 The Cyber Sales during November/ December mark one of the busiest times of the year in consumer goods. Using a 3PL warehouse can give your business the edge you need to meet demand, strategically store your stock for speedy delivery and tap into established networks for professional handling and reporting.
Each year, global sales like Cyber Monday and Black Friday kick off the season of 'click frenzy' sales, spinning consumer goods providers into a flurry of activity in order to plan and manage additional inventory, respond to orders, express shipping and delivery demands.
It can be both an incredible opportunity to tap into consumer buying trends and maximise your sales and customer awareness — or a season of hysteria, with inventory shortages, dispatch delays and overwhelming amounts of admin.
Utilising a Third Party Logistics (3PL) warehouse and transport provider can revolutionise your sales season experience.
How? Third Party Logistics Providers can help businesses to meet demand for the holiday season, increase your inventory storage and management capacity, save time on order picking and packing and tap into an established transport network for faster deliveries and up to date order tracking.
You can even reduce the manual input for inventory reporting, customer communication and invoicing! Let's take a look at how.
How a 3PL company can give your business an edge this holiday season.
Access greater warehousing opportunities, so you can stock up and store additional inventory in time for the sales rush.
Strategic warehousing locations, allowing you to store your stock closer to your customers, for faster delivery.
Access the 3PL's dedicated team for picking and packing orders, giving you peace of mind your inventory is being expertly handled, picked and packed with care.
Many 3PLs also offer custom packaging, which means you can still give your customer that great unboxing experience.
Meet customer delivery demands and streamline your dispatch workflow, utilising your 3PL's established fleet and transport network for faster delivery.
That's just a start.
For many consumer goods companies, the annual summer season shopping dash provides a huge chunk of their yearly profit. It's essential that you're prepared and have the right plans in place to take on what the season will bring.
When you need to meet the soaring demand of the sales season, a 3PL provider can become your best friend.
Strategic storage to help you beat the rush.
If you know a certain area is likely to have a number of orders coming through in the sales, you can get ahead of the hysteria, and place your stock strategically into a number of 3PL providers, giving you stock that is closer to the end customer, for faster deliveries.
Each year, the logistics industry stretches at the seams around the end of year holidays, to manage the soaring demand for consumer goods, food and beverages. With strategically placed stock ahead of time, you can cut out lengthy logistics routes on orders and reduce the likelihood of your stock being caught up in shipping delays.
Inventory management and tracking for stock management.
Let's talk inventory management and storage. The hysteria of click frenzy sales means you have to be ready, with inventory ready and waiting to go. This can be a nightmare to manage storage space and keep track of inventory records if you don't have a warehouse or 3PL.
CartonCloud's 3PL software for warehouse (WMS) and transport (TMS) management gives Third Party Logistics providers the ability to scan and track inventory levels in real time, from the moment they hit the dock, through picking, packing and allocation to incoming sales orders where they become inventory on a transport consignment (delivery order). It's a whole lot of data management — but with 3PL warehouse management software, this becomes much more streamlined.
What's more, with a cloud-based 3PL system, you can easily draw up to date stock reports and keep eyes on your inventory levels, giving you the oversight you need to manage restocking requirements. You can even receive automated low stock threshold notifications when your stock reaches a certain point, ensuring you have the information you need, when you need it!
Integrated software to automate sales and end customer notifications.
Automate your sale order and receive a single invoice for warehousing and transport. It's that easy. With an integrated system like CartonCloud, your 3PL can even automatically view your sales orders as they come in from Shopify or email, automatically allocating the stock order to operational staff to pick and pack, and automatically mapping these items to the transport consignment note for delivery.
With an integrated software solution, your 3PL can also update your customers directly through Shopify with automated notifications that show when the order is being picked, packed and when it's ready for dispatch.
Driver tracking and ePODs for greater transparency.
It doesn't stop there. With the orders packed and loaded for delivery, your 3PL can track drivers in real time, providing up-to-date delivery information — and can also add additional deliveries to their list as they go, giving you greater flexibility to meet customer demands.
Drivers using the CartonCloud mobile app can also record electronic Proof of Delivery notes (ePODs) with sign-on-glass storing the delivery details directly into the transport management system TMS. This means added security for you, as you have the electronic POD as proof of delivery if you have any customer complaints regarding delivery status.
With a 3PL, you can leave the logistics to the experts so you have more time to work on growing your business.
Want to know more about CartonCloud's powerful 3PL software?
Get in touch with our friendly team for your free demo today, and discuss how CartonCloud can revolutionise your 3PL business.