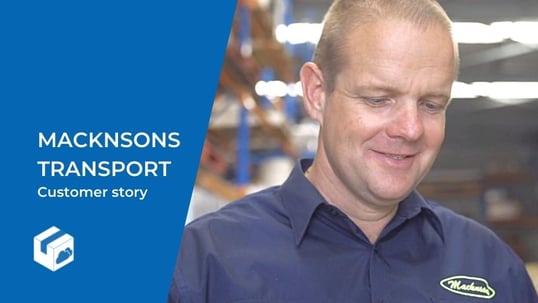 Take a walk in the shoes of Peter McDougall, Owner of WA based Macknsons Transport— transporting high risk, high-value assets across remote Western Australia.
"It's the wild west out there, you know. It's single-lane bridges, remote and hot, high risk. There's not a lot out there, and we're talking 3,500kms each way," says Peter.
"It's beautiful too, a beautiful part of the country. It's rewarding. "
Macknsons Transport Solutions are experts in sensitive freight such as medical equipment, electronic equipment, fragile artwork, photocopiers, fridges and commercial food equipment — providing secure and expert long haul transport solutions to the region.
Peter shares how they took their paper-based system to the cloud with CartonCloud's TMS, to save time on consignment data entry, records, invoicing and more.
Dealing with 140 plus consignments a day, the team had been using handwritten and photocopied delivery runs, which was taking hours, and making growth unsustainable. What they needed was a system with simple data input, automated consignments and invoicing, and route optimisation.
For Peter, our team's extensive background in logistics was a huge advantage for Macknsons, supporting smooth onboarding and integrations set up. Watch their success story here.
Want to see more?