Starting 2020 off with a bang, Scan Putaway is now available on our Android Mobile App.
This hotly-requested feature allows users to perform the full Purchase Order put away process from the CartonCloud Android Mobile App.
By rolling out to Android, we've massively increased the number of devices which can be used with the CartonCloud Warehouse Management System. From low-cost consumer-grade Android Phones to ruggedised enterprise-grade freezer-capable devices from manufacturers such as Zebra, Motorola and Cipherlab (see here for a full list of devices we've tested).
See here on our latest release for other updates and for help on how to use this feature see our knowledge base.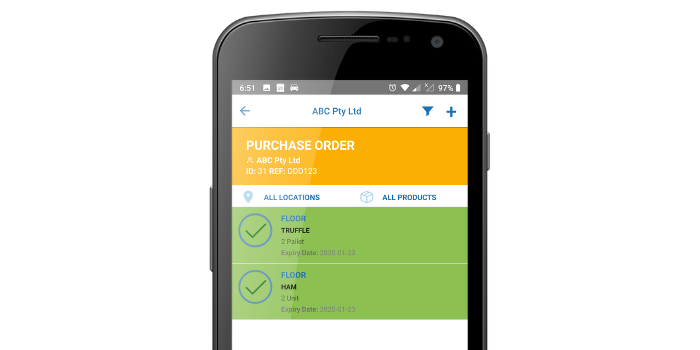 Why implement scanning hardware in your warehouse?
Removing paper and increasing productivity
Removing or significantly reducing the use of paper in a warehouse environment should be a goal for every warehouse manager. Floor staff have to note on a piece of paper what stock they put away or mark off incorrect details which increases the risk of errors.
Case studies* have shown using an Android barcode scanner, warehouse operators are able to increase productivity by 30%. Not only that staff can type up to 40% faster on an Android scanner device compared to those clunky outdated devices with tiny keyboards.
Studies* also showed that while it increases the speed of typing, you'd think it you'd have more errors? However it actually reduces errors by 60% as every man, woman and child are messaging on their smartphones today, so another benefit is its very user friendly.
Improving accuracy when picking or packing stock
Products these days with their minimalist package design make it harder to distinguish between different product lines. So being able to be stopped mid packing by an error message pop up displaying you've picked the wrong stock is such a huge bonus.
Returns are a huge cost for any company managing stock so even if you've sent out a couple of wrong products a week you may think it's not a biggy. However think about the overheads and time wasted getting the return and resending the correct stock.
Studies* have shown using Android barcode scanners can get warehouse operators outbound order accuracy rate to 99.9%, which is incredible.
Ability for real time updates on the floor
Once floor staff have finished packing they have to then give it to the admin team to update in the warehouse management system or an excel spreadsheet for processing, this could sometimes be done days after the stock has been put away.
Stakeholders these days expect real time accuracy within their warehouse operations. With ecommerce dominating the retail industry you can't afford to have lagging stock levels in your warehouse management system, stakeholders want real time data.
With Android barcode scanners being used throughout the warehouse, floor staff can now in real time update incorrect stock that came in or mislabelled stock in locations. This enables ecommerce companies to have live stock levels displayed on their online stores.
Real time notifications for stakeholders
Like real time accuracy, stakeholders have high expectations for real time notifications, they want to know when that shipment landed from overseas. This gives them greater power to control the demand whether it's through wholesale, retail or ecommerce.
Not knowing when stock has been received can impact the sales and marketing team immensely. Even a couple of days not being notified of stock being received, could equate to 10's of thousands, or even 100's of thousands of dollars in lost sales.
Having your Android barcode scanner leveraging a cloud based warehouse management system is what you want. It gives stakeholders the ability to integrate with all sales channels giving them power to scale up sales, especially in crazy promotions like Black Friday or Xmas.
Large range of hardware accessories
Now the last benefit we see in using an Android barcode scanner is the amount of aftermarket hardware accessories available to purchase. Like the rugged hardware accessories you can use in frozen or outdoor environments.
We have a full list of the accessories we recommend here at CartonCloud on our knowledge base, if you're interested in getting your warehouse setup with Android barcode scanner capabilities, contact our team today.
*The studies mentioned above we're published on the ATN website with a case study of the Zebra's TC8000, read the case study here.