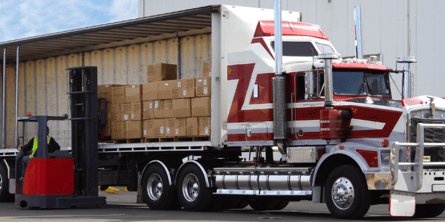 In the transport logistics industry, it's essential to have visibility across operations, with up to date data for decision making, and optimised operations to get the most from your fleet and resources.

Improving visibility to increase driver safety, delivery oversight, and give you the data you need for business planning is essential for any transportation company — and is one of the key outcomes sought after through a TMS program.
The good news is, Transport Management System (TMS) programs and software offer a range of ways for you to improve visibility across all aspects of your business— allowing you to optimise operations, improve customer service, and keep eyes on your fleet at all times. Which means you have the information, resources and processes in place to take on new business and expand operations.
What's a TMS program?
Your TMS program allows you to manage and dispatch all of your freight processes, from one central point — incorporating consignment orders, driver routes and delivery information, and allowing you to make the most of your time and resources with helpful integrations.
Importantly, it also improves visibility across all operations, giving you the information you need to optimise operations, deal with issues if and as they arise, make data-based business decisions and stay across all activities in real time.
Improve visibility with your TMS program and optimise your operations.
Imagine having driver tracking and consignment delivery status in real time, and the ability to send driver notifications to manage delivery updates as you go.
Get access to the information you need to make real-time data-driven decisions regarding your fleet management, driver safety, customer service, and gaining greater visibility over your invoicing and accounts.
Optimise and grow your business, with ease.
Three key benefits of improved visibility through your TMS program.
Streamline deliveries and improve customer service with Driver ETAs
Improve driver tracking and optimise routes on the go for priority consignments with the mobile app and route optimisation
Save admin time and increase invoice accuracy with ePODs and automated invoicing.
With an integrated TMS program like CartonCloud, you can keep eyes on all areas of your operations in real time; with driver tracking, electronic Proof of Delivery (ePODs) and automated contact card updates.
Streamline deliveries and improve customer service with Driver ETAs.
Using the CartonCloud mobile app, drivers are able to contact customers directly through calling or text message, to let them know their delivery is on the way. They can also choose to share a pre-prepared ETA text message, a pre-filled text message with information about the specific consignment for delivery as well as an estimated arrival time.
This gives the customer a heads up that their delivery is enroute, giving them time to prepare the delivery zone, and have someone waiting to collect.
The benefits of having greater visibility across operations is a key driver for many transport companies in adopting TMS programs and technology.
Improve driver tracking and optimise routes on the go — with mobile app access and route optimisation.
With the CartonCloud mobile app you can track drivers, view up to date location status, and electronic Proof of Delivery (ePODs) with the ability for drivers to add delivery notes; such as issues, stock damage, delivery details and attach images.
The app also gives you direct and real time contact with drivers, allowing you to easily and efficiently update drivers on consignment or route changes while they are on the go. The app allows you to send push notifications to drivers, with any updates, making route optimisation and adaptation simple.
Notably, not all activity and updates will trigger a push notification — which means when you do send one, your driver will be able to receive it and can treat it as urgent. The CartonCloud push notifications are set as trigger events and can be adjusted through your TMS, based on your operations and business needs.
This visibility lets you keep track of your drivers, maintaining visibility of where your fleet is located, and allowing you direct contact if anything goes wrong.
Save admin time and increase invoice accuracy with ePODs and automated invoicing.
Increased visibility through your TMS program can not only save you time on invoicing and admin, it can also increase accuracy.
The magic words… save time on invoicing.
Although, that's not all, using a cloud based TMS program with an ePODs feature means you can have real time eyes on driver deliveries, with images and driver notes attached — and you can automate your invoicing through your TMS to be generated for your customer, as soon as the ePOD is sent through.
Drivers can record ePODs and add images and notes directly through the Mobile app, where the consignment orders and routes are managed, giving them one place for customer and delivery information, records and data reference. You can also find and refer to past ePODs with ease, by simply searching for the reference number in your TMS program.
Want more visibility through your TMS Program?
Track consignments and driver status, view ePODs in real time, stay across any delays or issues and have the ability to update your drivers while on the road.
Not only can you optimise your transport operations on the go, but you can also streamline your admin and invoicing management. All through the added visibility features of your TMS program.
Get your free CartonCloud demo today.
If you want to optimise your transport operations, streamline your workflow and keep eyes across your business, get in touch with the friendly team at CartonCloud today.
CartonCloud software has been designed and built by logistics people, directly for the logistics industry — based on what's important and what works. Our mission is to help you grow your business, and do more with less.
Get your free TMS demo today and start growing your business.