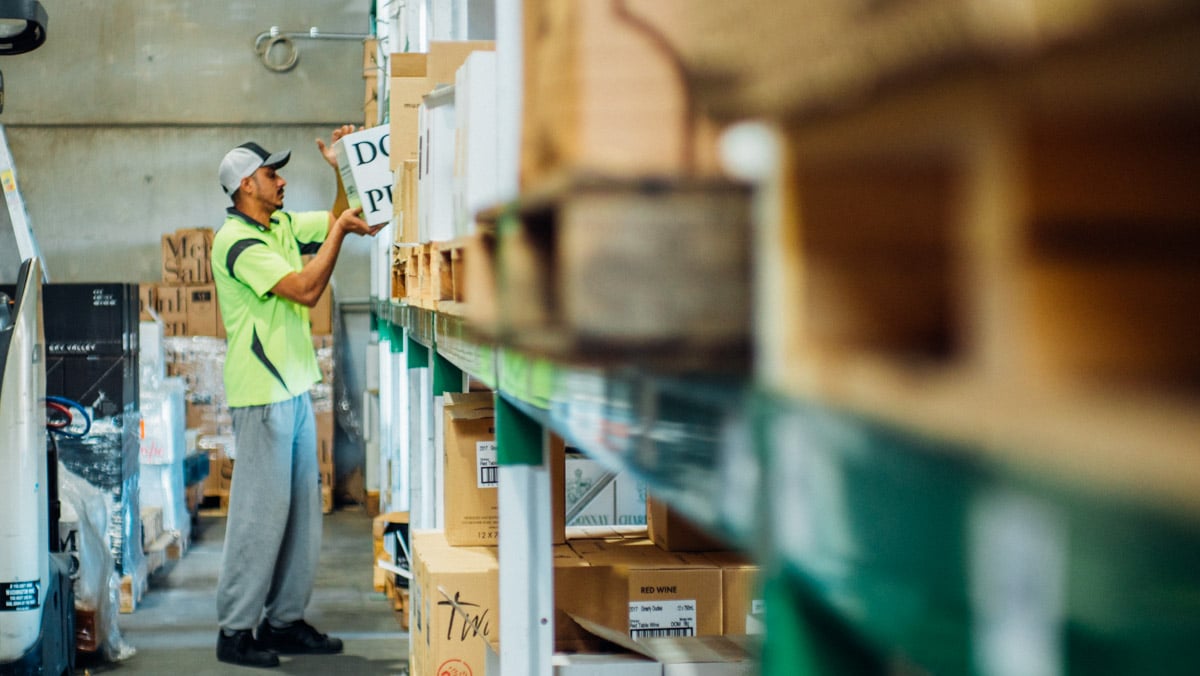 In warehousing, wave picking is where you pick multiple orders simultaneously, allowing you to collect items for multiple orders in one trip. Using wave picking can save time and maximize your resources, increasing daily order fulfillment.
Rather than picking each item per sales order individually, wave picking allows you to identify if there are multiple items from the same inventory to be selected for multiple orders, and pick them all at once, to be packed into their various orders from the packing station.
Using wave picking to optimize your order picking can revolutionize your warehouse performance. It combines the time required to retrieve warehouse items for each order, allowing you to gather items for multiple orders at once. When combined with barcode scanning for accuracy, wave picking can allow you to easily increase your order fulfillment, with the resources you have on hand.
How does wave picking work?
Within a 3PL warehouse management system like CartonCloud, multiple orders can be picked at once by grouping orders together into a "wave". This could be small, with only 2-5 orders, or massive, with 100+ orders being simultaneously picked.
(For more detailed instructions on completing the wave pick through the mobile app, check out our step-by-step guide for Scan Wave Picking in our Knowledge Base!)
There are three types of wave pick in warehousing. Each type is designed to optimize different operations and workflows, based on various warehouse operations. These are;
Bulk Pick
Split Pick and Pack
Combination Wave Pick
Depending on your operation, and the sales orders you're fulfilling, you can select one of these options within CartonCloud's WMS, to optimize your orders for wave picking (see a step-by-step guide in our Knowledge Base here).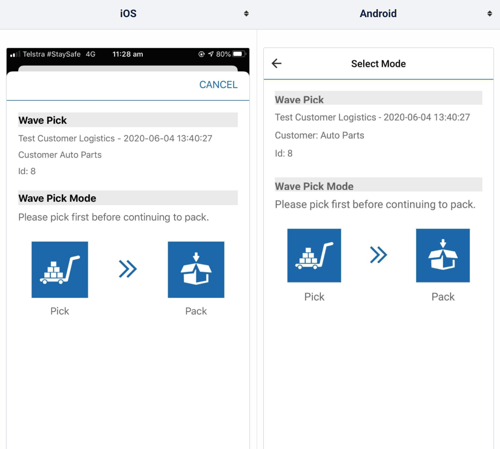 Bulk Pick
Bulk wave picking allows you to pick multiple orders simultaneously by the product, rather than order by order. This optimization is especially useful if the products are in a hard to access warehouse location or require a forklift to pick, for example.
When using the Bulk Pick workflow, both picking and packing actions are combined into one. Once the order quantity of the product has been marked as picked in the mobile app or desktop, the Sale Order will be updated to 'Packed' status. You can then print a new product label and barcode for the picked product and quantity, that relates to the sales order or consignment note. The picked products are then moved out of the warehouse, to a dock or delivery truck where they will be sorted for delivery.
Split Pick and Pack
The Split Pick and Pack workflow is similar to Bulk Pick, in that products are grouped from multiple orders to be picked at one time, however the packing and picking process is separated.
The picking and packing can be completed in two actions, by two teams if necessary. Once the grouped products have been marked as picked in the WMS, the user can then pack each order separately, or another team can do this at a packing station. This is especially useful for workflows where picking and packing activities are carried out at two different locations in the warehouse, or completed by a different user.
Combination Wave Pick
Combination wave picking allows a user to group multiple Sale Orders for either a specific Customer or Run Sheet, to be picked at once. It allows a run sheet or multiple ordered from one customer to be assigned to one user, to be picked at the one time — ensuring those orders are fulfilled and ready for dispatch together.
For example, a 3PL may assign wave picks to multiple users, who can then complete both the pick and pack process as they move through the Warehouse, ensuring the selected sales orders are completed together.
Is wave picking the right workflow for my business?
While wave picking can be a great tool to optimize warehouse workflow and streamline your order fulfillment, it's not always the best solution. We've outlined a few pros and cons below, to help you decide when to use wave pick for your business.
Pros of Wave Picking
Highly efficient if you're picking many orders that contain the same items.
Reduces time required to retrieve order items, when multiple orders have the same item (or items stocked nearby)
Picking and Packing processes are split so you have two chances to check what's going into an order. Note: if both the pickers and packers scan the items, then this becomes a very secure process.
Cons of Wave Picking
Generally more space is required, as you typically need an area you can use for "staging" between the pick and pack processes.
If you wave picked 100 orders, and between them there were 300 different products, it can become very difficult for the packer(s) to find the right items within the staging area.
If every order is different, then the biggest efficiency driver (picking multiple items at once) is lost. Therefore, effectiveness depends on the similarity of the orders being picked.
Within CartonCloud we handle Wave Picking both through the Mobile App and the Desktop Interface. For more information on Wave Picking, including examples both "Picking Per-Order" and "Picking Per-Product", check out our knowledge base article.
Want to know more about CartonCloud's features?
Our software is built by logistics people, for logistics people, with features like Wave Pick designed specifically for our industry. Get in touch with our team today for a FREE Demo and see how you can use CartonCloud's intuitive features to optimize your warehouse.