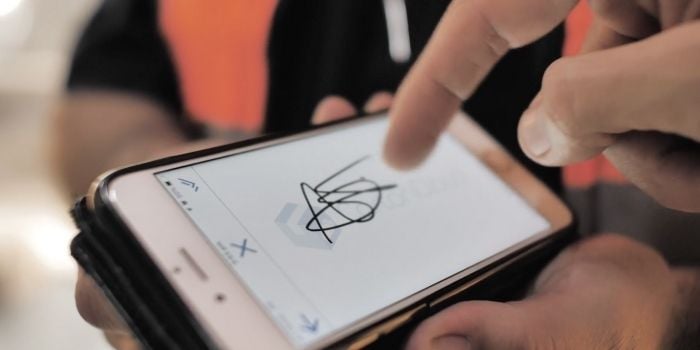 Few innovations have transformed the warehousing, transport and logistics industries more than Sign on Glass (SoG) technology, removing the need for paper records to capture delivery signatures, and enabling electronic Proof of Delivery (ePODs) to be recorded digitally. The technology, which has been around for less than a decade, delivers an entirely new experience for both drivers and customers with high levels of efficiency and transparency.
Many 3PL businesses making the switch from traditional paper-based systems to automated software like CartonCloud do so purely to access the benefits of SoG and solve the many problems created by their legacy, paper-based systems.
Record more accurate delivery notes, easily find and access ePODs, and automate invoicing for faster payment, with sign-on-glass deliveries.
What Is Sign-On-Glass?
Sign-on-Glass (SoG) is a simple, easy-to-use technology that replaces the mountains of paperwork associated with Proof of Delivery (POD) processes. Put simply, sign-on-glass enables drivers to capture electronic signatures directly to their mobile device, at the time of delivery. This way, the ePOD can be sent directly through for automated invoicing.
When an item is delivered, instead of requiring a physical signature from the recipient, which must be scanned or faxed to the customer as confirmation, SoG technology captures their signature digitally on a mobile device like a mobile phone, iPad or another hand-held device. The signature is then digitally attached to the POD forever, providing easy-to-find records of each and every delivery.
Rather than traditional methods that involve paperwork being shuffled from one location to another, SoG only requires a tablet or similar electronic device. It manages and stores the digital files in a company's document management system via an integrated solution like CartonCloud.
Automated Invoicing
Another benefit of collecting ePODs with sign-on-glass technology is having the ability to automatically generate invoices for faster payment. Rather than waiting for proof of delivery paperwork to be returned to the office for processing (which can take days and even weeks sometimes), ePODs are sent directly though as soon as they are captured.
In CartonCloud, completed ePODs can be used as a trigger to automatically generate an invoice for that delivery, simplifying your administration workload and enabling you to be paid faster.
Why Use Sign-On-Glass?
SoG has been adopted across the logistics industry because it solves many of the issues of managing the data around Proof of Delivery dockets. SoG means POD forms are no longer lost in vehicles, have illegible writing and notes or are given to administration staff torn and ratty.
Here are some of the other benefits of Sign on Glass technology for your 3PL.
Real-time data - Using CartonCloud your staff can log in and see consignments signed in real-time in the field. This helps them communicate better with clients and speed up the invoicing process.
Customers Love It - No more constantly looking for pens or finding authorised signers. Once the delivery has been completed, and the signature has been captured on the mobile app, the signature can be superimposed on top of the customer's original PDF invoice document.
Transparency - SoG software should be connected and available to your entire IT network. As soon as a signature is secured, it is recorded in a database, and immediately available for all to see.

Solve problems - Sign on glass technology addresses several issues that have plagued the freight industry. Invoice mistakes, theft and missing and/or damaged goods all chew up time and resources to work out. SoG provides a valuable step in the process between transferring goods from you to your customers, it is tangible evidence that customers signed for certain goods.

The Environment - It is a much more environmentally-friendly way of operating that reduces both the need for excessive printing and the costs involved.
SoG is quickly becoming the standard in the 3PL and broader logistics industries and businesses that try to operate without it will find themselves struggling to retain customers.
Want to know more?
Get in touch with our friendly team today to book a FREE Demo at a time that suits you. See our software in action, talk to our experienced team about your operations and services, and find out how CartonCloud can help you revolutionize your operations with ease.
To learn more about CartonCloud's Superimposed POD functionality visit our Knowledge Base Article here.