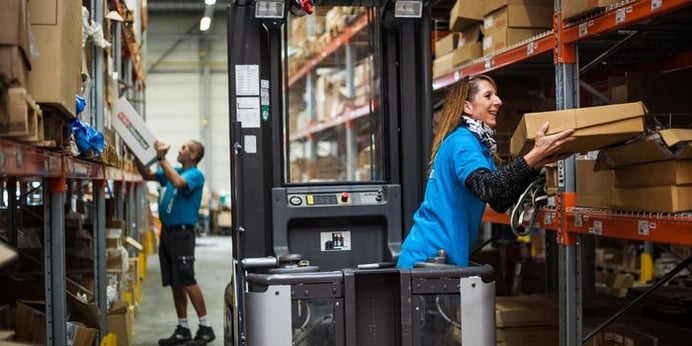 Let's look at how to level up your warehouse operations, saving time, optimising space and implementing smarter pricing.
You may be wondering, what is a Warehouse Location System? Put simply, warehouse locations systems help assign storage locations, locate stock, and keep track of inventory levels.
It's the digital map of your warehouse, showing where stock is located. Before digital solutions, this was done manually, requiring personnel to conduct manual stock take counts, and record inventory storage locations in paper data sets, to be entered manually into your warehouse management system. This was slow, time consuming and often inaccurate.
How you can boost operations with a Warehouse Inventory Location System.
Warehouse location features in WMS systems like CartonCloud are changing the game, not only allowing you to allocate a location for incoming stock to be found for picking and packing, but it also means you can manage your stock locations for smarter storage and pricing.
Your Warehouse Location System provides a map of the warehouse and where inventory is located, helping pickers to accurately locate inventory, and map inventory movement throughout the course of the day.
It also provides a valuable tool for an instantaneous inventory count and stock take, based on inventory location within the warehouse which can be used for customer reports and for optimising the management of your warehouse space.
Optimising warehouse locations
Your warehouse location system provides real time warehouse inventory mapping and tracking, allowing you to assign warehouse locations for incoming stock, locate inventory for picking orders and manage storage capacity for incoming orders — allowing you to do more with what you have.
Using your warehouse location system to keep track of inventory placement and stock changes on the go allows you to optimise your warehouse space in a range of ways. Consolidating pallet storage as inventory levels fluctuate throughout the day or week, anticipate movement and free space and plan room for new stock intake, and ensure all inventory is located in the correct conditions or temperature zone throughout their storage.
Certain inventory requires specific storage conditions such as dry storage, temperature zones (cool storage), or outdoors, while other inventory can be easily stored in a range of different warehouse locations.
It's a lot of moving parts, as orders come through and stock is dispatched and delivered throughout the day. Warehouse Management System solutions with a warehouse inventory location system is a game changer for those who want to plan ahead, anticipate storage movement and make room for new intake and new business.
Not only can your staff locate and access stock with ease for picking orders which saves time, but your overall management of your warehouse storage capacity and preplanning for new orders is enhanced ten fold.
Setting up your warehouse locations — an essential step
Your warehouse inventory system can completely change the way you do business. Identifying locations within your warehouse, assigning a location numbering system and location zones, allows you to create a map of your warehouse location options and assign inventory data to the area it is currently stored.
With Carton Cloud, you can set up your warehouse locations in 3 ways:
bulk location (a single warehouse location if you have multiple warehouses)
racking locations
an entire warehouse set of locations.
Depending on your business and stock intake needs, your warehouse locations may be a pallet storage, floor space, cold room or rack. With the ability to set up and manage your own locations, you can provide additional information on each, stored on the location system and accessible through scanning the location label barcode (see steps below).
Your setup will depend on your operations and business needs. If you're unsure, contact the CartonCloud team to discuss your warehouse operations and business needs, and sign up for a free demo to see how your warehouse location system can be implemented to suit your needs.
Introducing location numbering systems
Warehouse location numbering systems are simply a way of numbering warehouse rack and storage locations, to identify exact pallet locations, rows, levels or boxes, that can assist in assigning locations for incoming inventory and locating current stock for picking and packing.
With some warehouse management location systems like CartonCloud, these location numbers will have unique barcodes that can be scanned with a mobile barcode scanner, to confirm the location and the current inventory located at this particular location.
This feature makes locating warehouse storage and inventory faster and easier, and provides greater accuracy in picking and packing.
Creating Warehouse Location Labels
To create a scannable barcode label for your warehouse numbering system, CartonCloud includes an easy to use feature to print warehouse location labels from your own office A4 printer.
Your warehouse location label acts as the physical touchpoint at each location. With a scannable barcode to access the warehouse location system inventory database, you can not only confirm warehouse locations, but also update the inventory stock there as you store or pick for orders. Simply scan the label and input the stock movement, addition or removal as you go.
This ensures your stock inventory data is up to date, allowing you to manage space and incoming/ outgoing stock, as well as view inventory levels and provide stocktake reports to clients on demand.
Want to know what makes a good inventory tracking system?
Assign locations based on warehouse space and storage conditions
Easily locate inventory with maximum efficiency
Update inventory data on the go
View current stocktake and inventory levels
Oversight to plan for future intake
How Location Management Systems are changing the game
Adopting cloud based warehouse location and inventory management systems is changing the way we work, and manage warehousing operations — allowing greater oversight and planning potential, increasing efficiency in picking and locating inventory and providing greater customer service to clients and customers.
Make the most of your warehouse space, know where your inventory is, provide real time stock take to clients with no hassle, and identify storage opportunities to take on new orders.
Get in touch
Contact the CartonCloud team today to arrange a free demo, and discuss how their Warehouse Location Management System solutions can be implemented to enhance your warehouse flow and activity.