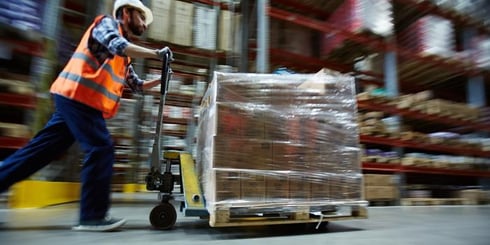 How to know you're getting the right outcomes from your Warehouse Management System
Evaluating your Warehouse Management System (WMS) experience is as simple as this;
Do you have greater accuracy?
Does it increase efficiency?
Is it making your life easier?
Is your WMS experience increasing accuracy?


Increasing accuracy saves time, money and a lot of headaches. There are several ways your WMS experience can lead to increased efficiency across warehouse management and processes, from paperless proof of delivery to picking and packing. At each step, greater accuracy is key.
Let's start with proof of delivery (POD)— the very start of the data trail.
Your WMS experience begins here. CartonCloud offers a cloud based WMS with electronic POD, and customisable fields for stock data entry on arrival — ensuring you have the exact records, and the right data to use down the line.
Electronic Proof of Delivery
If you're not already using EPOD, or Electronic Proof of Delivery, you will have likely seen or experienced at some point, especially with the recent rise in need for contactless delivery. It's simply a fancy term for sign-on-glass technology, replacing paper receipts with digital records. The delivery data is recorded in real time, and stored in the WMS for future reference, saving you time on manual data entry, and the headache of lost paper slips.
Custom Fields
This addition to the WMS experience gives you the power to decide what data you actually want to collect, to improve your records accuracy.
You can have all the numbers in the world, but if you're not recording the right things, it's not helping. This is why CartonCloud have implemented their Custom Fields feature, allowing you to collect the exact data you need, for each client.
It's the data you need, at the time you need it. Capture additional information on purchase orders and stock as they arrive on the loading dock — so by the time the stock is on the ground, you have the right records and information in one place.
Mobile Barcode scanning and printing
Mistakes made in picking and packing can cost time and money. A good WMS experience will allow you to increase accuracy during warehouse picking and packing, to ensure the right stock is selected, stock level data is adjusted for the items removed, and packing details recorded.
CartonCloud's WMS offers a Mobile barcode scanning and printing feature to provide greater accuracy of stock location, election and data records. The mobile scanner can be used throughout the warehouse, allowing the picker to scan the barcode at the item's physical location to confirm they have the right item and record the quantity being picked, as they remove the stock. Not only will barcode scanning increase accuracy, but CartonCloud's WMS can be accessed through an iPhone, with a bluetooth scanner, providing a fast and affordable way to integrate barcode scanning to your WMS experience.
Is your WMS experience increasing efficiency?
How your WMS experience can increase accuracy and efficiency.
Wave picking
Let's revisit the barcode scanners here. Barcode scanners not only increase accuracy, but also efficiency for your warehouse staff, to streamline the picking and packing process.
CartonCloud's automated Wave picking feature condenses orders by item and warehouse location, to allow pickers to collect items from one location for multiple orders at once. This saves time on individual trips for each order, consolidating their efforts based on what needs to be collected overall.
Save time on data entry
Paperless records let you streamline data entry, opening up a world of features to allow you to reduce admin time and increase data entry efficiency. Reduce the risk of losing paper records, or the need to translate paper records into electronic data altogether with a paperless WMS experience.
CartonCloud's electronic data interchange (EDI) software offers simple integrations that will let you automate data entry at multiple touchpoints. You can provide client logins to allow clients to update their own order information, flag urgent orders so your team has full visibility of priority orders, implement individual rate cards and log errors on the floor in real time, for proactive and fast solutions.
Drive efficiency across all business areas with an automated stock report.
Enhance your WMS experience by streamlining data communication effortlessly between distributors, wholesalers and clients. CartonCloud's WMS offers the ability to set up unique Stock reports for your clients, with tailored access to relevant data for ordering and restocking.
Specifically for 3PL warehouses, having the ability to provide an up to date stock report for your clients at any time is essential in keeping your business running efficiently. CartonCloud also allows you to run historical stock reports and stock movement reports, showing you the movement of your warehouse stock over time.
Is your WMS making your life easier?
Now for the big question. It's increased accuracy and efficiency, saving you money and time — but is your WMS experience making your life easier?
Streamline your processes
A good WMS experience will take away some of the biggest headache causes of running a warehouse. With CartonCloud's WMS integrations, you can integrate your current systems, to manage your data and warehouse processes from one place.
Link up your accounting systems, e-commerce, transport management and route optimisation, shipping and dispatch and more, depending on the services and scope of your warehouse business. Save yourself time and energy, and manage your data and business from one place.
Protect your data
Not everyone in the business needs to see or have access to all the data. A good WMS experience will allow segregated groups with tailored access, giving each member the information they need for their work.
CartonCloud has developed a feature allowing you to create Secure User Groups, defining the data access each group has, to keep your data safe and your business running smoothly.
Take the headache out of invoicing
If there's one sure way to make life easier when running a warehouse, it's to take the headache out of invoicing. Yes, a good WMS experience should also do that.
CartonClound's WMS provides automated invoicing that can save you hours of work in manual rate entry, through automating rate calculations and invoicing. Set up individual or shared rate cards, automate charge options and storage charges, set minimum charge periods, one off charges, sliding scales and more. (Check out more options for invoice automation here).
Automated invoicing allows you to implement strategic and specific pricing across your services and storage options, allowing you to invoice smarter, without the hassle.
Want to find out more?
Contact the team today to find out more about CartonCloud's WMS features, or request a free demo.