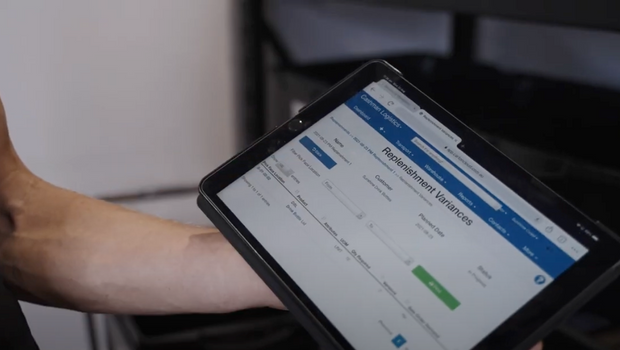 Growing 3PLs need the right software to take their business to the next level. Often called 'mission critical' systems, WMS/TMS software provide seamless end-to-end management over stock, incoming orders, outgoing freight, rates and charge calculations, invoicing, and other admin. The right system can completely revolutionize your business, so what are some of the best WMS features to look out for?
The best 3PL WMS software has features designed for day-to-day operations, to streamline, boost accuracy, and allow you to do more with the resources you have. Let's take a look at what best-of-breed 3PL WMS systems look like.
Expert advice, set up and support
This list includes a number of WMS/TMS software features allowing 3PLs to grow their businesses through digitization, workflow optimization, automated data and rate calculations and much more. However one of the key features when looking for the best 3PL WMS systems is ensuring your software providers have industry knowledge and expertise, and exceptional customer support.
This is one of the key things our customers love about CartonCloud. Our customer support, onboarding process and ongoing customer service means
customers have their warehouse and transport systems set up for success from the start,
makes troubleshooting straightforward and simple
ensures questions are answered (from industry insights to best practice workflows)
and, lets our team offer expert advice throughout their journey, to help them grow at every stage of their business.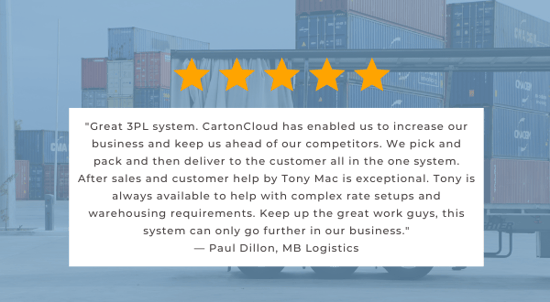 Continuous updates of cloud software
At CartonCloud, we are constantly asking ourselves how we can improve to continue to be the best 3PL WMS and TMS for our customers. We believe in learning from others to ensure our software continues to not only fulfill the needs of our customers today, but also to keep them ahead of the curve for the future.
When looking for the best 3PL WMS software system, you need the right features for your operations.
Our product design and development is built from a combination of customer feedback, industry trend awareness, technological advancement and industry expertise — drawn together to design our powerful and intuitive software, designed specifically for the day-to-day needs of our customers today and into the future. One of the many benefits of cloud-based 3PL software is that your software is always being enhanced behind the scenes, with new features and product updates being released constantly. (Check out our release log for the latest updates.)
Seamless software integrations
Direct integrations were named one of the top 5 trends for 3PLs in 2023. What this means, is your WMS software that you are running day-to-day operations on is able to integrate and share data with your customer's online stores, between your warehouse and transport operations, with your own accounting software, and more. This seamless data flow gives growing 3PLs the ability to scale up with accuracy and speed, making it a key feature when looking for the best 3PL WMS software for your growing 3PL.
Pick and Pack workflows
Optimizing your order pick and pack provides a range of benefits, from the obvious boost in accuracy resulting in fewer mis-picks or returns for incorrect orders, as well as more efficient order fulfillment through wave pick, or FIFO/ FEFO workflows. You should be looking for intuitive, automated workflows like this in searching for the best 3PL WMS software for your business — saving time for your staff and increasing accuracy.
Using barcode scanning or picking directly from mobile apps also ensures your stock levels and tracking for orders and inventory remains up to date at all times. What's more, this also means your rates and charges can be automatically calculated to generate invoicing while you sleep — saving hours of admin and reducing revenue leakage for missed charges.
Fast and efficient cross-docking
Combine speed and accuracy for fast-moving freight with cross-docking. Cross-docking gives you the ability to accept and assign freight to allocate the most efficient dispatch options, based on delivery runs and available vehicles. Simply scan incoming freight into your system and assigning to a holding zone to allow for swift unloading, and then based on final destinations and outgoing delivery runs, assign the freight to the most efficient option, for faster dispatch.
Using your 3PL WMS/TMS system for cross-docking gives you more control over stock management, and greater oversight over incoming and outgoing routes, to assign the most efficient route for faster turnarounds. The stock can be accepted, handled, sorted and dispatched without ever hitting the warehouse racking — giving you the ability to fulfill more orders, without the constraints of warehouse space.
Multi-warehouse management
For the very best 3PL WMS software, you want to know your system can grow with your business. Growing 3PLs may have already, or need to consider having multiple warehouses — especially to manage stock across multiple geographical locations. This gives you the opportunity to strategically store stock closer to last-mile destinations, and manage cross-geographical operations with ease.
Delivery consignment allocation
The best 3PL WMS system will put efficiency and ease of use first. Your WMS and TMS are mission-critical software should make your life easier, with better accuracy, more efficient workflows, automated data entry, and automated workflows. Automatically assigning delivery consignments to a driver or vehicle is key in building an efficient transport management workflow, giving you smarter insights and easier oversight of your fleet and deliveries.
Automated data and invoicing
One of the biggest time-savers and game-changers in TMS and WMS software is automated invoicing. Having your system automatically capture and calculate rates based on stock storage and handling, order fulfillment, dispatch, ad hoc and other charges. All charges can be captured directly into the system, to automatically generate the invoice based on a completion trigger (such as an order ready for dispatch, or delivery).
Liquex Logistics are saving over 40 hours a week, while fulfilling more orders and bringing in more revenue, simply by choosing the best WMS software for their business.
Applications to manage your operations on the move
Get the most from your warehouse system and transport management with mobility and flexibility. The best 3PL WMS software needs to suit the way you work — and that means usability across where you work.
Fast-moving 3PLs will benefit from a WMS with a tablet-friendly design and mobile app that allows you to implement the system with your day-to-day operations easily.
The CartonCloud WMS/TMS has a warehouse and driver mobile application designed specifically to simplify each role and workflow, capture and automate data entry, ensure accuracy and allow your team to do more with fewer resources.
Want to know more?
When searching for the best-performing 3PL system and WMS/TMS software, it's important to see what others are saying about the software. Review how other small-medium enterprise 3PLs have found the software features, onboarding process, and support — before making your decision.
Explore our library of customer case studies to see how CartonCloud has helped shape and enhance over 400 companies from all over the world. Or see our powerful software in action by contacting our friendly team for a free demo of our software.