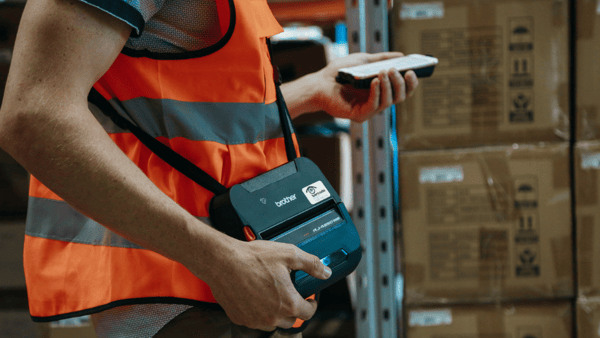 This week, the Federal Government announced a tax deduction for Australian small businesses, to support technology and training investment in this financial year.

The Technology Investment Boost aims to help companies embrace new technology through upgrading tech systems and investing in cloud technology to optimise their operations. It's been a challenging few years for the logistics industry, with the flow-on effects of COVID-19 restrictions and boom in demand.
What does this mean for Australian Small Businesses?
The Federal Budget 2022 announcement will allow small businesses to invest more in their digital capability. The Federal Government's small business digital skills and tech boost outlines that over 3.6 million small businesses with an annual turnover of less than $50 million will be able to claim a bonus deduction for the cost of expenses and depreciating assets, up to $100,000 of expenditure per year.

This includes software subscriptions and system upgrades, as well as purchasing tech hardware— for any expenditure incurred from 7:30pm (AEDT) on 29 March 2022 (Budget night) until 30 June 2023.
Boost your business with a pre-paid subscription
To help small businesses to make the most of this opportunity, we are offering an annual plan, with a pre-paid 1year subscription upfront — which enables your business to claim more of the $100k deduction in your June 30 tax return.
CartonCloud's Software for Logistics SMEs
Now is the time to upgrade your warehouse and transport system, with support from the federal tax boost for small businesses.
With CartonCloud's cloud-based logistics management software, you can optimise your warehouse and transport operations with ease;
To slash admin overheads by up to 80%
Automate invoicing for faster payment
Invite your customers to use the customer dashboard to view their stock reports and more online, at any time
Optimise transport routes for faster delivery
Use our driver ETA text message and ePOD features for smoother deliveries
Use wave picking for streamlined order fulfilment that saves time and resources
Link the mobile app with bluetooth scanner and printer for warehouse barcode scanning
Enjoy the mobile app (for iOS and Android) to manage your operations on the go
Give your team the ability to take on more business
And much more.
Our industry is seeing unprecedented high demand, which is forecast to continue. Now more than ever, small businesses are requiring tech investment to handle demand and to meet customer delivery expectations. Grow your business, optimise your operations and get more out of the resources you have, with CartonCloud.

Join over 350 companies growing their businesses with CartonCloud. If you've been looking to level up your operations with features that will streamline workflow and simplify your operations, get in touch today. Our system is built for the logistics industry and is so easy to use you can have the whole team on board in no time.
Contact our sales team today to discuss your plan, and to select the add-on features for your business; including our powerful Business Intelligence Tool, Replenishment feature, or adding Additional Warehouses.
What are the details?
This tax deduction for small business or eligible expenditure incurred between 7:30 pm AEDT 29 March 2022 until 30 June 2022:
claim the expenditure as usual in your 2021–22 tax return, and

claim the additional 20% bonus deduction for this period in your 2022–23 tax return.

an annual $100,000 cap will apply to each qualifying income year.
Want to know more?
Now is the time to give your business a boost. Expand your logistics operations with software that is built for purpose. Contact our friendly team for a FREE DEMO and see how CartonCloud can help you grow your business.