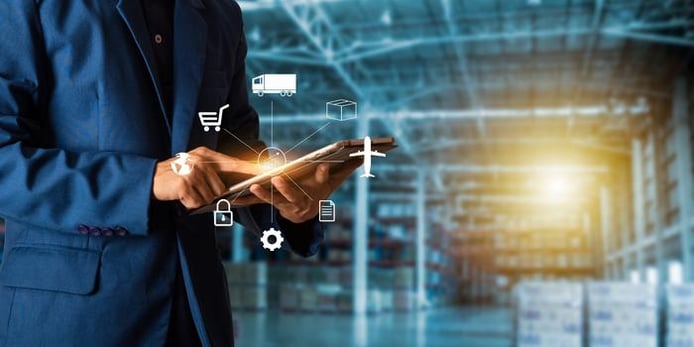 Let's look at how the 3PL warehouse model helps you meet post-covid customer expectations and scale the growth of your operations.
In the last few years, we've seen a global shift in consumer behaviour, with greater need and expectations to provide easy online shopping, with low cost, fast delivery. These customer expectations are shaping responses from the logistics industry.

Across the globe, we have seen a significant rise in the number of people engaging in online shopping; and many are here to stay. From shopping online for clothing and apparel to groceries, hardware and more, customers are expecting online ordering and delivery services as standard.
For some companies, this has meant altering their business model from stocking physical stores, to focusing on e-commerce. Rather than expecting stock in stores, customers are expecting their orders to be purchased online and shipped to them in a matter of days (or same-day delivery). Now more than ever, the logistics industry is being turned to, to respond with decentralised storage and quick distribution services.
The 3PL warehouse model offers scalable, efficient and established warehouse and logistics services for customers to use in optimising their business model. Let's take a look at three ways 3PL warehouses are helping to meet customer expectations.
Before we get into it, what does '3PL warehousing' mean?
What is a 3PL warehouse?


What is 3PL warehousing? It simply stands for Third Party Logistics — a third party company that provides logistics services, including inventory storage, order picking and packing, and transport dispatch for customers.
In other words, a 3PL is a warehouse and transport provider. They often don't store any of their own products, but rather provide warehouse and logistics services for other customers.
How are warehouse 3PL companies changing the logistics model to meet customer expectations?

We're going to take a look at three ways third party logistics are shaping the way of the future, to support businesses to meet customer expectations.


E-commerce is nothing new, and the logistics industry has catered to B2B and B2C e-commerce for years. However, the recent impact of COVID-19 has meant communities across the globe turned to online shopping in numbers never before experienced. What's more, thanks to expectations set by giants such as Amazon and The Iconic, many customers expect user-friendly ordering platforms and express delivery.


Ideally, you need to have stock stored near your customers, with access to dedicated warehouse staff for order fulfillment, and transport services for fast and efficient deliveries. Not every company can afford their own suite or warehouses dotted across various geographical areas for fast delivery, or teams dedicated to order fulfillment and packing as soon as the order is in, to send it off in a timely manner.


The solution is using a warehouse 3PL company. Third Party Logistics companies offer a range of logistics services, from warehouse storage to picking and packing orders, inventory reporting, order picking, custom packaging, freight forwarding and delivery.


Third Party Logistic companies offer:


Decentralised inventory storage (allowing you to tailor your stock to your local customer base and optimise inventory locations for faster delivery)
WMS services (high-quality order picking, custom packing, and detailed inventory reporting)
Established TMS network (giving you access to specialised freight companies for a fraction of the price if you were to run from your own warehouse).
Take a look at how 3PL warehousing can help you meet customer expectations
Decentralised storage


Warehouse 3PLs offer inventory storage, so you can store your stock closer to your customers, for faster delivery.
If you have customers in various geographical areas, you may want to use a 3PL company for close storage, warehousing and transportation. Having your inventory closer to your end customers decreases your transportation costs, and reduces the risk of supply chain issues for multi-leg logistics routes.
3PL Warehouse management

Warehousing 3PLs provide warehouse services without the requirement to secure and run your own warehouse. This includes inventory storage, tracking and reporting, order picking and packing, and preparation for dispatch. With a warehouse 3PL, you can scale your business and meet customer demand, with access to an established warehouse and warehouse team providing quality product handling.
You can also optimise the inventory you store in each location depending on local sales and sale forecasts for each area, based on your warehouse inventory reports and business intelligence reporting.
3PL Company Transport services


Meet customer delivery expectations, and take the stress out of distribution.
Optimise your own freight forwarding, transport and delivery services through your 3PL company's established transport network, saving you money and administration overhead and time.
You can even track driver locations and order status through your 3PL software's customer dashboard, to keep eyes on the operations. Or, use the 3PL services to scale up your business, leaving the logistics to the experts, so you can focus on the rest of your business.
How does a 3PL company work?


A 3PL warehouse is a warehouse space with various locations for stocking inventory from multiple customers. With a dedicated warehouse team to provide inventory allocation and tracking, (see more on barcodes and tracking here) order fulfillment, custom packaging and dispatch preparation. They also offer transport and delivery, allowing you to leverage off an established transport network for fast and affordable delivery.


The result is an affordable solution providing the benefits of accessing an established warehouse and transport network — at a fraction of the price.


With 3PL management system software like CartonCloud, 3PL companies have the ability to maximise efficiency across warehouse and transport services for multiple customers. Using this specific 3PL management software, third party logistic companies can integrate customer ordering platforms directly to their warehouse management system, optimising warehouse locations, order fulfillment and even offering custom packaging. With a dedicated warehouse team, your 3PL will manage your inventory and orders for you, right down to providing up-to-date inventory reports.


With the orders integrated into their system, the 3PL can optimise transport management for your stock delivery run, along with other orders on a similar route, providing fast, and cost-effective delivery. CartonCloud's 3PL system also allows drivers to record electronic proof of delivery notes (ePODS), so you and your end customers can have full transparency on order delivery. To find out more about 3PL Software, or ask for a free demo, contact CartonCloud today.
Want to find out more about 3PL company software that will help you meet customer expectations and grow your business?
Get in touch.
CartonCloud is a SaaS company, providing specialty logistics software made by logistics people, for logistics people.
Contact the team at CartonCloud today for more information on 3PL software and customer integrations, and start growing your business.