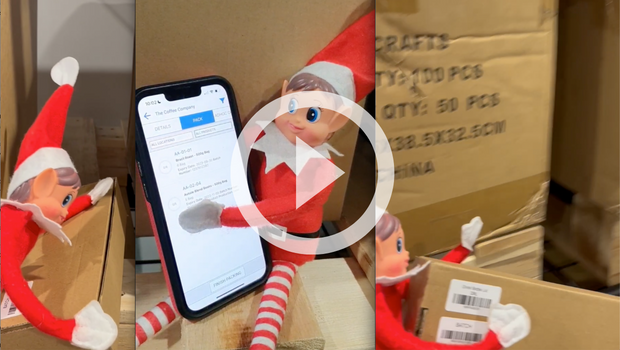 It's the biggest shipment of the year for the North Pole Paperless Warehouse, and the reindeer fleet have overslept! Will the elves be able to save enough time to make the order and still take a holiday break? ☃️ Come walking through a warehouse wonderland with us on this very merry case study.
Last year, the elves took Santa's workshop paperless with CartonCloud, saving enough time for Santa and Mrs Claus to take a holiday to the sunny Gold Coast, Australia. This year things were going so well, they almost forgot to start! It seems like the elves had a few tricks up their sleeves to get the order dispatched on time, with some more time-saving ideas saved for the road.
Their warehouse manager Noel even sent through this short video from the team at the North Pole, showing the team in action.
Hi CC team, Once again, we made our deadline thanks to CartonCloud! With Santa's list automated, we checked it twice in half the time — and used wave pick to pick all of the presents in no time.
This year, we decided to try reverse-loading the sleigh for an easier delivery — making things much easier for Santa and our Reindeer Fleet on their delivery route. We even used the driver's notes recorded into CartonCloud from last year's run to give helpful delivery tips on which fireplaces he can fit down, which ones he can't, and which homes leave out the tastiest gingerbread and carrot treats! Now it's the elves' time to take a break!
Happy holidays, from all the elves and reindeer fleet!
💬 Online ordering and seamless integrations
Say goodbye to paper lists, and to checking them twice. Like the elves, you can save yourself the headache and time, by automating orders directly via EDI from client email attachments (PDF or Excel spreadsheet), have your customers submit orders directly through their client dashboard, or integrate your CartonCloud account directly with your customer's online e-commerce store (like Shopify or WooCommerce).
📲 Warehouse orders with wave picking
Pick faster, with more accuracy. With CartonCloud you can use wave pick in three different modes, based on your operations and order needs (all much more efficient than waving an ice pick!) Select from Bulk Pick, Split Pick, and Pack, and Combination Wave Pick with barcode scan, for more efficient order fulfillment.
☃️ Reverse load for faster delivery Runs
Make your driver's lives merry with automatically allocated consignments for delivery runs. Simplify deliveries and streamline transport routes with consignments reverse-loaded into your sleigh or truck, from the warehouse.
🍪 Save important contact delivery instructions
Give your drivers and team the information they need at each step. With CartonCloud's delivery instructions, you can provide important tips including a contact name to ask for, entrance address or code details, or of course — the addresses that leave the tastiest gingerbread and carrots for the reindeer fleet.
Whether you're taking some well-earned time off or working through to keep communities moving — wishing you a happy December, from the team at CartonCloud.
*Disclaimer, while this case study is only as real as our holiday diet, the features are all real, and ready to help you get the most from your business. 📦💥
Want to know more? If you like the sound of optimized warehouse and transport operations that save you time, money, and headaches, get in touch for your FREE Demo today.