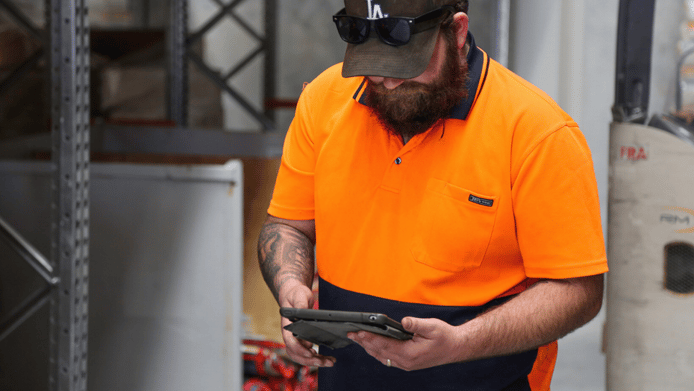 We're used to hearing about sign-on glass technology in the context of transport and deliveries, increasingly becoming the norm for logistics companies to electronically capture their Proof of Delivery (ePOD). But what about warehousing?
For decades, dispatch from the warehouse has been a neglected part of the logistics workflow. Software and process improvement has focused in depth on faster putaway, more intelligent stock management, and driving efficiencies in picking workflows. But dispatch from the warehouse has been taken for granted.
The ability to electronically capture signatures when orders are picked up through a tablet or mobile device is improving visibility and transparency in the way freight is transferred from one partner to another.
Traditional methods of dispatch may have involved any combination of managing dockets and pick sheets, manually updating orders, and trying to match up signatures to paperwork in the event anything went wrong or there were disputes further along the chain of responsibility.
With sign-on glass, the courier can simply select the consignment they are collecting, sign directly onto a tablet or mobile device, and go — with the record captured directly into the system. The ability to also add photos of the freight or any other supporting documentation helps improve visibility and reduce the risk for 3PL warehouses.
This not only streamlines order dispatch to save time, but also allows you to increase transparency through automated data capture. The digital record can be emailed to the courier and your customer, and you have a digital copy of the dispatch collection in your records, without any paperwork changing hands.
There are many benefits that make sign-on glass so important to 3PLs. Sign-on glass technology simplifies dispatch, and removes the potential for lost paperwork, mistakes in order collection, lost items without tracking, or invoicing mistakes. With sign-on glass, you can add another layer of security in the process of transferring goods from you to your customers, capturing tangible evidence directly into your system.
Using an integrated cloud-based system like CartonCloud means your data capture can be streamlined into your workflows, simplifying process, boosting accuracy, and ensuring your customers and courier partners have access to the most up-to-date information, at all times.
Streamlining sales order dispatch
Cloud-based WMS software is already streamlining and simplifying warehouse operations, providing greater accuracy and increasing daily order fulfillment. By adding sign-on glass confirmation of freight leaving the warehouse, sales orders ready for dispatch can be automatically transferred to a consignment, to be allocated to a courier or driver for delivery.
It also simplifies freight collection for drivers collecting more than one consignment, allowing the to group the consignments under one POD, requiring only one signature.
Transparency and accountability
High-volume order warehouses require streamlined workflows, with the ability to scale up for periods of high demand while maintaining transparency and accuracy at all times. Sign-on glass for freight leaving the warehouse provides transparency, with ease.
Couriers can also upload images of the freight when it is picked up, or add notes to their sign-on-glass collection to record any additional data required.
Capturing a signature from couriers at the point of freight collection also adds additional data and information for the chain of responsibility. This is especially important in providing greater accountability for orders throughout multiple changes of hands and provides 3PL warehouses with proof of the condition of the freight when it leaves the warehouse.
Customer reporting
With a cloud-based WMS, reporting can be automated. Data is captured in real-time, to show incoming order status through pick and pack, allocation to a consignment for dispatch, and sign-on glass when the order is collected for delivery.
With data captured in real-time, customers can simply log onto their CartonCloud customer portal to view their order status in real-time — including confirmation of when the order leaves your warehouse. This helps to communicate better with clients and speeds up the invoicing process.
Sign-on glass in action
For e-commerce 3PL TNS Logistics, capturing dispatch records via sign-on glass means they can easily provide complete customer transparency on sales orders leaving their warehouse. Once the order is picked and packed from their warehouse, they allocate the order within CartonCloud, to a consignment for delivery.
They have an iPad set up at their dock, allowing couriers to simply select the consignment that is allocated to them, sign, and attach any images of the shipment they are collecting, if they wish. The signature is time-stamped and recorded in their WMS as dispatched, providing complete transparency for customers, and allowing end-to-end tracking. They can also use the sign-on glass as a trigger, to automatically finalize and send the invoice to their customer.
With end-to-end transparency and order tracking captured digitally in their cloud-based WMS, their customers can log on to the customer portal, and view their order updates in real-time, from anywhere in the world.
Want to know more?
We're logistics people too. Get in touch with our friendly team to find out more about how sign-on glass can help you capture greater data transparency in your warehouse.
Get in touch with the team at CartonLCoud to find out more about how our cloud-based WMS and integrated TMS can help you take your 3PL warehouse to the next level.
Ask the team for more information on our feature-rich logistics management software, or request a FREE Demo to see our software in action today.