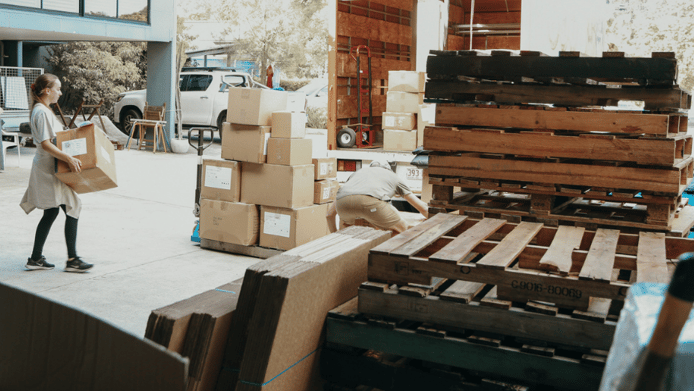 In logistics, cross docking operations can seem extremely complex from the outside — stock is coming in, being sorted, and going out all at once, with allocation and sorting between numerous delivery runs and orders. Speed and accuracy is crucial, but it doesn't need to be complicated.
Simply put, it is where incoming stock is accepted to a loading area is sorted for dispatch onto more optimized transport routes, to boost route efficiency, reduce freight costs, and offer faster last-mile delivery.
Cross docking allows deliveries to be bought in bulk, sorted, and then sent back out in a short period, providing a range of potential benefits for the company and their customers — when done right.
What does effective cross-docking look like?
Cross docking in logistics is when transport jobs are temporarily stored/sorted in a holding area between the pickup and delivery.
Implementing cross docking operations differs from traditional warehousing because stock is not being stored for a long period of time. This can help to cut down on handling time and costs and maximize the use of available warehouse racking for inventory requiring longer-term storage. Rather, fast-moving freight can be accepted, sorted, and allocated to dispatch without requiring it to be entered into the warehouse for storage.
In addition, the incoming stock items (ie: products) are not required to be tracked to SKU level — instead, they can be tracked as deliveries, much like a courier parcel, simplifying incoming stock procedures.
Find out more about faster last mile deliveries with cross docking here.
How we've simplified cross docking
Using CartonCloud, you can receive incoming freight into your WMS before it is assigned to a warehouse location — allowing you to allocate the freight for cross docking into a move cart, for temporary placement until it is allocated to a delivery run. This allows you to scan incoming freight for speed and accuracy, and simply add it to the move cart where it can remain until you've completed unloading the freight.
Find out more about barcode scanning and labeling here.
Purpose-built cross-docking software
CartonCloud's integrated WMS/TMS was originally developed to provide cross docking capability, providing an easy-to-use solution that simplified complex operations, for greater accuracy, accountability, tracking, and speed of operations.
For Roving Logistics, cross-docking was essential. They would pick up freight in bulk from clients selling refrigerated products like cheeses, fresh pasta, and gourmet foods to delis, bring them back to the depot, and split them up into different delivery runs that the stock was going out on.
A single pallet from one customer might contain 30 to 40 different deliveries, each pallet requiring sorting, inventory allocation, and dispatch in a short amount of time. With CartonCloud, this process is simplified, using the warehouse management system on a tablet or mobile view, the stock requiring sorting can be identified, with barcode scanning used to allocate inventory to the most efficient delivery run with speed and accuracy.
Want to know more?
Contact the CartonCloud team today to find out more, or to book in a free demo to see our software in action.
We're logistics people too, which means our team can understand your business needs and ensure your setup is correct to streamline your operations, and scale up your business.