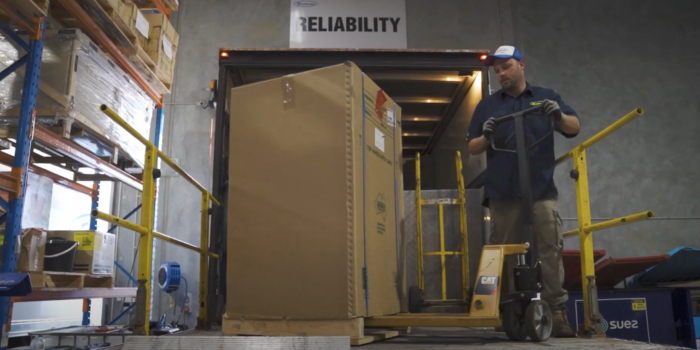 Logistics software is becoming more and more available, with niche tech solutions for various services and operations. Having the right 3PL software for your business will allow you to scale operations, win new business, and reduce overheads — but what should you look for to differentiate between 3PL software providers?
How to find the best 3PL software provider
Finding the right 3PL software for your business starts with you!
There are many differents 3PL software providers, each with different features, costs, set up requirements, support services, contracts, hardware requirements, and each with their own limitations.
Find out more about how to decide between an Inventory Management, ERP, or WMS system here!
We've simplified finding the right 3PL software system for your business, with five helpful steps: to help you understand your business, customer needs, and how you want to grow.
To start with, simply look at the services you currently provide.

Note down the services and operations of your business; including e-commerce 3PL pick and pack, bulk commodities, chill or frozen freight requiring freight temperature zones, cross-docking and transloading, de-stuffing, custom packaging, or any other services — and already you can see there are quite significant features each of these services required simply to fulfil the workflow.

Next, consider what your customers need.

This might be online ordering integrations, order tracking, inventory reporting and low-stock notifications, return-to-sender workflows, integrations to their own SAP systems, or other requirements.
Dream big. Determine the ideal customers you want to win. Your 3PL WMS software should give you the tools to win new business and scale your operations. To find the right 3PL software for you, it's important to know who your ideal customer is, so you can ensure your new system has the features you need to win new business.
Consider your timeframes and budget. Another huge difference between 3PL software providers is cost and implementation timeframes. Finding the right provider for your business means they need to fit within your budget, and have a timeframe for ROI that suits your business model and forecasting. For example, CartonCloud offers usage-based subscription pricing designed to suit growing 3PLs, with fast implementation for fast ROI.
Find dedicated, local support. The final key differentiator you need to consider is your 3PL WMS software provider's ability to provide ongoing support. 3PL software is the backbone of your business — if you have a question, you need to know you can contact the team and get an answer. You also need to be sure you and your team are able to learn the system easily, to get the most from the software.


Listen to this episode of the Supply Chain Innovators podcast with CartonCloud CEO Vincent Fletcher discussing the key digital tools allowing small-medium enterprise logistics businesses to scale for growth.
WMS software reviews
One of the great things about our industry is that nothing moves faster than word of mouth. This means you can find real reviews, from people who are using the software — and weigh up their feedback against your list of requirements above.
We recommend looking at Google Reviews, or sites like Capterra software reviews for more genuine feedback. You can also explore customer case studies to explore how customers are using software for various business models, which features they were looking for, and what they found that worked.
3PL software integrations
It's important to consider the 3PL software integrations you'll need, and ensure your 3PL software provider can provide and implement these. This might be integrating with your customer's online storefronts for direct order automation into your WMS, or connecting to your accounting software like Quickbooks integrations or Xero accounting integrations.
3PL software features and customization
When you're running a 3PL distribution business on behalf of dozens or even hundreds of clients, you'll want to have the ability to customize your stock reporting, workflows and data capture. After all, your customers and their inventory comes in all different types of shapes and sizes.
You should expect to be able to automatically invoice on every touch-point, from receiving, inspection, putaway, picking, packing and dispatching. Returned merchandise should also be handled easily through using your 3PL software application if that is a workflow your customers require.
Further still, your software should be able to allocate inventory based picking efficiencies. Every warehouse worker, from forkies to pickers, managers and even the sales team should be able to log in to the same portal, with varying degrees of user permissions.
Finally, you may want to have the ability to customize documentation as needed, by modifying the look of labels or documents like consignments, delivery notes or shipping labels. Having this flexibility can mean the difference between winning or loosing some clients, and is a key feature for many 3PL warehouses.
Local 3PL software support and training
Another important aspect to consider is how you will be able to work with your new software provider. You want to know you have a team who understand your business, have industry experience, and are available for local onboarding and support.
A great way to know if a company provides superior support is to look at who is already on board as a client. If you're spotting some brand-name companies, then you're already on to a winner!
At CartonCloud, we pride ourselves on providing exceptional customer service, with our in-depth and easy-to-use Knowledge Base, local onboarding, and local customer support. Our team of experts have industry experience, which means they can provide advice and tips to help you get the most from your system.
Want to know more about finding the right 3PL WMS software provider?
We'd love to help out your 3PL operation in helping your team maximize productivity and reduce operational errors. Our software is both affordable for many decision-makers and reliable, so you can get on with the job.
Best of all, we've built in extensive features for small and medium-sized operations. Not only that, but we extend towards transport operations so you can track goods from picking all the way to final delivery, all in one portal.
Give us a call today, we may be the perfect match.