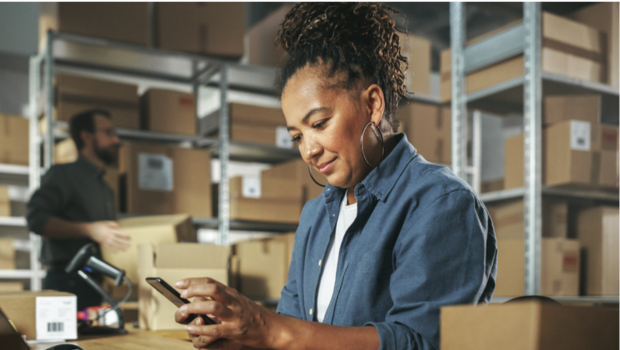 Logistics companies are focusing on how they can collect and share data, to establish industry partnerships and outsourcing opportunities as a means of meeting growing customer expectations while navigating economic instability. CCLI Q1 2023 Report data shows how companies will plan for growth in the coming months — how does your business compare?
With demand increasing and customer expectations for greater services and lower costs, the report highlighted logistics businesses are seeking out and building partnerships in order to outsource services and boost their own capacity to take on new business.
"It's a trend we've seen increasing over time, and it goes hand in hand with the intent to invest in technology," said CartonCloud COO/ Head of North America Shaun Hagen.

"This laser focus on partnerships and outsourcing has created a greater value, and awareness, of software integrations and software systems that support this flexibility and real-time data sharing," he said.

"Warehouse management and transport management software has enabled smaller players to achieve massive gains, and enhanced integration functions allow secure and fast data transfer between industry partners."
The latest edition of the CartonCloud Logistics Index Report (CCLI Q1 2023) draws on insights from over 1,800 members of the logistics industry — across the globe, delivering a truly global perspective and providing actionable insights for logistics companies to use in planning for the future.
The report marks two years of industry data, tracking industry sentiment, concerns, and intent throughout the global pandemic, and other global events that have shaken the industry.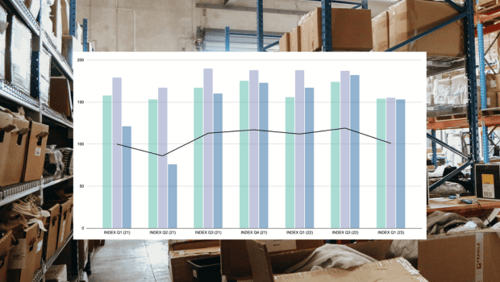 What technology are logistics operators looking to invest in?
According to the latest CCLI Report, businesses across the supply chain are looking to invest in technology solutions to overcome economic conditions while meeting customer demands in the coming year.
Tech investment trends have highlighted a focus on niche and specialty software used to enhance specific logistics operations or allow businesses to offer new services.
Of over 1,800 logistics industry members surveyed;
27% said their business would be likely to invest in artificial intelligence/ machine learning in the coming months,
26% in 3D resource planning,
and 23% in robotics and automation.
With greater adoption of digital solutions, building the right tech stack (the integrated software systems in use by a business) is becoming a key focus for many companies across America and the rest of the world.
"The main thing is, that most logistics companies — especially the small-medium enterprise sized businesses— they don't have an IT team or a softwre expert on board to implement and run their systems," said CartonCloud CEO Vincent Fletcher.

"They need to have systems that are easy to onboard and train their staff, nad easy to use day to day — otherwise they are loosing time and money waiting to have it set up, to onboard the team, or to be able to start using the features.

"This is one area that integrations becomes really important. Being able to simply integrate new, niche systems with their exosting, easy to use software — being able to have their team continue to use the system they know, and having easy access for customers can make a huge difference to the end value they get, and the speed of ROI on their tech investments."
Logistics businesses need to navigate the requirements of their customers, their end customers, and their partners; in order to ensure they have the right systems and tools in place and the ability to set up secure integrations for seamless data sharing. For larger players who have been using legacy systems for a while, working around outdated, in-house systems (also known as tech debt) has created many challenges.
However, SMBs have the ability to access cloud-based systems with online support and new feature roll-outs which can keep them ahead of the curve and ensure their systems remain up to date. (Check out cloud-based logistics software FAQs here.)
The CCLI report highlighted a strong intent for companies across both warehouse and transport operations to invest in new, innovative technology such as machine learning and 3D resource planning in the coming months.
"The world of logistics has moved to the digital realm and the digitization of the logistics industry has grown significantly in recent years, especially in the United States," said Mr Hagen.

"We're seeing companies of all sizes gaining access to niche and specialized technology," he said.

"This means companies have the ability to pick and choose the functionality they need now, or want to offer in the future. They have the ability to add these plug-and play tools onto their base WMS/TMS software — especially when they are using cloud-based software like CartonCloud), and tailor their system to their own needs."
What does logistics digitization mean for my business? Alongside the increased focus on software and innovative tech selection, logistics companies need to ensure they have the right foundational systems in place, to offer smart and secure integrations, and allow them to build their own tailored stack.
How many software systems do logistics companies typically use?
The CCLI Q1 2023 asked respondents to nominate the number of software systems in use in their daily operations. The majority of respondents (49%) used 3-5 different software applications in their day-to-day operations, while 44% of respondents used 1-2 software systems.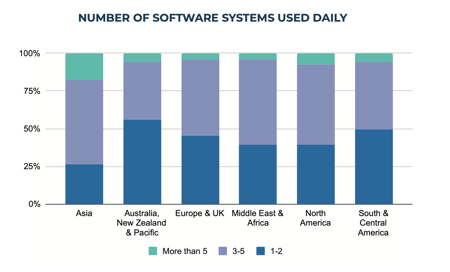 This uptake over recent years marks logistics businesses' resilience to invest and implement software solutions throughout the economic instability created by the global pandemic.
Transport operations were more likely to use multiple systems than warehouse operations. When split by region, Australia was the only region with over 50% of respondents using 1-2 systems. They are the outlier compared to other regions such as Europe, the Middle East, and North America, where the majority of respondents use 3-5 systems.
What does multiple system use mean for the future of logistics operations? Logistics software and technology has boomed in recent years, fuelled by industry requirements for integrated data sharing and data tracking. As technology has adapted and enhanced over the past few years, companies now have the ability to pick and choose the systems they need for their services. Some systems are multifunctional, while others provide niche solutions for specific operations.
Are paper-based processes declining in logistics?
Only 2.7% of all respondents said their company did not use any paper records on a daily basis.

Years ago, paper records would have been used across most areas of the business; from an address book and handwritten customer notes, to manual pick notes, driver consignment allocation and of course— paper invoice records.
However, with the rise of logistics technology, paper records are dwindling. We asked over 1,800 CCLI survey respondents to share the number of processes in their operations where they still use paper records.
Most companies (97%) use paper records for at least one operation in their day-to-day business.
Just over one quarter (26%) of respondents had two or fewer activities run on paper daily, and close to one-half (46%) said their company used paper records for three or less activities.
These stats show a massive shift away from paper processes for many logistics companies, a trend echoed across the industry.
Want to know more?
You can find out more about scalable warehouse systems from other industry members with WMS customer stories and testimonials.
Want to know more about CartonCloud? To learn more about our software and how we can help you take your business to the next level, simply hit the link below to fill out a form to request a free demo call — and our friendly team will be in touch in no time.