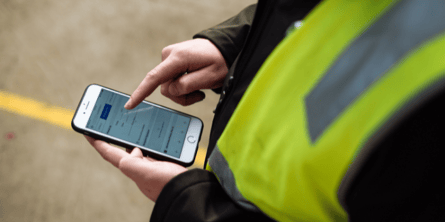 In the ever changing world of logistics, where you need eyes on all areas at all times, it pays to automate actions in your freight management system.
You can save time, reduce errors, optimize your transport fleet, all the while keeping your customers informed. We've pulled together five game-changing ways to automate your freight management for success.
First, look at why a cloud-based freight management system can benefit your transport business.
Benefits of a cloud-based freight management system
In a nutshell, your Warehouse Management System (WMS) is the software you will run all of your warehouse operations through. Among other things, as a freight management system this allows you to track your incoming and outgoing freight, through each step of the logistics process, — however it also allows you to manage freight in your warehouse with inventory reporting, warehouse locations, batch-based picking or FIFO workflows, rate card automation, invoicing and more.
This means keeping eyes on all of the freight you manage, from dispatch to delivery — often through multiple logistics touchpoints and various routes, ensuring your records and reporting is always up to date, and allowing you to manage data entry and rate cards with simple automation.
Cloud-based freight management through your WMS gives you the ability to automate key activities that will keep your business moving, with more accurate data and invoicing, less time spent on tedious admin, and better management of your fleet resources. Sound too good to be true? At CartonCloud we've helped over 450 companies world-wide to automate workflows, scale systems and grow their businesses.
While there are a range of freight management software services available in Australia, the clear benefits sit with using a cloud-based system that will allow you to automate key actions to save you time and money. CartonCloud's Transport Management System is a freight management system designed by logistics people, specifically for the logistics industry — addressing some of the key concerns and hassles that logistics providers face each day.
Let's check out the best WMS automation actions to level up your operations.
Five key ways to use automation in freight management
Many logistics providers are turning to cloud-based warehouse management systems to allow them to integrate accounting and customer ordering systems, with custom automation for greater efficiency.
We've pulled together the five must-have automation for any freight transport management system here, to help you keep your freight on track and on time.
Increase your team's accuracy, reduce admin hours, boost order fulfillment AND give your customers greater reporting transparency... all with one integrated system.
Automate data entry and access easy and instant, up-to-date reports from the warehouse to delivery.
Save time on admin by automating complex rate card calculation and invoicing.
Optimise warehouse put-away and order picks with automated workflows
Optimize your driver routes and automate consignment groupings.
Keep customers in the know with driver tracking, driver ETA texts, and customer portal access.


How to achieve seamless end-to-end freight management with an integrated WMS/TMS
With CartonCloud's integrated transport and warehouse management system, you can enhance your logistics management with paperless data management, cloud-based storage, and access, integrations with other day-to-day software such as Xero and MYOB, and of course — custom and built-in automation to make your life easier. Here's how.
1. Automate data entry and access easy and instant, up-to-date reports
Tasks that would previously have taken all day can now be completed in minutes. Automated data entry not only saves your long admin hours, but also gives you and your team peace of mind, knowing your data is captured correctly.
So, how does automated data entry work? CartonCloud's cloud-based WMS/TMS software provides seamless software integrations to let you connect with your partner software, your customer's online storefronts (like Shopify and WooCommerce), your accounting software, and any other important connections you need. In addition, you can use Electronic data interchange (EDI) software functions, which allows you to pull data into your records from multiple sources with ease. It not only saves you hours of admin, but also keeps your records accurate.
2. Save time on admin with automated rate cards and invoicing
Freight and storage rates can be a complete nightmare, especially when dealing with complex rates for various services like special handling, priority dispatch, cold storage, mixed pallet packing, etc.
The good news is, you can set your own rate cards and custom logic — with unique triggers and events— for your freight management system to calculate for you. Never miss another payment, or under charge due to missed calculations.
But, there's more. With inbuilt integrations to your accounting software, your freight transport management system can also automate your invoicing, using the ePOD notification to generate the correct invoice and send directly to your customer.
You can reduce the likelihood of human error, with automated custom logic built into your freight management system. This means, you can set specific freight handling, storage, packing or other logic for certain inventory or customers, to ensure their stock is handled correctly.
Your freight transport management system will store this logic within the data for that customer or inventory, so that when it's scanned for order packing, dispatch or route optimization, the system knows exactly how to handle this stock.
3. Optimize warehouse put-away and order picks with automated workflows
Simplify warehouse management from inbound to outbound stock — and everything in between. The difference between using a complete WMS software system like CartonCloud versus basic inventory management and freight management software, is the ability to manage your entire warehouse operations from one place.
That means using powerful integrations to seamlessly accept stock into your warehouse, both physically and digitally, assign warehouse locations based on logic (like managing temperature zones), record warehouse stock put away, stock levels and stock movement — and capture orders directly from software integrations, to use the mobile app for pick and pack.
You can also optimize your warehouse space, and resources using automated workflows like FIFO, FEFO, wave pick, and replenishment.
4. Optimize your driver routes and automate consignment groupings
With your data entry taken care of, your freight management system can then use this to build optimised driver delivery routes, based on the most efficient options and consignment groupings.
We've crunched the numbers, and have found the ability to automate incoming consignments to a driver through your freight management system can reduce admin overheads by as much as 60%.
You're also saving time on the road — with cloud-based software and electronic PODs (proof of delivery notes), your drivers can save time on deliveries. Using automated logic in your freight transport management software will save you time and optimise the resources you have on hand — allowing you and your team to be more flexible and reactive to changes throughout the day.
5. Keep customers in the know with driver ETA texts and customer dashboards
Electronic PODs aren't the only way your drivers can optimize their operations through a cloud-based freight management system. You can also enable drivers to directly contact customers through the CartonCloud mobile app, with an automated ETA text, sent when they are nearby. This saves time on delivery and keeps your customers in the loop.
Another way to keep your customers informed and in the know, is setting up a customer dashboard to your freight management system. This way, clients can keep an eye on their inventory and order status, and can also flag orders as being urgent, so your team can identify priority dispatch and delivery orders.
Want to see CartonCloud's freight transport management system in action?
Take a look at this CartonCloud case study and see how Liquex Logistics used their freight transport management system to increase their volume by 50%.
Want to know more about freight management system automation?
Make sure you're getting the most of your freight management software, with integrations, customer access, and automation across your business. Contact the team at CartonCloud for a free demo today.
Page updated April 2023