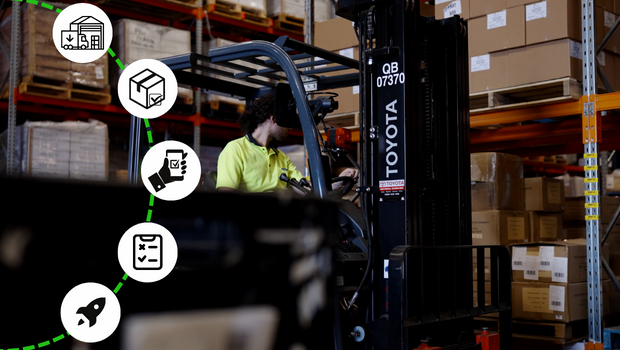 How do you find the right warehouse management system for your business? Your WMS software should help simplify your day-to-day operations, streamline workflows, increase accuracy, and give you more time to focus on other business areas. If not, you may want to reconsider your system. Take a look at these helpful tips to find the right WMS for your business.
Working in any role in logistics and supply chain management can be a real headache if you don't have the right systems in place. With the right Warehouse Management System (WMS) in place, you can take the complexity out of logistics, and get more time back in your day.

When should you use Warehouse Management Software? Warehouse management software is the powerhouse of your operations. Your WMS will track inventory storage, levels, movement, condition, and status — allowing you to optimize operations and increase daily output; while automating rate cards and invoicing, streamlining workflows with wave picking, replenishment, and other operational tasks, and seamlessly integrating with online stores, accounting software, transport managment, and other software.


Your warehouse management system (WMS) is the foundation of your business, and the right WMS will take the complexity out of operations— which is why choosing the right WMS for your business is one of the most important decisions you can make for your business.
🔎 How to find the best WMS for your warehouse operations
It's important to keep in mind exactly what you need from your system. Your business will have different customers, inventory, and services to the next logistics business — and will need different workflows and automation.
Consider your customer needs, their inventory, and the services you offer now — as well as the customers you'd like to attract and services you'd like to offer in the future. Finding WMS software that can scale and grow with your system is essential in planning long-term growth.
You should also consider your resources and your team, and ensure the system fits in with your business operations. Some WMS software systems are difficult to use or take months to train your team on — which is not helping contribute to your bottom line.
Finally, in your search for the best WMS software, consider how your warehouse management software will help you save time, increase accuracy, reduce overheads, and give more to your customers.
The right warehouse software can take your operations from losses to profits by streamlining workflows for greater output and accuracy, automating manual data entry, reducing revenue leaks, and allowing you to scale up to meet seasonal high demand.
CartonCloud Warehouse Management System provides transparency from order to dispatch, giving you greater peace of mind and actionable data for business planning. Take a look at some of the key WMS features for a growing 3PL below to help you choose the best WMS for your business.
Download your PDF guide to the benefits of WMS software here.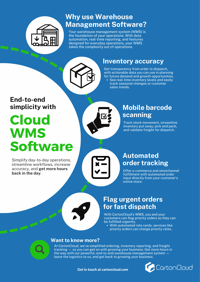 👍 Benefits of a cloud-based warehouse management system
Cloud-based WMS software has many benefits, especially for growing 3PL businesses. With cloud-based warehouse management software, you can scale up your business as you grow, accessing new features and increasing your system account as needed — making it a more financially viable option.

Furthermore, cloud software has an edge over on-premise systems, as it is constantly being updated to align with new technology and industry standards.

Software as a service (SaaS) WMS software is a subscription-based cloud software, giving you;
the ability to select the subscription you want (based on your company growth and customer needs),

access to a dedicated help and support team to ensure you get the most from the system at all times

access to new features and software updates

the ability to build your tech stack through software integrations, enabling you to engage in partnerships and include niche features in your system.
⚡WMS automated order input and data tracking
Cloud-based WMS software allows you to automate a range of tasks, saving you time and boosting your operational accuracy. One of the most time-consuming manual tasks is order entry, but with CartonCloud's powerful warehouse management system, you have seamless integrations for accurate and real-time data flow to and from your WMS.

This simplifies omnichannel ordering and opens doors for e-commerce fulfillment by automating incoming orders and sending order completion notifications via email, EDI, API, or directly to an online store.
❗Flag urgent orders for fast dispatch
Need the ability to identify urgent orders in real-time? Give your customers the ability to flag orders as urgent, and automate your rates to capture priority charging.
Prepare for peak season demand and scale up with ease. With CartonCloud's WMS, you and your customers can flag priority orders in the system so that they can be fulfilled urgently. Moreover, you can also automate your rate cards with flexible sliding fees, so services like priority orders can be charged at priority rates.
📱WMS barcode scanning
In warehousing, the safety and condition of your customer's stock is your primary focus — but mistakes and human error can happen. By implementing barcode scanning through your WMS, you can track stock movement, streamline inventory put away, pick and pack, and validate freight for dispatch. Barcode scanning also lets you track additional details against your inventory, including expiry dates and batch numbers, to ensure the right stock is selected each time.
Find out more about real-time inventory tracking here.
Like we said, not all warehouse management systems are built equal. Cloud-based WMS software gives you access to new features and a team to support you.
This makes considering the software provider an important consideration in choosing the right WMS for your business. You need to be sure your provider has excellent customer service reviews (look for Google Reviews, Capterra, and other software review sites to see what people are saying), and easy access to training and online learning.
See why CartonCloud is top-rated by our users here.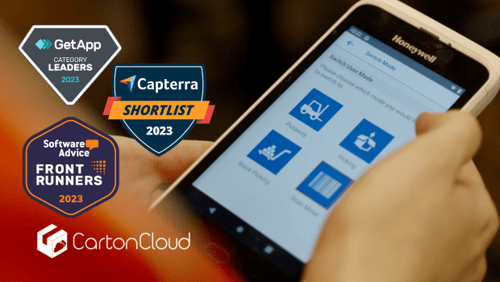 🙌 Get expert advice and local support
We're logistics people too, which means our WMS and TMS software features are created by logistics people, for logistics people, with the aim of simplifying your daily operations at the core of everything we do.
CartonCloud's feature-rich WMS and TMS software is created by logistics experts, and designed specifically for logistics operations, with a web application and mobile app, allowing teams to digitize operations from end to end, with ease.
Our team of experts is here to provide advice and top-rated customer support to help you get the most from your system, and grow your business your way.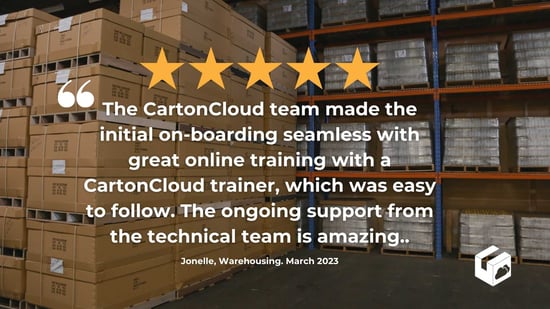 Want to know more? Book your free WMS software tour today!
At CartonCloud, we've simplified ordering, inventory reporting, and freight tracking — so you can get on with growing your business.
We want to help you find the best WMS and TMS software for your business. Contact the CartonCloud team today to book a FREE DEMO and see our software in action. Our team of industry experts have years of experience, which means they understand your business and what you and your customers need to succeed.
📲 Try CartonCloud's mobile app in demo mode for free!
You can also download the CartonCloud mobile app in demo mode to view a handful of features for FREE. Download from the Apple store or Play store to see for yourself!
We're logistics people too, so our team can understand your business needs and ensure your setup is correct to streamline your operations, and scale up your business.
Get more hours in the way with our powerful, end-to-end warehouse management system — leave the logistics to us, and get back to growing your business.