Refrigerated freight storage, transport, and shipping requires specific, temperature-controlled environments throughout handling. This is where refrigerated trucks (or reefers), chillers, and freezer warehousing come into play. The problem is; the cold air in the freezer can be an enemy to your mobile device battery!
For chilled storage and freight, temp is everything. Warehouse cold rooms must be set to specific temperatures, depending on the stock they hold. Refrigerated trucks include a built-in refrigeration system inside their trailers to keep their cargo on temp regardless of the time or distance for delivery.
Logistics companies looking to use mobile devices for warehouse and transport management need to be able to use mobile devices in all temperatures.
In this video, Tony shares some tips on how to save your device's battery when operating in warehouse freezers and refrigerated freight environments.
"Years ago, when I was working in Refrigerated Transport, we used to have these huge devices which had massive batteries on the back, and they were wrapped in an industrial cover. We did anything to try and keep them away from the cold."
Here are a few simple tips to extend your battery life in chilled freight warehousing;
slip your mobile device into a pocket in between use when working in a warehouse freezer
using a heavy-duty phone case with extra padding can help to insulate your device in chilled environments
don't put your mobile device down on a frozen pallet or forklift while operating in the warehouse freezer
for frequent use in a warehouse freezer or chilled freight environment, you can use a rugged mobile computer, built to withstand cold temperatures.
What about wifi? Using a cloud-based WMS with a mobile app allows you to enhance your operations throughout the warehouse (and transport with an integrated WMS/TMS). With CartonCloud, you have the ability to operate a range of specific workflows directly through the WMS mobile application, including item put away, stock movement, pick and pack, order allocation, and more. One thing to consider is your wifi reach. To install a wifi router in a chilled environment, you may need to consider specific housing to protect the hardware from the temperatures.
Check out Tony's Tips for more simple ways to optimize your operations and see more information below on how to use your WMS software for chilled warehousing and refrigerated freight management.
Using CartonCloud's WMS app for chilled freight management
Our WMS is designed to simplify and streamline your operations end-to-end — and that means going in the chiller with your team.
Liquex Logistics save 40-60hrs a week on admin with CartonCloud
A leading chilled freight company, Liquex Logistics specialize in craft beer distribution. They provide specialized transport and delivery for some of the leading craft beers across Australia, with accuracy, transparency, and quality. Now, they are able to offer their customers more, and grow their business — but it wasn't always the case! Before implementing CartonCloud's cloud-based WMS, Liquex Logistics were operating on paper.

"If those pick tickets don't make it back to the office, you don't charge your client,"Liquex Operations Manger Ryan Thompson explains.
"So you're running the risk of not getting all the revenue that you've physically done. The invoicing process was very cumbersome, very labor intensive. We acknowledged that there was a shortfall in our operation.
"We started rolling out CartonCloud and fully integrated everyone onto the new system —the training behind that has been a matter of hours, and within a day, they were all over it and they knew what they were doing.
"Just from a simple cost perspective, we've been able to redistribute our staff and what they do in different areas. So, we're saving between 40 and 60 hours a week on admin, but we're doing 30 to 50% more work."
Hear how this craft beer logistics company optimized their operations, listen to the podcast interview here!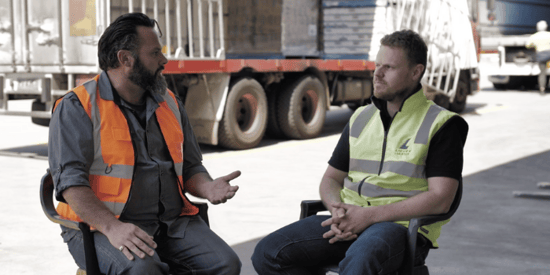 Get chilled freight management end-to-end with our combined WMS TMS software
Our combined warehouse and transport management software provides the tools you need for end-to-end refrigerated transportation last-mile delivery. Designed specifically with the flexibility and features needed by small-medium sized 3PLs, so you can offer more to your customers.
Just another one of Tony's Tips.