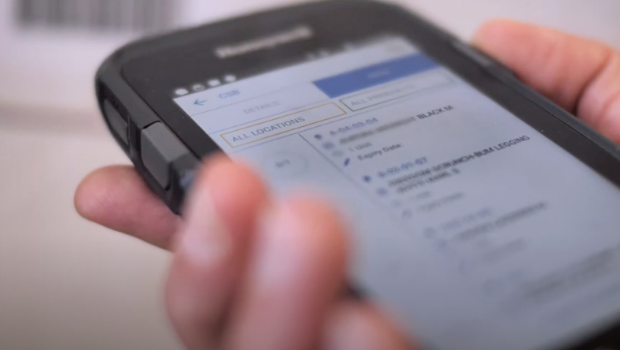 What if your logistics management system could help you attract and retain staff?
Adopting new logistics technology can bring many benefits to your organization, including reducing manual labor, streamlining workflows, and enabling you to increase your services without increasing your workforce. However, more than this — implementing easy-to-use and effective logistics management systems can also be used to boost staff attraction and retention by simplifying workflows, reducing the burden of manual data entry, and increasing accuracy with ease.
Could investing in smart technology and logistics management software give you a hiring edge?
CartonCloud's warehouse and transport management software systems are built by logistics people, specifically for logistics people.Our intuitive WMS and TMS are designed to be the easiest-to-use logistics software available, to help you and your team overcome the day-to-day hurdles of the industry, grow your business and improve your day to day experiences.
Okay, that sounds like a lot to offer. How can transport and warehouse management software increase my staff's enjoyment?
It's simple;
removing tedious manual data entry
simplifying workflows to boost efficiency and accuracy with ease
using intuitive logic to optimize processes
automating complex rate calculations and invoicing so you never miss a charge
with features that are designed for logistics people and operations.


Consider this; a Warehouse Management System (WMS) that enables staff to optimize picking by wave pick or use replenishment, and with barcode scanning, they can easily identify the correct location and item in a fragment of the time it would take to search rows and boxes. What's more, your admin team can seamlessly input incoming orders through seamless software integrations, allowing them to manage customer details, orders, and invoicing with ease, from one single location.
Imagine a Transport Management System (TMS) where the driver can easily scan items to check off from their run sheet, optimize their delivery route, and send an ETA text message to each delivery point before arrival can have a huge impact on how smooth and efficient their operations are.
Imagine being able to offer your drivers the ability to easily confirm the correct freight, optimize their route depending on a preferred start or end location and for the fastest completion, and know the customer has their time of expected arrival so they can be ready when they arrive. Go further. With a cloud-based system like CartonCloud, drivers can also capture electronic proof of delivery (ePODs) with sign-on glass, so they never have to worry about lost consignment paperwork again.
Hiring in the new era of logistics
The industry is changing. This is true of the wider economy and increasing demand, global disruptions and supply chain management planning, customer expectations, and the introduction of new technology and robotics. It's also true of the logistics workforce. Many companies struggle to find and attract younger generations to logistics roles, resulting in a global workforce shortage.
What if you could offer easier ways to ensure accuracy, simplified workflows, and more autonomy and control for job flexibility?

What if there was a way to improve the relationships between your staff with greater customer service, increase accuracy, achieve more work in a day, and still enable your employees to still go home on time?
Boost staff capacity with your WMS/TMS management system
Almost one-third of logistics representatives surveyed in the CartonCloud Logistics Index survey said the top thing they wanted from new technology investment was to increase the capacity of their workforce. It's no secret that implementing software systems and providing hardware like scanners or mobile computers can revolutionize your operations — but can it also help to attract new staff, and retain the staff you have?
Finding and retaining experienced and skilled staff has become a major focus for many companies. For the second year in a row, the top concern cited by logistics operators in the CartonCloud Logistics Index survey was overcoming workforce shortages.
Having the means to enhance the enjoyment, efficiency, and simplicity of operations in an increasingly demand-driven market can provide companies with a competitive edge in attracting skilled workers.
With an effective warehouse and transport management system, you can
Sensitive freight transport company Macknsons Transport used CartonCloud to boost staff capacity and grow their business — what they found, was not only that they increased accuracy and daily output, but also that their staff enjoyed the work more and were happier to come to work.
Logistics technology covers a range of areas. From implementing new software or business operating systems to providing wifi for the warehouse, buying new scanners, mobile computers, route optimization software, barcode printers, and other areas of technology — and the expected outcomes and end benefits of investing in new technology can vary greatly, depending on what outcomes the business is looking for.
In Australia and North America especially, we have many small-to-medium providers who keep our logistics industry running. That's where CartonCloud comes in.
Big conglomerates may have the means to implement automated warehouses with state-of-the-art robotics for inventory management, picking and packing — or, to investigate driverless vehicles and drone technology for delivery.
Not all companies have the capital to take advantage of this kind of technology. In fact, for many small and medium businesses, the initial setup costs to implement new software and systems is a huge barrier to adopting new technology.
Choosing the right logistics software for your team
With the right tools for the job, workflows can feel intuitive. Simplified operations and greater efficiency in staff workflows mean less time is wasted redoing mistakes, going to the wrong address, or needing to process returns. For your warehouse personnel and drivers, this leads to less frustration in each task — and for you, it means less wasted time, fewer mistakes, and a reduction in overheads.
Furthermore, promoting efficiency, accuracy, and streamlined workflows as a part of your workplace culture could help you attract like-minded staff, building a strong team culture.
An unorganized workplace with difficult processes means mistakes are often made and work has to be repeated or redone.
Those who want to work in an environment with clear communication, simplified workflows, and efficient processes set them up to achieve more.
You can build the team you wish to attract with an effective and easy-to-use system.
Logistics software designed for small and medium businesses
Our integrated WMS/TMS software is explicitly designed for small and medium enterprises, to give them the tools and automation they need to streamline operations, remove manual data entry, empower staff, and delight customers. Reduce admin overheads and slash hours with seamless software integrations and automated data entry, optimize warehouse stock management and picking, cross dock with ease and boost transport operations with paperless ePODs and more.
Want to know more?
To find out more about CartonCloud's features and flexible pricing plans, contact our team for a FREE consultation and software demonstration.
With flexible pricing plans and features designed to overcome daily issues of the logistics industry, CartonCloud's easy-to-use system gives SMBs the ability to do more, with less.
Updated February 2023