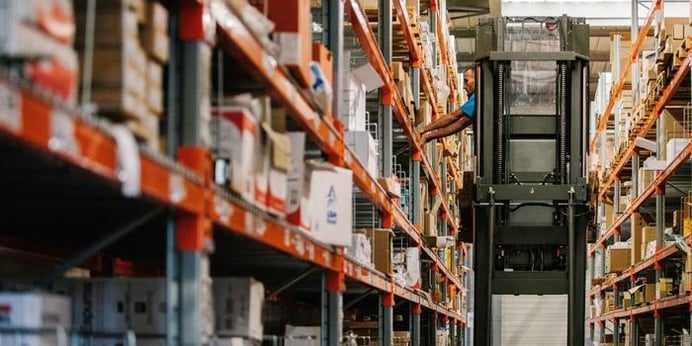 Let's look at the top 4 fulfilment pain points and how to overcome them. The expectation is 3PLs can deliver without hassle or complications, and it's almost impossible to reach that next level without a streamlined WMS system.
Fulfilment is a crucial element of any 3PL company and can determine whether an operation grows or is held back. That's because there's an expectation that 3PLs can be relied on to deliver items to customers without hassle or complications.
Failure to meet that expectation and customers take their business elsewhere.
In this context, the 3PL's stock control system is crucial. Is the way you control stock reliable? Is it nimble? Can it scale?
Here are four common fulfilment pain points and how the right stock control system features can help overcome them.


‍Pain Point #1: Manual data entry
Problem: In both logistics and warehousing environments, manual data entry problems create significant issues. Poor accuracy and lost paperwork can cause errors in fulfilment, from incorrect items to the wrong destination. Manual data entry also consumes time and therefore money.

Solution: Transitioning to a warehouse management system or transport management system automates data entry. This saves time and money, increases accuracy and improves your customer's experience. More fulfillments can be completed faster which means a better bottom line for your business.
Pain Point #2: Poor supply chain visibility
Problem: Supply chain efficiency plummets if a company or 3PL does not provide visibility surrounding transactions, stock movements and demand drivers. That's because downstream businesses can't make rapid decisions based on data, planning ahead is inhibited, and stock can't be effectively managed.


Solution: Logistics software provides customers with complete visibility on stock availability, order statuses and deliveries, achieving a completely online and transparent end to end process. This means they can make operational decisions in real time based on data, effectively increase or decrease the flow of stock, check stock 24/7 and react operationally to the changes occurring in demand.
‍‍Pain Point #3: Struggling to locate inventory
Problem: Struggling to understand where your stock is can be common for SME's in the warehouse and transport industry. Failing to easily locate a product in your inventory when ordered by a customer leads to shipping delays and frustration. Difficulty locating stock can be attributed to a disorganised warehouse or poor visibility / communication with suppliers.


Solution: Automated software that updates in seconds can maintaining real-time inventory. Software can syncs your products across its various selling channels and updating inventory instantly. Real-time inventory maintenance is fundamental for accurate record keeping and order dispatching, and is best achieved with a cloud-based solution.
Paint Point #4: Systems Fail To Scale
Problem: Operations are being held back from reaching their full potential because their system does not scale to their growth. Small warehouses can't grow into multi-site and nationwide operations because there isn't connectivity across the systems and sites.
Solution: Warehouse management systems based in the cloud empowers businesses to duplicate or mirror the same processes and systems across multiple sites very easily. The software can also integrate with transport management systems and can plug into other programs like Xero and Zapier. The software can support to the growth of a business and scale to demand and requirements.
How CartonCloud Helps To Overcome Paint Points in Fulfilment
Doing everything manually is a tough ask. And if you want your business to grow, it's almost impossible to reach that next level without a streamlined WMS system.
CartonCloud is an affordable yet powerful solution for small to medium-sized businesses that automates data entry, increases supply chain visibility and helps manage inventory. We also always ask our clients where they envision their operation in the next few years because we want to grow alongside them. CartonCloud can scale as a business grows.
CartonCloud is created by logistics people for logistics people. Get in touch today and we'll organise a free demo for you.